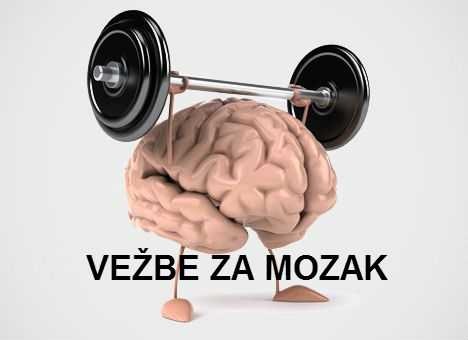 Mozak, naravno, nije mišić, ali kao i mišićima i njemu je potrebno redovno vežbanje da bi ostao u formi, i da bi bio u stanju da rešava različite životne i radne zadatke, i da bismo, naravno, mogli brzo reagovati.
Jedan od jednostavnih načina održavanja "sive mase" u formi su zagonetke i mozgalice – koje utiču na logiku, sposobnost alternativnog mišljenja, na matematičko delovanje, na bila šta.
Okušajte svoje snage u ovih 7 zagonetki:
Odgovori su otvoreni, ali pre nego što ih pogledate, dozvolite svojim vijugama da malo rade.
1. Šta se daje čoveku tri puta u životu: prva dva puta besplatno, a za treći put mora se platiti.
2. Moj prijatelj može da brije bradu nekoliko puta dnevno. Ali on, svejedno, hoda sa bradom. Kako je to moguće?
3. Jednog dana, za vreme doručka, devojka je ispustila svoj prsten u šolju sa kafom. Ali, prsten je ostao suv. Zašto?
4. Čovek je kupovao jabuke po 10 dinara za komad. Posle ih je prodavao po 7 dinara za komad. Nakon nekog vremena, postao je milioner. Kako je to uspeo?
5. Tri kokoške za 3 dana snesu 3 jajeta. Koliko jaja snesu tih 12 kokošaka za 12 dana?
Jedna kokoška nosi 1 jaje za 3 dana. Za 12 dana snese 4 jajeta, odnosno 12 kokošaka za 12 dana snesu 12×4=48 jaja.
6. Preključe je Petar je imao 17 godina. Sledeće godine imaće 20 godina. Kako je to moguće?
Ako je današnji dan 1. januara, Petar je slavio 31. decembra. Preključe (30. decembra) imao je jos 17 godina, juče (31. decembra) napunio je 18 godina, ove godine napunice 19, a sledeće- 20 godina.
7. U kom slučaju, gledajući na broj 2, govorimo "deset"?
Kada gledamo na sat, koji prikazuje deset minuta nekog časa