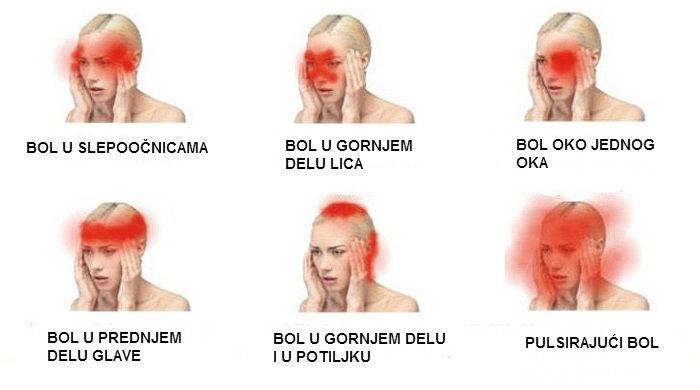 Kada boli glava nakon burne proslave, ili zbog nedostatka sna, nismo toliko zabrinuti. Možemo popiti tabletu i brzo zaboraviti na tu nelagodnost.
Ali, kada se bol javlja iznenada, bez preduslova i očiglednih razloga, to je već alarmantno.
Telo nam momentalno saopštava o nastalim problemima.. Ako osetite naglu glavobolju, obavezno razjasnite šta se dešava u vašem organizmu. To će pomoći da se zaštitite od ozbiljnih bolesti i na vreme ih izlečite.
Vrste glavobolje:
1. Bol u slepoočnicama i prednjem delu glave
Bol u slepoočnicama može ukazivati na različite poremećaji u organizmu. Nedostatak sna, hormonske promene, intoksikacija i smanjenje interkranijalnog pritiska mogu postati razlozima za bol. Takođe, bol u slepoočnicama je simptomatična za početak prehlade, ili gripa.
Ako se bol u tom delu glave pojačava, i izaziva čudne osećaje poput mučnine, treba se obratiti lekaru. Takvi osećaji često mogu biti znaci potencijalnog  krvarenja .
2. Jutarnja glavobolja.
Ako se često budite sa glavoboljom, to nije dobar signal. Jutarnja glavobolja može ukazivati na noćnu apneju (prestanak disanja u snu), probleme sa pritiskom, i čak, na tumor mozga. U ovom slučaju ispitivanje je neophodno.
3. Bol oko oka.
Klaster glavobolja (bol je obično izolovan na jednoj strani glave – oko i iza očiju) – jedno od najneprijatnijih iskustava. Veoma je teško  izdržati ovakve napade.
Obavezno se konsultujte sa dobrim neurologom, ako primetite ovu vrstu bola.  On može ukazivati na anomalije u hipotalamusu, naglo širenje krvnih sudova mozga i poremećaj u radu kardiovaskularnog sistema.
4. Glavobolja i vrtoglavica.
Često, glavobolja može biti propraćena nekim neprijatnim simptomima: mučninom, zamagljenošću očiju, bolom u vratu, pulsirajućim napadima. Osteohondroza, preživljene povrede glave u prošlosti, hormonski poremećaji, neuroza i depresija, mogu izazvati sličnu vrstu bola.
Propratite režim svoje ishrane i sna, pre konsultacije sa lekarom. Važno je znati svaki sitni detalj, da bi specijalista odredio tačnu dijagnozu.
5. "Teška" glava i osećaj stezanja u gornjem delu glave.
Ako vam se čini da se vaša glava na neko vreme pretvorila u bundevu, to nije tako strašno. Tenziona glavobolja je najrasprostranjenija, i može biti izazvana premorom, nedostatkom kiseonika, niskom fizičkom aktivnošću i nerviranjem.
Dobro se odmorite i naspavajte se, ovo ce pomoći eliminisanju bola.
Čitajtejoš: Nedostatak ove četiri supstance u organizmu prouzrokuje glavobolju