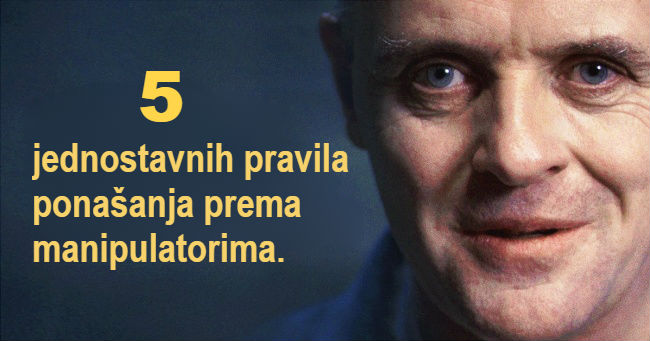 Manipulatori nam vešto ulivaju osećaj krivice, žaljenja, ucenjuju, prete… Mi ispunjavamo njihove želje i naređenja, na svoju štetu, bezvoljno.
Takve igre često traju godinama, trujući život.
Da biste se zaštitili od njih, nudimo nekoliko pravila bezbednosti, koje je razradio ekspert za komukacione strategije, kouč Preston Ni:
1. Budite svesni svojih neotuđivih prava.
♦ Imate pravo na poštovanje od strane drugih ljudi.
♦ Imate prava izražavati svoja osećanja, mišljenja i želje.
♦ Imate pravo postavljati svoje prioritete.
♦ Imate pravo govoriti "ne", bez osećaja krivice za to.
♦ Imate pravo dobiti ono, za šta ste platili.
♦ Imate pravo izražavati svoje poglede, koji se razlikuju od pogleda drugih ljudi
♦ Imate pravo braniti sebe od fizičkih, moralnih i emotivnih pretnji.
♦ Imate pravo graditi svoj život u skadu sa svojim razumevanjem sreće.
To su granice vašeg ličnog prostranstva. Naravno, manipulatori, grubo kršeći naše granice, ne poštuju i ne priznaju ova prava.
Ali, samo smo mi sami, i niko drugi, odgovorni za svoj život.
2. Držite distancu.
U komunikaciji, manipulator stalno menja maske: sa jednom osobom on je izrazito učtiv, sa drugom – izazovno nepristojan, u jednoj situaciji – apsolutno bespomoćan, u drugoj – suviše agresivan.
Ako ste primetili u nekom ove karakterne osobine, držite  takvu osobu na bezbednom odstojanju i ne stupajte sa njom u kontakt, bez preke potrebe.
Najčešći razlozi takvog ponašanja su složeni, i duboko ukorenjeni u dečjem iskustvu. Preoblikovati, prevaspitavati i spasavati manipulatora – nije vaš zadatak.
3. Ne uzimajte njegove reči- zdravo za gotovo
Zadatak manipulatora je- igrati na vašim slabostima. Nije iznenađujuće, da pored njega počinjete  osećate sumnju u sebe, čak i krivicu da ne odgovarate njegovim zahtevima. Propratite ove osećaje i setite se da problem nije u vama.
Sa vama manipulišu da bi vas naterali da se osećate nedovoljno dobrim, i da bi vas učinili spremnim da se povinujete tuđoj volji, i odricanju od ličnih prava.
Razmislite o svom odnosu sa manipulatorom, odgovorivši na sledeća pitanja:
♦ Pokazuje li prema meni iskreno poštovanje?
♦ Koliko su opravdana njegova očekivanja i zahtevi?
♦ Koliko su izbalansirani naši odnose, ili samo jedno od nas u njih ulaže, a drugi očekuje korist?
♦ Da li mi smetaju ovi odnosi da se dobro odnosim prema sebi?
Odgovori na ova pitanja pomoći će da razumete da li je problem u vama, ili drugoj osobi.
4. Naučite reći "Ne".
Izgovoriti "ne" – to je generalno najvažniji deo iskustva komunikacije. Razumno odbijanje dozvoljava vam da tvrdo ostanete pri svojoj odluci, sačuvavši pritom normalne odnose. Zapamtite da vi imate pravo postavljati sopstvene prioritete, pravo da kažete "ne", bez ikakvog osećaja krivice, kao i pravo izbora puta ka sreći.
5. Pružite otpor manipulatoru
Dešava se da manipulatori daju sebi za pravo direktno maltretiranje, pokušavajući zaplašiti žrtvu, i naneti joj štetu. Najvažnije šta  treba zapamtiti: ovakvi ljudi ciljaju na one koje smatraju slabićima.
Dok ste pasivni i kompatibilni – za njih ste potencijalna žrtva. Pri tome, u duši, mnogi od njih su – kukavice. I kada njihova obeležena žrtva počne da pokazuje čvrstinu i brani svoja prava, manipulator se, najčešće, povlači. Ovo pravilo funkcioniše u bilo kojoj zajednici: u školi, u porodici, na poslu.
Studije pokazuju da su mnogi manipulatori, i sami žrtve nasilja. Ova činjenica, naravno, ni u kojoj meri ne opravdava njihovo ponašanje, ali ovo treba znati da bismo se hladnokrvnije odnosili prema njihovim napadima.