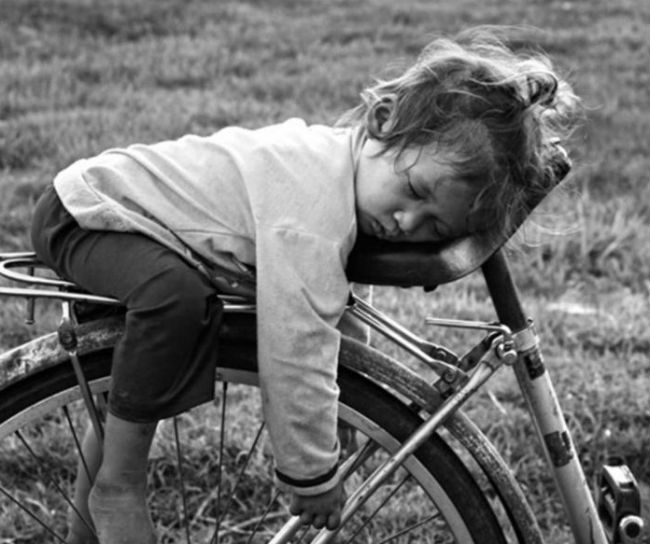 Savršen podsetnik da nam je odmor svima potreban. A narodna mudrost nas podseća: ako se sami ne zaustavimo, to će učiniti bolest…
Moja majka po povratku s posla nikada nije odmah s praga trčala u kuhinju da prži krompir ili da pegla posteljinu. Dremnula bi 20 minuta i tek onda se prihvatala kućnih poslova.
Osim toga, beskrajno se borila s mojom tvrdoglavošću, dokazujući da se posle škole ne treba bacati na sinuse i kosinuse, nego se treba poigrati, po onoj staroj: sporo idi – daleko ćeš stići. Navodila je i primer iz filma ​​"Moskva suzama ne veruje ", u kome glavna junakinja, po povratku iz fabrike, prvo sedne na kauč da predahne, sa sve radnom odećom i obućom. Samo meni to ništa nije vredelo. Mislila sam da je odmor za slabiće, a oni koji imaju ciljeve – treba da neumorno rade 24 sata dnevno!
Moja drugarica već deset godina ne uzima godišnji odmor. Već deceniju se ne kupa ni u Crnom, ni u Crvenom, ni u Sredozemnom moru, ne ide na Zlatibor, ne skija na Kopaoniku, ne šeta ulicama Budimpešte, Pariza i Londona, ne divi se zalascima sunca. Spava pet sati dnevno i uporno gradi karijeru, iskreno verujući da će je svaka pauza unazaditi za nekoliko godina. Samo, telo je izdaje: vid oslabio, živci popustili, a srce preskače…
Dugo sam sledila njen primer, dok nisam saznala za zakon o neutralnom položaju. Jednostavan je, kao Pitagorina teorema.
Pred svaku promenu u životu, prvo se treba zaustaviti. Stati. Dati sebi priliku da udahnete, obrišete znoj, pojedete lazanju, namažete usne i proverite nivo goriva u sopstvenom rezervoaru energije, da ne biste stali nasred puta.
Nemoguće je skrenuti u punoj brzini. Ne možete izaći iz šume, ako se ne zaustavite i odredite gde je sever, a gde jug. Niko ne može da bez odmora odsedi na šest časova i nauči dobro svih šest lekcija.
Pauze su potrebne na svakom koraku: pre skoka u vodu ili uvis, pre nego što se odsvira završni akord Betovnovog koncerta ili otpeva visoka nota u pesmi. Pre nego što izađemo na scenu ili započnemo novu vezu. Pre nego što slažemo ili kažemo istinu.
Zaustavljamo se tokom praznika i na crvenom svetlu. Klizač zastane pre nego što izvedete dvostruki aksl. Šahista razmišlja o sledećem potezu. Ukoliko se pauze zanemaruju i nastavlja brzinom od dvesta na sat, okolnosti će nas same zaustaviti: prehlade ili ozbiljne bolesti, nesreće, požari i zemljotresi.
Sve u životu ima svoj ritam: smena dana i noći, zime i leta, udisaj-izdisaj. U diskoteci se povremeno smenjuju brze i spore pesme. Čak se i na trenažerima u teretani postavlja ograničenje.
U pravu je bio onaj prosvetljeni, kad je tvrdio kako u životu moraju da postoje trenuci kada nam se ništa ne dešava: samo sedimo i posmatramo svet. A svet u isto vreme posmatra nas.