Svi tražimo spokoj i težimo harmoniji sa svetom ili barem sa sobom. Međutim, postoje milioni faktora koji nas sprečavaju da ovo učinimo u potpunosti: stres, bol, životne nedaće, loše misli i još mnogo toga.
Samo ako ih se otarasite ili ih neko vreme utapate, možete postići harmoniju. Postoji mnogo načina da se to uradi, ali jedan od najboljih je vežbanje joge. Danas ćemo ispričati o asani, koja će jednim potezom pomoći da se rešite stresa, anksioznosti i ublažite bolove u leđima.
Malasana, ili poza venca, jedna je od joga asana koja ima složen efekat na telo. Pomaže u ublažavanju stresa, dobijanju snage i osveženju. Ako redovno radite asanu, takođe se možete osloboditi bolova u leđima, istegnuti kičmu, zategnuti trbušne mišiće i smršati.
Ova poza, kao i druge asane, pruži osećaj smirenosti, samopouzdanja i opuštenosti, pa je preporučljivo izvoditi je u stresnim situacijama. Redovnim izvođenjem malasana čoveku prestaju da smetaju manji problemi, on postaje smireniji i uravnoteženiji.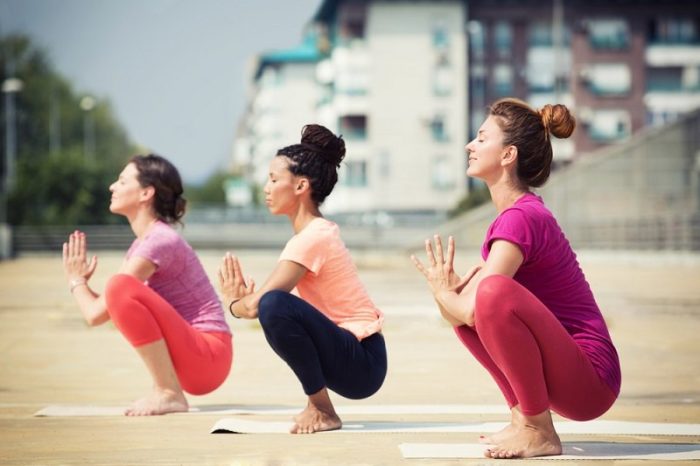 Malasana takođe pomaže da okrepi i osveži mozak. Ova asana je dobra za žene, jer pomaže u otklanjanju menstrualnih nepravilnosti i uspostavljanju ciklusa. Malasana se dobro nosi sa svim starosnim promenama u telu: prekomernom težinom i masnim naslagama u donjem delu stomaka.
Pored toga, poza venca vam omogućava da se rešite artritičnog bola u leđima i zglobovima, ojačate kičmu i osetite lakoću. I sve to zahvaljujući jednoj vežbi.
Kako se izvodi vežba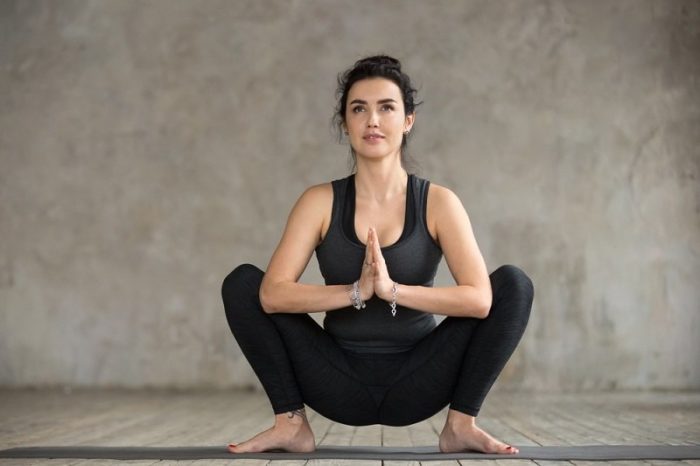 Stojte uspravno sa stopalima u širini kukova. Zatim, napravite duboko savijanje napred, okrećući stopala prstima. Zatim počnite polako da čučite, savijajući kolena. Zadnjica je što je moguće niža do poda, a pete se ne odvajaju od tla.
U ovom slučaju, kolena treba širiti. U idealnom slučaju, trebali bi biti u ravni s nožnim prstima. Ispružite ruke napred, a zatim pritisnite laktove na unutrašnje strane kolena i sastavite dlanove. Leđa ravna. Dišite duboko i ravnomerno.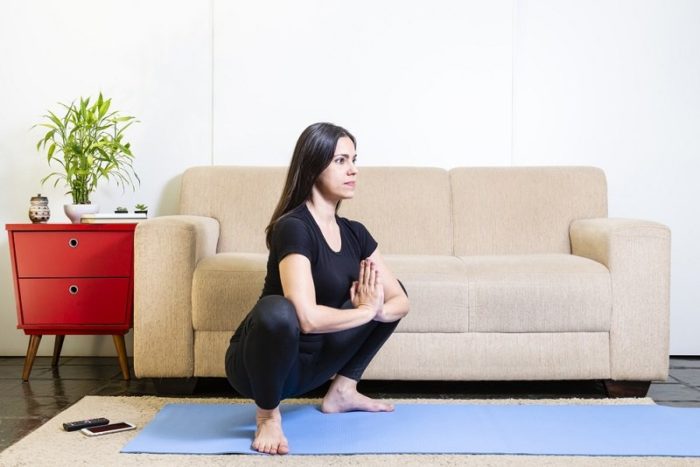 Važno je da se osećate dobro u svom telu. Počnite da pritiskate laktove na kolena i oduprite se kolenima. Izvucite grudni koš od pupka. Držite asanu 5-10 ciklusa disanja. Nakon što ste oslobodili ruke, podignite telo i odmorite se.
Ako ne možete da držite pete na podu, stavite smotani peškir pod noge. Ne bi trebalo da osećate napetost, sve bi trebalo da bude lako i bez naprezanja. Nakon prihvatanja početne pozicije, pokušajte da se spuštate sa svakim udisajem.
Odmah nakon izvođenja asane osetićete kako je telo ispunjeno snagom i energijom, osetićete lakoću. Stres, anksioznost i bol će nestati ako redovno vežbate.