Sa što složenijim mehanizmima našeg društva, češće doživljavamo stres. Svakodnevni život više nikog ne štedi. Osloboditi se stresa i smiriti živce za nekoliko minuta – da li je moguće? Hmm…Neki su, verovatno, pomislili da je to ponovo neka izmišljotina, od koje nema nikakve vajde.
Ali, sada ćete saznati da je to ipak moguće, jer možete odmah isprobati ovu vežbicu za koju će vam biti potrebno samo 2 oraha. Ovo je odlično rešenje medicine za sve one koji, sa vremena na vreme, doživljavaju nervnu napetost.
Metoda će delovati momentalno
Uradićemo masažu dlana sa orasima: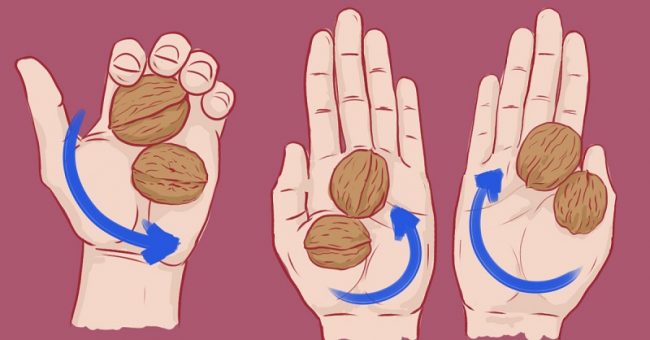 Mnogi od vas znaju da se na našim dlanovima nalaze aktivne tačke koje odgovaraju za rad unutrašnjih organa. Pritiskajući ih, možemo se osloboditi različitih oboljenja!
Veoma je prijatno osetiti dodir orahove ljuske na dlanovima. Ovaj prirodni materijal ne može se porediti ni sa jednim drugim akupunkturnim masažerom.
Vežbe za brzo opuštanje i relaksaciju:
1. U svaki dlan uzmite po dva oraha i radite sa njima kružne pokrete.
2. Stavite orahe na sredinu dlana, lagano pritisnite dlan drugim dlanom, i pravi kružne pokrete.
3. Lagano izmasirajte vrhove malih prstiju jedne i druge ruke.
Ovakve vežbice su odličan način koji pomaže brzom smirenju u ekstremnoj situaciji. Proverite ovu metodu, i obavezno je podelite sa svojim prijateljima.