Najbolje i više puta dokazano sredstvo protiv bronhitisa, suvog i hroničnog kašlja kod dece i odraslih je – crna rotkva sa medom. To je recept koji su spravljale i naše bake. Zahvaljujući prirodnim sastojcima, ne samo da je jednostavan i ukusan, već i izuzetno koristan.
Ovaj prirodni lek je odlično sredstvo za iskašljavanje kod bolesti gornjeg respiratornog trakta. Mami nas jeftinoćom i stopostotnom bezbednošću. Većina dece rado uzima ovaj slatki lek, često tražeći još. Ne izaziva nuspojave, a i veoma je jednostavan za pripremu.
Dakle, za početak treba otići na pijacu (ili u svoju baštu) i nabaviti jednu veću crnu rotkvu, težine oko 400-500 grama. Biće potreban med (u krajnjem slučaju – šećer) i jedna manja činija.
 Priprema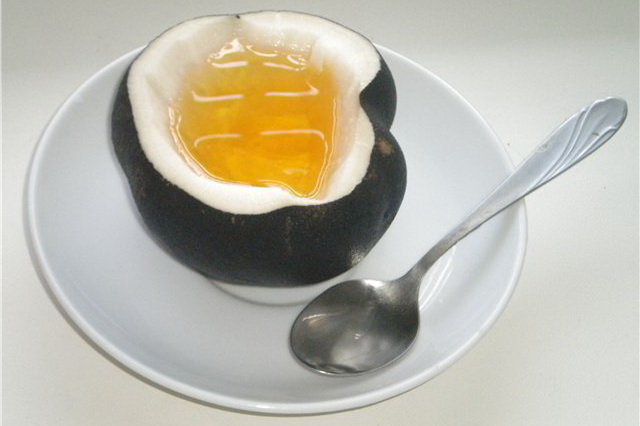 Sirup se priprema uveče za sutradan.
Rotkvu dobro operite i osušite. Ako nije ravna, isecite malo donji deo, da stoji ravno. Odsecite gornji deo, koji će nam kasnije zatrebati.
Napravite udubljenje u rotkvi, ostavite zidove debljine oko 2 cantimetra. U udubljenje dodajte 2 kašike meda (da se napuni više od pola rotkve) ili 4 kašike šećera (ako ste alergični na med).
Poklopite je poklopcem – gornjim odsečenim vrhom. Ostavite da prenoći.

Za to vreme će se u rotkvi pojaviti lekoviti sirup, nezamenljiv u lečenju kašlja. Ujutro možete početi koristiti ovaj lekoviti sirup.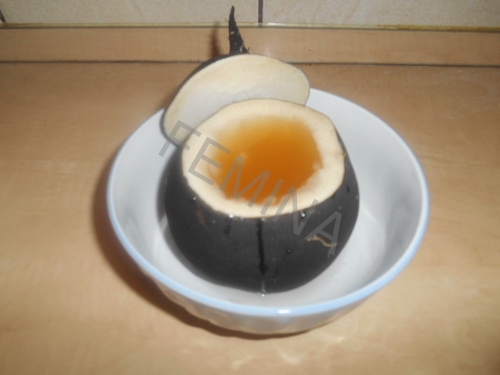 Sirup protiv kašlja treba uzimati 4-5 puta dnevno, nekoliko minuta pre jela. Odrasli po 1 supenu kašiku, a deca po 1 kafenu kašičicu.
U toku dana sirup ćete iskoristiti, zato uveče u istu rotkvu opet dodajte med, a sutradan ponovo uzimate ovaj ukusan i lekoviti sirup. Tek posle dva-tri dana, možete promeniti rotkvu .
Ovim lekovitim sirupom se  brzo oslobađamo suvog i upornog kašlja. A deca će ga prihvatiti sa zadovoljstvom.
Jedino, treba da budu oprezni dijabetičari i deca mlađa od godinu dana, jer veća količina meda može izazvati alergiju. Uprkos lekovitosti, postoje kontraindikacije za korišćenje: akutne  bolesti gastrointestinalnog trakta, jetre, žučne kese i bubrega.