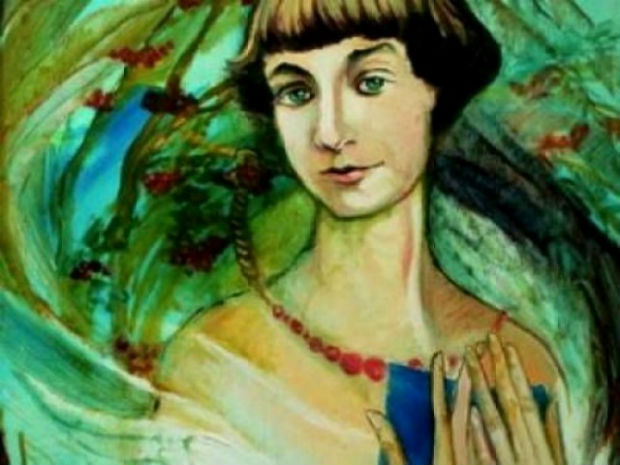 Marina Cvetajeva, ruska, prekasno otkrivena, boginja, bila je, kažu, nepodobna za vođenje domaćinstva i porodični život, jer je sebično sebe i poeziju stavljala na prvo mesto, verujući da je kompromis rezervisan samo za slabe i za one koji nisu umetnici.
Pouke deci Marina Cvetajeva je napisala u zimu 1937/38, u formi pisma za dečji emigrantski časopis, koji, nažalost, nije izašao.
Pismo je štampano u knjizi Dmitrija Bikova "Boris Pasternak"
Draga deco,
Nikada o vama ne razmišljam odvojeno: uvek mislim da ste vi – ljudi ili neljudi – kao i mi. Ali kažu: vi postojite, vi ste poseban soj koji je još podložan uticaju.
Stoga…
– Nikada ne prolivajte vodu uzalud, jer u istoj toj sekundi, zbog nedostatka vode, u pustinji umire neki čovek.
– Ali ako je ja ne prolijem, on svejedno neće dobiti tu vodu!
– Neće je dobiti, ali će na svetu biti jedan besmisleni zločin manje.
Iz istog razloga, nikada nemojte bacati hleb, a uočite li ga na ulici, da se ne bi gazio, podignite ga i stavite na najbližu ogradu, jer ne postoje samo pustinje u kojima ljudi umiru bez vode, nego i ćumezi, gde umiru bez hleba. Možda će taj hleb primetiti neko gladan, pa će ga biti manje sramota da ga uzme odatle nego sa zemlje.
Nikada se ne plašite čega smešnog i ako vidite čoveka u smešnoj situaciji: 1) potrudite se da ga izbavite, ako nije moguće; 2) skočite i vi k njemu, kao u vodu, udvoje se glupa situacija deli napola: svakome po polovina – ili u najgorem slučaju – pravite se da ne vidite ništa smešno u tome!
Nikada nemojte govoriti da tako rade svi: svi uvek rade loše, čim se tako rado pozivaju na njih! (NB! niz je primera, koje sada neću navoditi.) "Svi" imaju drugo ime – niko, a lice uopšte nemaju – samo praznina.
E, a ako vam kažu: "Tako niko ne radi" (ne oblači se, ne razmišlja itd.) – odgovorite: "A ja sam – neko!"
Ne obazirite se na "nemoderno", već na: "nepošteno".
Nemojte se previše ljutiti na roditelje, setite se da su oni bili ono što ste vi sada i da ćete vi biti ono što su oni sada. Osim toga, oni su za vas – roditelji, a za sebe same su – "ja". Ne iscrpljujte ih njihovim roditeljstvom. Ne osuđujte svoje roditelje na smrt pre (svojih) četrdesetih godina. A onda vam se ruka neće podići!
Vidite li na putu kamen – uzmite ga i zamislite da to upravo vi trčite i razbijate nos; iz saosećanja (čak i prema sebi – u drugome!) uzmite ga.
Ne snebivajte se da ustupite mesto starijima u tramvaju. Snebivajte se da ga ne ustupite!
Ne ističite se po onome što je materijalno. Drugi – to ste takođe vi, baš isti vi. (Svi bez razlike žele da jedu, spavaju, sednu itd.)
Ne slavite pobedu nad neprijateljem. Dovoljno je saznanje. Posle pobede – pružite mu ruku.
Ne govorite ironično o kome bliskom pred drugima (čak ni o omiljenoj životinji!); drugi će otići – svoj ostaje.
Knjigu listajte sa gornjeg ugla stranice. Zašto? Zato što se ne čita odozdo nagore, nego odozgo nadole.
Kada dovršavate supu, nagnite tanjir prema sebi, a ne od sebe prema drugome: da u slučaju nezgode supu ne prospete ni na stolnjak ni na onog preko puta vas, nego sebi u krilo.
Kada vam neko rekne: "To je romantizam", pitajte ga: "Šta je to romantizam?" I videćete da to niko ne zna; da ljudi uzimaju u usta (čak se deru! i pljuju! i ubacuju vam u glavu!) reč, čiji smisao zapravo ne znaju.
Kada se konačno uverite da ne znaju, odgovorite sami, besmrtnim rečima Žukovskog: "Romantizam – to je duša".