Postoje mišljenje o tome da čovek koji poseduje na svom dlanu paralelnu liniju sa "linijom života" – je neverovatno srećan. Nevolje i nedaće ga uvek zaobilaze, a sreća ga nikad ne nepušta tokom čitavog  života.
Takva linija na dlanu je retkost. Još je zovu "linijom anđela-čuvara". To znači da se čovek nalazi pod posebnom zaštitom  svog anđela čuvara i i više sile. Drugačije je  zovu "linija Marsa", a neki je nazivaju drugom "linijom života"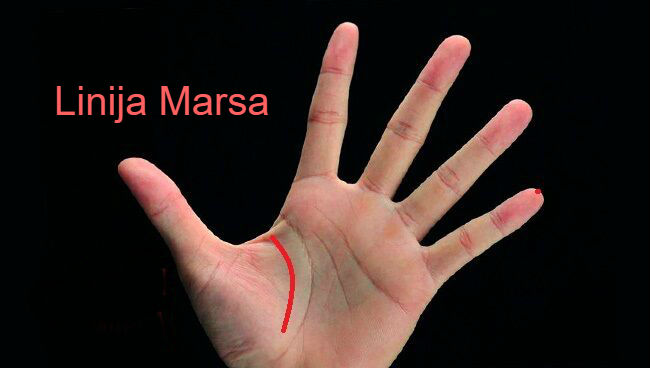 Ljudi, koji poseduju ovu liniju na dlanu, izuzetno su srećni. Takvi, čudom ostaju živi posle strašnih katastrofa i nesreća, poseduju odlično zdravlje, ne doživljavaju materijalne poteškoće, lako prevazilaze prepreke na životnom putu. Ako imate sreće da posedujete ovu liniju na svom dlanu – budite zahvalni Bogu, sudbini, i svom anđelu čuvaru.
Varijante raspoloženja linije "anđela – čuvara" na dlanu:
– Paralelno sa linijom života po celoj dužini – ovo je odličan znak!
Čovek sa takvim znakom biće zaštićen svojim anđelom čuvarom ceo život.
– Manji deo linije, koji prolazi pored linije života (jedva vidljiv trag ili iskidan) – nosioca takvog znaka očekuju životni problemi i nevolje, koje će ga kasnije zaobići
Na desnoj ruci – pokroviteljstvo anđela čuvara, darovano čoveku za njegove lične zasluge. To mogu biti učinjena dobra dela, ili teško pretrpela stradanja.
Na levoj ruci – pokroviteljstvo anđela čuvara, darovano čoveku od momenta njegovog rođenja. Takve pojave se često  prenose linijom predaka.
Pročitajte: Što može reči o vama linija srca na dlanu.