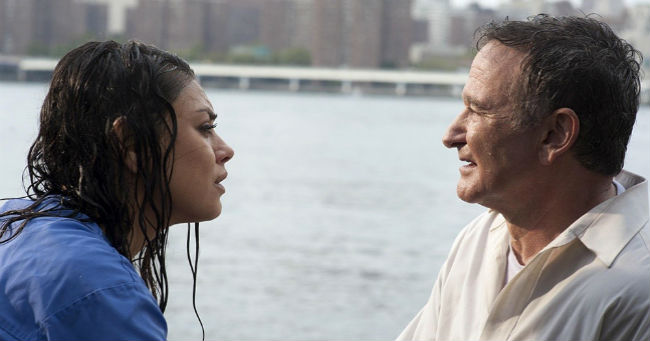 Svi imaju loše dane, a Henriju Altmanu, koji u filmu "Najljući čovek u Bruklinu" glumi Robin Vilijams, takav je svaki dan. Večito sarkastičan, svadljiv, on stalno piše negativne kritike i sve ga nervira.
A onda iznenada, na rutinskom lekarskom pregledu, sazna da ima aneurizmu u mozgu.
Večito nestrpljivi I nervozni Henri počne da viče na doktorku i zahteva da mu kaže koliko mu je ostalo.
Doktorka i sama ima loš dan. Sočena sa Henrijevim besom i uvredama, setivši se naslova iz časopisa "Ćurka se ispeče za 90 minuta", odgovori:
– 90 minuta.
Šokiran i potresen strašnom vešću, Henri pokušava da za preostalih sat i po ispravi sve greške koje je napravio u životu. Sa ženom, sa kojom vodi hladni rat, sa sinom kome nije oprostio što je odlučio da se bavi plesom, a ne pravom, s bratom… Sat i po je jako malo da popravite život, ali sasvim dovoljno da razmislite o njemu i shvatite da mnogo toga treba ispraviti.
Uoči svake Nove godine primetim sličan metež – kao da ljudi pokušavaju da za sat i po isprave sve ono što nisu postigli cele godine.
I svaki put se pitam: zašto je to potrebno raditi u poslednjem trenutku?
Zašto 30. decembra?
Kao da je Deda Mraz neki strogi profesor, koji će doći i u životno svedočanstvo vam upisati slabu ocenu za loše vladanje.
A to je samo dan posle koga ćemo u kolonu "datum" upisivati nove brojeve – to je sve.
31. decembar je samo petak, a ne ispit.
U jednoj sceni filma doktorka pita pacijenta:
– Koji je danas dan u nedelji?
A Henri tužno odgovara:
– Bože, koliko sam ih uludo potrošio…
Tu je i jedna zanimljiva rečenica, koja mi se posebno urezala u sećanje:
Sve porodice su normalne, dok ih dobro ne upoznaš.
Stvarno je tako! Kao kod Tolstoja.
I doktorka je u teškoj životnoj krizi, takođe proživljava najgori dan u životu.
Zove majku i kaže:
-Mama, danas je najgori dan u mom životu.
A majka:
-Kada ćeš mi prepisati lekove? Ti si lekar!
– Mama, zovem te zbog drugog…
– Šta je važnije? Gde su moji lekovi?
Nema podrške, nema razumevanja, a tako je potrebna…
Robin Vilijams je snimio ovaj film neposredno pred smrt.
Kažu da se tim filmom oprostio od svih i preneo veoma važnu poruku.
Henri pita doktorku:
– Kako biste proživeli poslednjih 90 minuta?
A ona odgovori:
– Trudila bih se da budem srećna.
Nasmešio se i poklonio joj sat koji je odbrojavao 90 minuta, kao da kaže: Onda to uradite, i to ne zato što su vam poslednji.
Dobar film.
Govori da život ne treba da bude imitacija sreće.
Podseća da voleti čoveka znači razumeti njegova osećanja, čuti njegove reči, poštovati njegove želje.
I da ništa ne smete odlagati za posle, da ne biste morali da popravljate stvari u poslednjem trenutku.
Treba da živite ovde i sada, jer je danas sreda, a ne zato što uskoro dolazi Nova godina.
I sreća će doći…