Fransoaz Sagan je dobila prvi honorar za svoj debitantski roman Dobar dan, tugo!
U vreme kada nije imala para, zavetovala se da će prvi honorar za knjigu naprosto spiskati iz zadovoljstva.
Istina, maštala je da sebi kupi mali stan, ali je oterala je te misli, jer je zavet obećanje koje se mora ispuniti. Za prvu knjigu je dobila sasvim pristojan honorar i odmah otputovala u letovališta Onfler i Dovil, da se provede. Pošto je spiskala skoro sav novac, rešila je da ostatak potroši u kazinu. Fransoaz je volela brojeve 3, 8, 11 – to su bili njeni srećni brojevi.
Izgubivši gotovo sve svoje malo bogatstvo, stavila je ono što joj je ostalo na 8 crno i – dobila! Do jutra je opelješila kazino za skoro 300.000 evra (u današnjem novcu). Brojevi 3, 8 i 11 doneli su sreću pijanoj Fransoaz.
Kad je ojadila kazino i dovršila bocu najskupljeg šampanjaca, krenula je da potraži hotel. Kažu da šampanjac ume da čoveku pobrka misli, namere i puteve. Ubrzo je ugledala vrlo lepu vilu, a tek pogled koji se odatle pružao… Prosto božanstven! Bio je to privatni porodični pansion.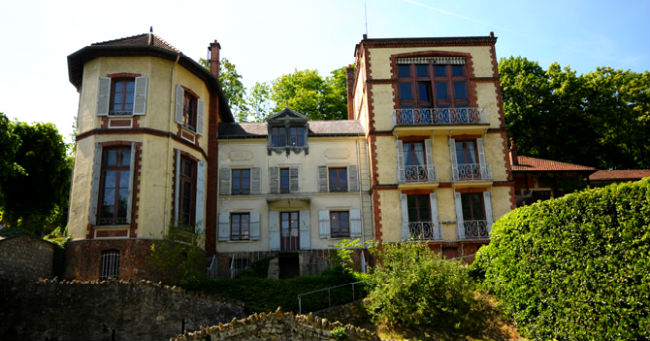 Kad je izašla iz taksija, vlasnik pansiona joj je rekao da nema nijednog slobodnog mesta, ali je Fransoaz odgovorila da hoće da spava i da je jako pijana. Vlasnik je samo slegnuo ramenima – šta se tu može!
Fransoaz ga je pitala koliko košta kuća. Vlasnik je odgovorio da vredi 200.000, na šta je pijana Sagan otvorila torbu i istresla pred njega 300.000. Zaplićući jezikom, šokiranom vlasniku je izjavila da ne želi sobu, već da kupuje ceo hotel!
Zapanjeni vlasnik je pitao šta da radi s gostima, a ona je odgovorila da mogu da ostanu preko leta i da će se u vilu useliti na jesen.
Fransoaz Sagan je skoro ceo život provela u toj kući. Nazivala ju je "kućom mog srca". Danas je ta kuća pretvorena u muzej ove krhke i šarmantne žene koja je opelješila kazino i rekla sebi: Zbogom, tugo!