Odvojte nekoliko sekundi i pažljvo pogledajte ovu sliku.
Ne razmišljajte dugo, jednostavno izaberite onaj kamen koji vam se najviše sviđa.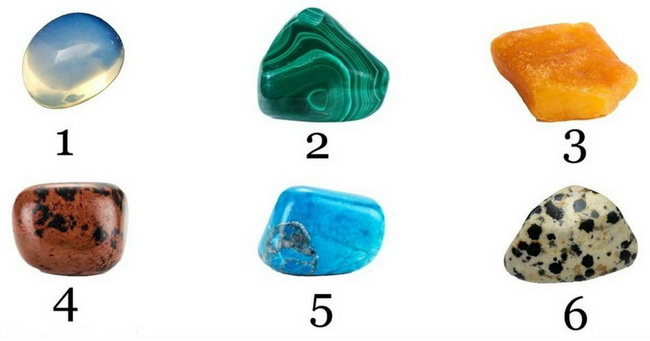 Kamen br.1
Prvi kamen je – Opal. Njega još nazivaju "mesečev kamen". Činjenica da ste izabrali baš njega, ukazuje na to da vam je sada najviše potreban odmor od gradske buke i vreve. Osećate potrebu da se isključite, i izvesno vreme zaboravite na probleme.
Potrebno vam je i vreme da sredite svoja osećanja. Za vas bi bilo najbolje da u narednih nekoliko dana i nedelja otputujete negde na kratak odmor, gde je malo turista i dosta lepih mesta. Ako ne možete to sebi da priuštite, svejedno, isplanirajte bar produženi vikend. Čak, i ako to bude neka vikendica u planini, ili put na selo kod  rodbine. Sve u svemu, pronađite vreme za odmor!
Kamen br.2
Drugi kamen – Malahit. Ovaj vaš izbor ukazuje da vas, u skorije vreme, očekuju velike životne promene, naročito one koje  će nositi duboki duhovni karakter. Takođe, možete iskusiti i preživeti velika iznenađenja u  ličnom životu.
Skorije vreme vam  idealno odgovara da ponovo prekrojite mapu svog života. Zvezde su vam naklonjene. Samo napred!
Kamen br.3
Treći kamen to je – Sunčev kamen. To  da  vas je osećaj  doveo njemu, znači da ste nepopravljivi optimista. Budućnost vam je jarka i svetla. Za vas je dobro da u blisko vreme češće boravite napolju, bez obzira na hladnoću.
Radost života uvek će za vas biti veća, ako više vremena provodite na svežem vazduhu. Nastavite da apsorbujete veliku snagu Sunca i krećite se dalje! I nemojte usput da izgubite svoju veselu narav!
Kamen br.4
Ovo je kamen – Opsidijan. Ako ste  pažnju  usmerili na ovaj kamen, znači da vaša podsvest pokušava da vam kaže da je došlo vreme promena. U narednim danima treba da pobegnete iz mreže starih navika i, korak po korak, počnete  stvarati novi život. Najbolje vreme za novi početak je – sada!
Pri tome, na putu ka promenama, pokušajte da se osećate zahvalnim za sve što imate. Nemojte biti ljubomorni. Ne zavidite. Ne dozvoljavajte ovoj buđi da se širi vašim umom. Potrudite se, i možete biti sigurni: vaš novi način života će obavezno  dovesti do željenih rezultata.
Kamen br. 5
Peti elemenat je kamen pod nazivom Hovlit. Ako vas privlaci ovaj kamen, znaci da ste osoba koja je svoj um drzi uvek otvoren. U svakoj diskusiji uvek ste spremni da razumete(saslusate i razumete?) argumente protivnika. I to vam daje unikalnu sposobnost da sagledate bilo koju situaciju u svim mogucim uglovima.
Veoma ste osetljiva osoba. Odlicno razumete sta vam drugi pokusavaju da kazu i daju do znanja. S polu reci razumete decu. S jednog pogleda – zivotinje. Rodbina i bliske vam ljude nikad ne prestaju da se divi vasoj moci opazanja.
U bliznje vreme podhitno morate poceti da mastate i vizualizujete. Zato sto sve sto planirate u narednih 30 dana – sudjeno da se ostvari!
Kamen br.6
Ovaj kamen – Jaspis dalmatinac. Ako ste ga odabrali, znači da ste vesela i optimistična osoba. Za vas je bitno da se život i dalje nastavlja kao lepa igra. U narednih mesec dana, ne bi bilo loše da isplanirate nove avanture. Pa čak, i da steknete nove prijatelje. Vreme je povoljno za to. Šta god da započnete u ovo vreme – osuđeno je na uspeh.