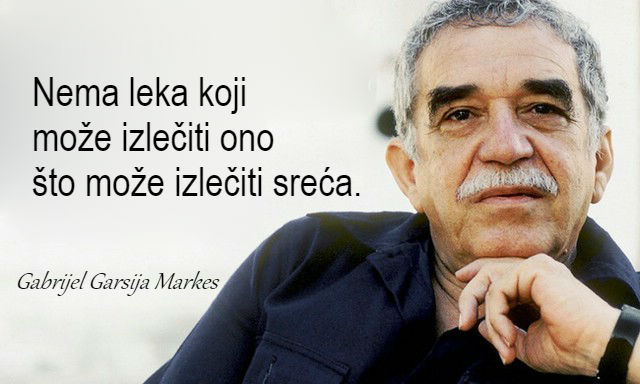 Volimo ga zbog toga što su njegova dela obavijena mitovima i misterijama, mogu se čitati iznova, i iznova. On je mnogo rekao čovečanstvu, ispričao desetine čarobnih bajki svog čarobnog sveta, u kojem ljudi mogu da vole i žive stvarno. Čak, i za vreme rata, i  kuge.
Prikupili smo za vas kultne citate Markesa iz njegovih knjiga i intervjua, koji vredi da budu zapamćeni:
♦ Ne dozvoli da umreš, a da ne doživiš ovo čudo – spavati sa onim koga voliš.
♦ Nije istina da ljudi ne ispunjavaju svoje snove zato što su odrasli, odrasli su, jer su prestali da ostvaruju snove.
♦ Ljudi, koje volimo, trebalo bi da umiru sa svim svojim stvarima.
♦ Svaka stvar je – živa. Potrebno je samo probuditi njenu dušu.
♦ Ako sretnete svoju pravu ljubav, treba da znate da ona nigde neće pobeći od vas – ni kroz nedelje, ni kroz mesec, ni kroz godinu.
♦ U životu nije važno ono što vam se dogodi, nego ono čega se sećate, i način na koji to pamtite.
♦ Laž je udobnija od sumnje, korisnija od ljubavi, trajnija od istine.
♦ Ako je u nešto uključena žena, ja znam, da će sve biti dobro. Meni je potpuno jasno da žene upravljaju  svetom.
♦ Za trpezarijskim stolom može se voleti isto tako kao i u krevetu.
♦ Budi nasmejan, ne dozvoli nevolji zadovoljstvo.
♦ U porodičnom životu mnogo je lakše izbeći nesreću, nego glupe sitne svađe.
♦ Odgovori mu "Da". Čak i ako umireš od straha, čak i ako ćeš kasnije zažaliti, zato što ćeš se kajati čitav život, ako mu sada kažeš "Ne".
♦ Čovek se ne rađa, jednom i zauvek, onog  dana kad ga je mati donela na svet, život ga tera ponovo i ponovo – mnogo puta – da se sam ponovo rodi.
♦ Nema leka koji može izlečiti ono što može izlečiti sreća.
♦ Uvek će biti ljudi koji će te povrediti. Nastavi da veruješ, samo budi opreznija.
♦Ne opiri se toliko. Najbolje stvari se događaju onda kada ih ne očekuješ.
♦Ja ne nosim šešir, da ga ne bih morao skidati ni pred kim.
♦ Zašto trošiti toliko reči  da se objasni šta oseća čovek u ratu, ako je dovoljna samo jedna reč – strah.
♦ Sjajno je misliti o prošlim zadovoljstvima, bez gorčine i kajanja.
♦ Inspiracija dolazi samo za vreme posla.
♦ Znanje i mudrost dolaze nama tada, kad nam više nisu od koristi.
♦ Ne, ja nisam bogat čovek. Ja sam siromah sa novcem, a to – nije isto.
♦ Starost nema veze s tim koliko imaš godina, već koliko se staro osećaš.
♦ Budi smiren. Umreti je teže, nego što se čini.
♦ Život je poput priče, nije važno koliko je dug, već koliko je dobar. Ono što je prošlo, više ne postoji, ono što će biti, još nije došlo. Postoji samo jedna tačka u kojoj se sastaju i prošlo i buduće. U toj tački je ceo tvoj život. Iskoristi je.