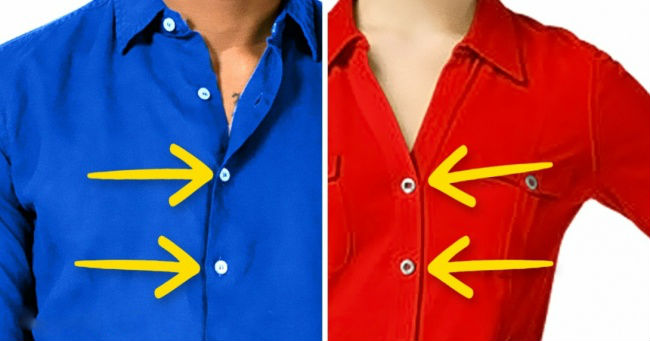 Primetili ste da je dugmad na muškim košuljama ušivena sa desne, a na ženskim – sa leve strane. Nije valjda da je to hir dizajnera, i način naglašavanja različitosti?
Rešenje ove male tajne je mnogo zanimljivije, nego što možda mislite, i mi želimo da ovu misteriju podelimo sa vama:
Ispostavlja se, razlikovanje muških i ženskih košulja pojavilo se još u XII veku, kada se pojavila i dugmad. Samo su bogate žene mogle sebi  priuštiti ovaj moderan izum.
Pri tome, sve te bogate dame imali su sluškinje koje su ih oblačile. Da bi sluškinjama bilo zgodnije zakopčavati ih (većina ljudi su dešnjaci), dugmad je bila na levoj strani.
U to vreme, muškarci su se oblačili sami, te je dugmad na muškim stvarima ušivana na desnoj strani, da bi ih mogli, samostalno, lakše zakopčavati.