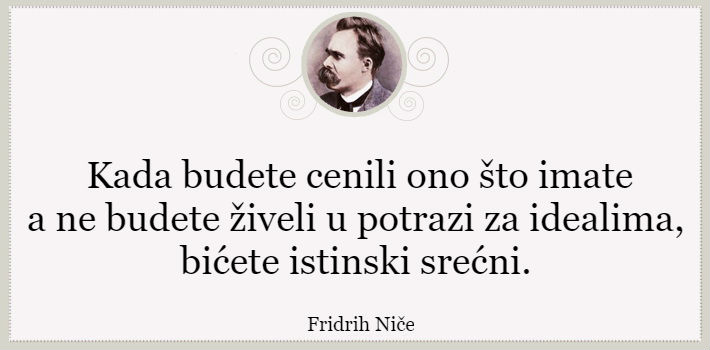 Tvorac originalnog učenja, Fridrih Niče, nije posedovao filozofsko obrazovanje. Pre bismo mogli da ga nazovemo misliocem, filologom, kompozitorom i pesnikom. Njegove teorije nemaju akademski karakter, već su svakom razumljive i stoga su veoma popularne.
On je stavio pod sumnju osnovne principe aktuelnih moralnih, verskih i kulturnih formi.
Njegova dela, napisana u aforističkom stilu, prepuna su podsticaja za razmišljanje a aktuelna su i danas:
1. Kada budete cenili ono što imate a ne budete živeli u potrazi za idealima, bićete istinski srećni.
2. Oni ne planiraju prijateljstva, ne grme o ljubavi i ne dokazuje istinu.
3. Onaj koji ima "zašto" da živi, može podneti skoro sva "kako".
4. Čoveka nesrećnim ili srećnim čine samo njegove misli, a ne spoljašnje okolnosti. Gospodareći svojim mislima, on gospodari svojom srećom.
5. Onog koji dve trećine dana ne može da odvoji na sebe, treba smatrati robom.
6. Nema predivne površine bez zastrašujuće dubine.
7. Ono što me ne ubije, čini me jačim.
8. Ako ste rešili da nešto preduzmete, zatvorite vrata sumnjama.
9. Najveći događaji nisu naši najburniji, već najspokojniji trenuci.
10. Ono što se radi zbog ljubavi, odvija se izvan domena dobra i zla.
11. Postoje dva puta koja mogu da vas spasu smrti: brza smrt i duga ljubav.
12. Sreća muškarca sadrži se u stavu: "Ja želim!", a sreća žene: "On želi!".
13. Što više raširite ruke, to će vas lakše razapeti.
14. Postoji stepen okorele laži, koja se naziva "čista savest".
15. S čovekom se dešava isto što i s drvetom. Što više teži ka vrhu, prema svetlosti, time ga njegovo korenje više ukopava u zemlju, nadole, u mrak i dubinu – ka zlu.
16. Postoje dve vrste osamljivanja. Kod jednog je to bekstvo bolesnog, a kod drugog, bekstvo od bolesnih.
17. Zavidni ljudi često osuđuju ono što ne znaju i kritikuju one na čiji nivo nikada neće dospeti.
18. Nisam uzdrman time što si me slagao, već zato što ti više ne mogu verovati.
19. Ne treba previše razmišljati. Tako stvarate probleme kojih na početku nije bilo.
20. Najbliža osoba je ona koja zna tvoju prošlost, veruje u tvoju budućnost i u sadašnjosti te prihvata onakvim kakav jesi.