Percepcija boja je kod svih nas različita. Zapravo, sve zavisi od broja tipova receptora za boje u našem oku. Profesorka Dijana Derval je napravila test uz koji možete saznati koliko je oštro vaše oko, kada su u pitanju boje.
Ova slika služi za proveru vida: Izbrojte tačno koliko nijansi boja vidite? Dole, ispod slike, pogledajte svoj rezultat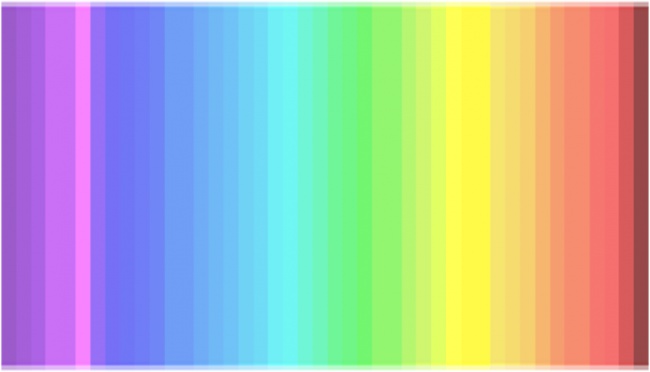 Manje od 20 boja:
Vi ste dihromat. To znaci da mrežnjača vaseg oka poseduje samo dve vrste receptora za boje, koji su zaduženi za plavo i zeleno. Oko 25% ljudi su dihromati, kao i većina sisara. Takvi ljudi nose najčešće odeću u jednoj boji, tamno plavoj, bez ili crnoj.
Vidite 20 do 32 boje:
Vi ste trihromat. To znači da kod vas na mrežnjači rade tri vrste receptora za boje. Osim plave i zelene, vi možete dobro da razlikujete i crvene tonove boja. Oko 50% ljudi na svetu su trihromati, kao i naši preci iz roda primata. Ovakvi ljudi nose najčešće šarenu odeću.
Vidite 33 do 39 boja:
Vi ste tetrahromat. Slično pčelama i ostalim insektima, imate četvrti receptor za boje, koji je zadužen za žute boje i detaljno razlikovanje nijansi. Oko 25% ljudi na Zemlji imaju ovu sposobnost. Žute boje ih iritiraju i u njihovom ormanu se skoro i ne nalazi odeća u žutoj boji.
Videli ste vise od 39 boja:
Nemojte da preterujete. Ovaj test pokazuje samo 39 boja. Osim toga, postoji verovatnoća da vas monitor ili displej nije u stanju da pokaže svih 39 boja. Zato prebrojte pažljivo sve nijanse na slici još jednom.