Vlasnica bloga o vaspitanju dece i majki, Tatjana Ivanko, odlučila je prodiskutovati o tome, kako istaknute greške utiču na buduću percepciju sveta deteta. Smatramo da u njenim razmišljanima ima dosta istine. Pročitajte i procenite sami.
"Počeću izdaleka. Moja ćerka nije bila u mogućnosti da dobije predškolsko obrazovanje. Radila sam sa njom sama, kod kuće. Kada smo vežbale ruku pre škole, naša sveska je izgledala ovako.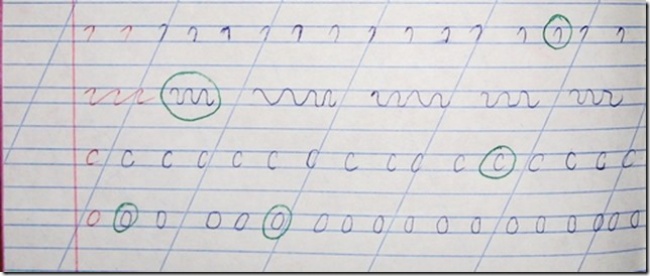 Vidite razliku? Ja nisam njene greške označavala crvenom olovkom. Ja sam istakla zelenom olovkom ona slova i kukice koje su bile ispravne. Njoj se to veoma sviđalo, i svaki put, posle svake ispisanog reda, uvek je pitala "Mama, koja je sada ispala bolja od svih" I bila je srećna kada sam zaokruživala najbolje slovo sa rečima: "Perfektno!"
U čemu je razlika između pristupa? Da li ste već shvatili?
U prvom slučaju fokusiramo se na greške. Šte se uskladištilo u vašem fotopamćenju? Tako je, ona, neispravno napisana slova. Da li ste uvideli kod tih crvenih podešavanja idealno napisana slova? Ne! Želimo li, ili ne, ali podsvesno pamtimo ono što je istaknuto.
U drugom slučaju mi se fokusiramo na onome što je urađeno ispravno! Dobijamo sasvim drugačije emocije, drugačiju percepciju. Želimo ili ne, ali podsvesno pokušavamo ponoviti ono što je bilo odlično! To je sasvim druga unutrašnja motivacija  – ne pokušaj izbeći greške, ali pokušaj uraditi dobro!
A sada pažnja, pitanje: kako istaknute greške u svesci utiču na kasniji život?
Odgovor je očigledan:
Od detinjstva smo navikli da se fokusiramo na nedostatke, na to što nije ispravno, na to što izgleda pogrešno i loše. Naučeni smo tome u školi uz pomoć crvene olovke, naučeni smo tome kod kuće kada smo često skretali pažnju na ono što je učinjeno pogrešno, nego što su nas hvalili  za ono sto smo uradili ispravno.
Ta sama navika (isticati crvenim loše), koju mi izoštravamo od samog detinjstva, i koju nikako ne možemo istisnuti iz naše svesti u odraslom dobu, i postaje najčešći uzrok nezadovoljstva u životu.
Na čemu je fokus, to i raste. Na šta je usmerena pažnja, to se i povećava. Sve potiče iz detinjstva. Iz detinjstva sve povlačimo u odrasli život, sve naše navike i veštine, i nisu nam sve od njih korisne.
Uvođenjem principa "zelene olovke" uvidećete da, čak, i ako ne skrećete pažnju detetu na greške, one postepeni nestaju same od sebe, jer dete ima želju da samo sve uradi  savršeno, svojom slobodnom voljom.