Mravi – to su insekti koji svakako zaslužuju pažnju: oni su inteligentni, žive gotovo svuda, komuniciraju pomoću feromona i podeljeni su na kaste unutar svojih kolonija. Njima su čak i knjige posvećivane! Ali, to vas apsolutno ne raduje, kada  se  neočekivano pojave u  kući, narušavajući vaš porodični mir.
Najbolje je da ih se rešite, što je brže moguće. Međutim, ako u kući imate malu decu i kućne ljubimce, možete pokušati da se oslobodite njihovog prisutstva bez štetnih hemikalija, uz pomoć prirodnih sredstava.
Srećom, postoji mnogo načina da se rešite mrava na prirodan način, a o jednom od takvih koji se pokazao poprilično efikasan, danas ćemo vam nešto više reći.
Da biste pripremili svoje "oruđe" u borbi protiv ove napasti, biće vam potrebno eterično ulje karanfilića.
Inače, ovo ulje se koristi kao prirodni insekticid i repelent (odbija komarce, muve, žute mrave, bubašvabe itd).
Ono što je potrebno, to je da 40 kapi ulja karanfilića razrediti u 200ml vode. Rastvor sipati u bocu sa raspršivačem, dobro promućkati pre upotrebe i naprskati sve otvore gde izlaze insekti.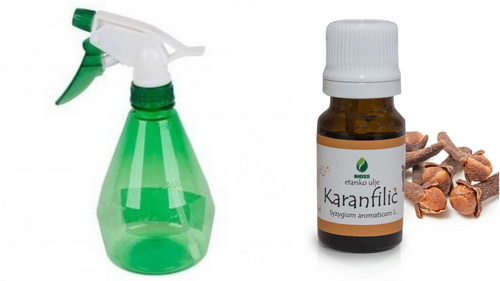 Ovaj postupak ponavljati jednom na svaka 3 dana. Nepoželjni gosti uskoro će napustiti vašu kuću zauvek!
Stvar je u tome da mravi ne tolerišu fenol – toksičnu supstancu koja se nalazi u ulju karanfilića, ali koja je apsolutno bezopasna za čoveka i životinje.
Inače, ulje karanfilića je veoma korisno za ljudsko zdravlje, njegova aroma ima sposobnost pojačavanja imuniteta. Koristi se za prehlade i infekcije, kao antivirusno i antibakterijsko sredstvo.
Takođe, ono ima stimulišući učinak na psihu i uklanja mentalnu iscrpljenost i stres. Ulje karanfilića podstiče dubok i miran san. Uvek se upotrebljava razređeno!
Što se tiče mrava i drugih efikasnih načina borbe protiv njih, o tome možete pročitati ovde: Kako se rešiti mrava u kući na prirodan način.