Ovo je najjednostavniji način da naoštrite vaš kuhinjski nož. Za samo nekoliko sekundi dobićete željenu oštrinu noža. Za ovaj postupak biće vam potreban samo jedan predmet iz vaše kuhinje, koji postoji u svakoj kući bez izuzetka, a to je obična keramička šolja. Dakle, da počnemo. Pre svega pronađite staru keramičku šolju..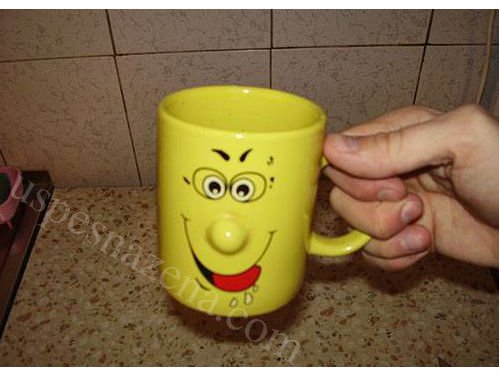 Pre postupka oštrenja, sečivo noža isperite hladnom tekućom vodom. Šolju okrenite naopako. Obod na dnu šolje mora biti grublji, ne bi trebalo da bude emajliran kao što je ostatak šolje.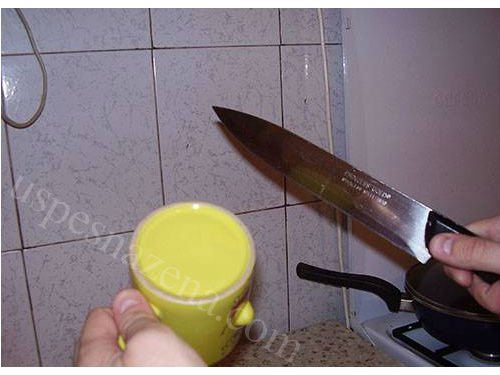 Proces oštrenja je jednostavan. Sa malo truda sečivo noža prevucite u smeru od drške noža ka vrhu (pokretom prema sebi).
Okrenite sečivo na drugu stranu i ponovite isti taj pokret.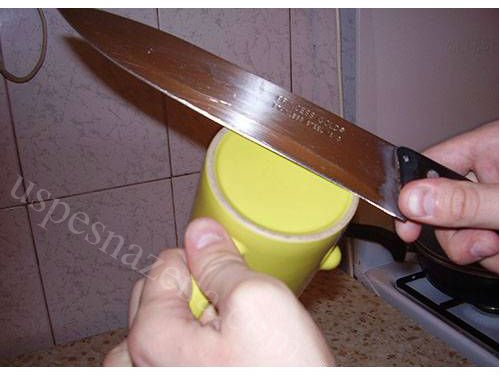 Znači, naizmenično sa različitih strana oštrimo sečivo noža na taj način.
Dovoljno je 6-8 takvih pokreta sa obe strane, sve zavisi koliko je vaš nož tup.
Nakon oštrenja, nož isperite u vodi i naravno i šolju.
Sad probajte nešto naseći.
Ne gledajte na to što vam ovaj savet na prvi pogled izgleda nerealno. Pokušajte naoštriti nož na ovaj način i uverite se u efikasnost ovog saveta. Bićete zadovoljni rezultatom i nećete tražiti pomoć od muškaraca! Ovaj savet će posebno biti od koristi mladim domaćicama.
Savet plus: noževi se ne peru vrućom vodom, od toga se brzo istupe.