Zašto poznati parovi tako dobro izgledaju na slikama, bez obzira kakvu god pozu da odaberu? Sve je jednostavno: njima su poznate male tajne koji pomažu da se istaknu prednosti, a sakriju nedostaci.
Pokazaćemo vam najfrekventnije greške kod uobičajenog fotografisanja i ukazati na to kako ih izbeći.
Zapamtite ove jednostavne trikove i vi ćete, sa svojim parom, uvek izgledati sjajno!
Pokušajte ne zaklanjati rukama jedno drugo, jer će u takvoj pozi ruke biti primarne, a ne figura. Samo okrenite telo prema kameri i obavezno vodite računa o držanju tela, ne spuštajte nisko glavu.
 Poluokrenuti licem jedno prema drugom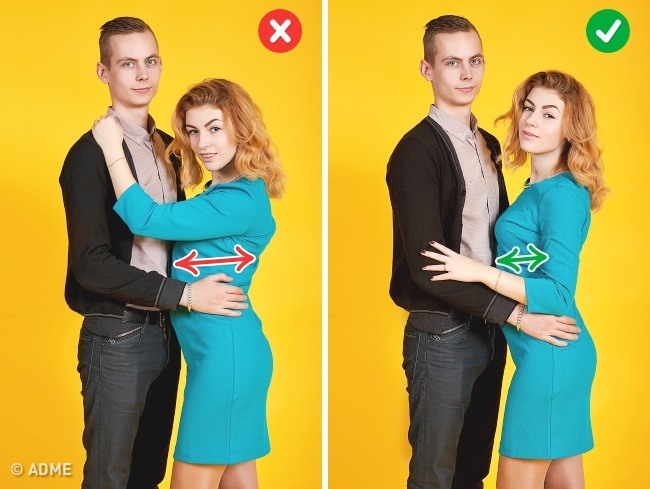 Podignuta ruka dodaje vizuelan obim ramenu i samoj ruci. Šta više, ona optički uvećava figuru. Malo je spustite i savijte u laktu – izgledaće elegantnije, i telo će delovati vitkije.
Naslanjajući se i uhvativši se za partnera, devojka kao da ga pritiska. Uzmite partnera ispod ruke, i stanite delimično iza njega – ovakva poza će biti mnogo efektnija.
Bolje je ne naslanjati glavu na rame partnera: zbog razlike u visini, ovo često ne izgleda baš lepo. Stanite malo iza njega i lagano dodirnite rame, ne dodirujući ga licem. To izgleda bolje, a i struk se vizuelno smanjuje.
Poluokrenuti, desnim ramenom napred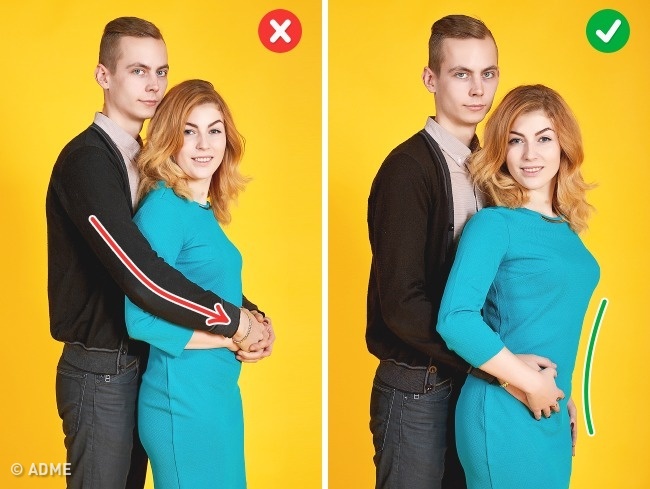 Kao što je već rečeno, pokušajte ne zaklanjati rukom partnera. Snažan zagrljaj će izgledati kao da pritiskate devojku. Ispravan položaj – stati poluokrenut, ispraviti ramena i nežno zagrliti devojku.
U želji da zagrlite partnera, ne oslanjajte se na njega celim telom i ne naginjite se suviše napred. Takođe, pogrešno je direktno stavljati ruke na ramena.
Stanite iza, i lagano se nagnite  prema partneru. Stavite ruke nežno na ramena, ne pokušavajući da ih sastavite.
Izbegavajte poljupce u čelo, jer će devojka morati "zabiti" lice u vašu košulju. U ovakvom položaju možete ljubiti devojku u slepoočnicu, ali pri tome ne treba je previse stiskati, dovoljno ju je lagano zagrliti.
Poluzagrljaj sa okretom u objektiv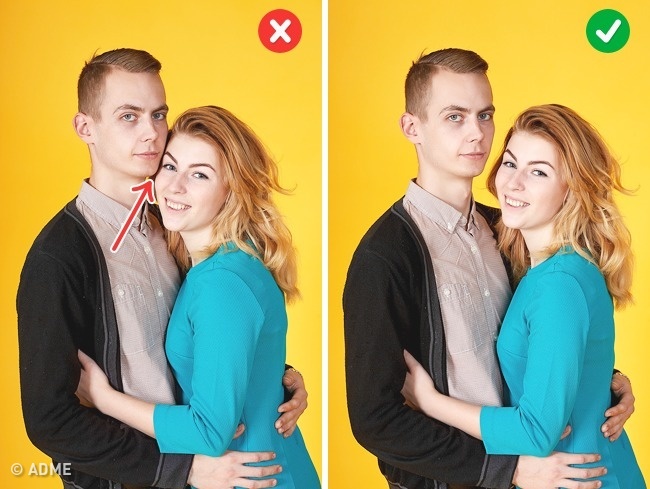 Pokušajte ne naslanjati glavu jedno na drugo, da ne izgledate kao sijamski blizanci. Ramena treba da budu ispravljena, i pomalo okrenuti od centra.
Savršen trenutak – za sekundu do poljupca. Sam poljubac ne izgleda tako estetski na slici, zbog aktivne mimike i spljoštenih noseva. I često liči na međusobno «ujedanje».
Ne preterujte grleći svog partnera, da se ne pretvorite u jednu čudnu figuru. Jednostavno privucite devojku ka sebi, i, na primer, poljubite je u obraz. I, naravno, ne zaboravljamo na ispravno držanje tela.