Vratnu osteohondrozu je teško, ali ipak, moguće lečiti. Predlažem da isprobate veoma zanimljiv recept. Nakon njegove primene, bolove nećete osećati nekoliko godina.
U pitanju je smesa za masažu koja se prirema sa nerafinisanim biljnim uljem i solju (možete koristiti morsku).
Lekovitu smesu pripremamo odmah za celu kuru lečenja. Biće potrebno: 10 supenih kašika soli i 20 supenih kašika ulja (maslinovo, suncokretovo).
Lekovita smesa za lečenje osteohondroze.
Priprema:
So i ulje promešati u staklenoj ambalaži. Zatvoriti. Posle nekoliko dana dobićete svetlu smesu.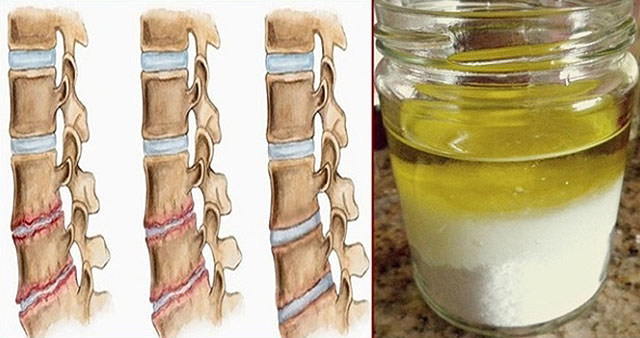 Primena:
Svako jutro treba mazati, uz energičnu masažu, vratne pršljenovi na mestima gde osećate bol. Ispočetka masirajte 2-3 minuta, svaki dan dodajući još po 2-3 minuta, na kraju dovodeći vreme masiranja do 20 minuta. Nakon završetka masaže, vrat obrišite vlažnom, toplom krpom.
Kod sprovođenja takve procedure može doći do manje iritacije kože. Zato, nakon završetka masaže, obrišite kožu suvom krpom i pospite dečjim puderom.
U rezultatu 10-dnevne kure lečenja stimuliše se cirkulacija krvi i poboljšava mišićna regeneracija hrskavičnog i koštanog tkiva. Nakon 8-10 procedura primećuju se radikalne promene.
Obnavlja se protok krvi u vratnom delu kičme, nestaju glavobolje i poboljšava se vid. To je povezano sa time da se telo čisti od toksina, sto zauzvrat normalizuje metabolizam.
U procesu čišćenja možete osećati malu pospanost ili vrtoglavicu. Ali, to se ne događa često. Po pravilu, lečenje osteohondroza na ovaj način protiče bez sporednih efekata, i daje odlične rezultate.
Prilikom utrljavanja ove smese možete praktikovati samomasažu vrata.