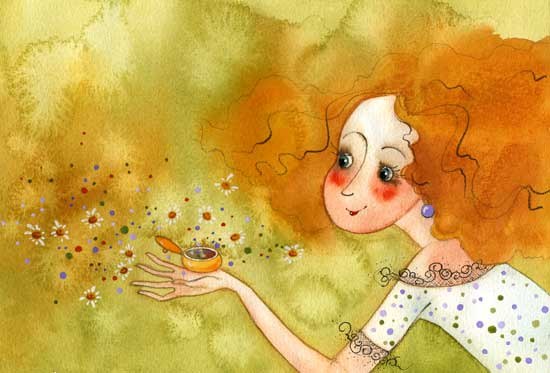 Neko čeka unapređenje, neko preseljenje, neko da kupi auto. Neko čeka da završi školu, neko da se zaposli, neko da dobije dete. "Samo kad se to desi biće sve ok". "Samo kad ovo ostvarim laknuće mi". "Samo kad se ovo završi sve će doći na mesto."
Svi pričaju isto. Neko vreme bude sve ok, i dođe sve na svoje mesto, ali vrlo brzo nam nešto novo treba, nešto novo vijamo, nečemu novom stremimo. Da stvar bude gora, dok opet ne ostvarimo šta smo naumili, bivamo nesrećni. Sa ostvarenjem želje opet stiže kratak period sreće, pa onda ponovo budemo nesrećni, i tako u krug.
Beg iz ovog "vrzinog kola" ne sastoji se u tome da ničemu ne stremimo, mada ima filozofija koje i to predlažu.
U mom slučaju pomoglo je nešto drugo. Naučila sam da čovek prvo mora biti srećan i zahvalan za sve što ima i što bi mogao imati, pa tek onda može dobiti i ostvariti sve što želi i što mu je potrebno.
Dakle, upravo je obrnuto od onoga kako smo naučeni da živimo. Nije " biću srećan kad dobijem…",  nego "dobiću…kad budem srećan". Ovaj način življenja neki nazivaju tehnikom zahvalnosti. Princip ove tehnike je da čovek konstantno bude svestan svega dobrog i kvalitetnog u njegovom životu, bez obzira na ono manje lepo.
Ovakvo razmišljanje podiže nivo i kvalitet životne energije i vibracije. Tek na visokim frekvencijama čovek je u stanju da sebi privuče sve što poželi. Ja sam sebe istrenirala da budem srećna bez obzira na okolnosti. Ponekad klonem, ali brzo se povratim.
Nekima će ovo možda zvučati bajkovito, ali u današnja vremena ima toliko naučnih dokaza koji ovu teoriju potvrđuju, da ne bi trebalo da je odbace pre nego što sve dobro provere. Kvalitet našeg življenja zavisi od naših ubeđenja, verovanja, stavova, misli i reči.
Sami kreiramo svoj svet, bez obzira na to kada, gde i sa kim živimo. Sve zavisi od nas. Što pre to shvatimo to nam ostaje više vremena da svoj život dizajniramo po svom nahođenju. Činjenica je da je potrebno dosta vremena i rada da čovek promeni svoj mentalni sklop, da promeni način na koji misli i reaguje na ljude, događaje, okolnoti.
Treba dosta upornosti, strpljenja, samokontrole, discipline, izdržljivosti. Nije lako. Ali jednom kad izađete iz začaranog kruga pakla shvatićete da je vredelo. Jedino što će vam tada biti žao je mi niste poverovali ranije.
Bojana Čupić