Čovekov izbor može mnogo toga da kaže o njemu, posebno ako se stvar tiče stresnih situacija, kada je odluku potrebno doneti munjevitom brzinom.
Predlažemo da pređete ovaj kratki test, koji će vam reći celu istinu o vašoj ličnosti. Sve što treba da uradite je da bez razmišljanja kažete kome je ovde potrebnija pomoć nego ostalima?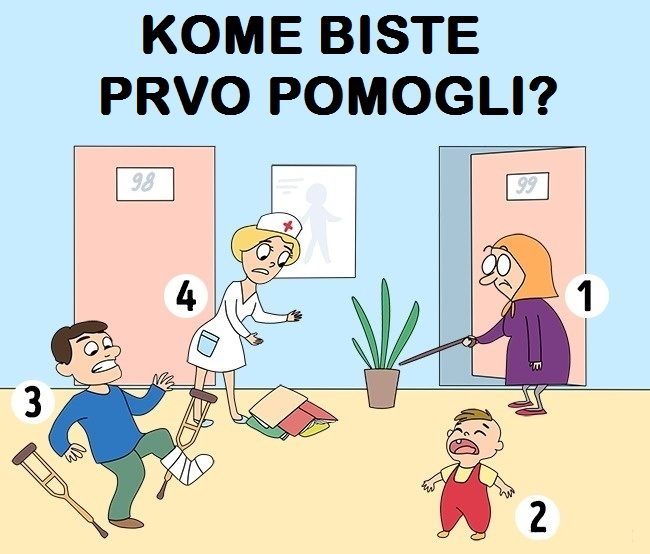 № 1
Vi ste lepo vaspitan čovek visokog morala i s poštovanjem se odnosite prema tradicijama prošlosti. Donošenju odluka uvek pristupate racionalno, nikada ne postupate nepromišljeno. Vama je teže nego drugima da se pomirite s nepravednošću ovog sveta. Upravo vama često poveravaju rutinske poslove, od kojih su svi drugi uspeli da pobegnu.
№ 2
Vaš izbor govori da imate jako osetljivo srce koje se opeklo mnogo puta. Vi ste čovek koji je sigurno više puta morao da sluša: " Ne daj da te gaze" ili " Skini ružičaste naočare". Pored vas se prijatelji osećaju mirno i sigurno, jer vi nikada nikog ne ostavljate u nevolji.
№ 3
Duša kompanije i ljubitelj veselih okupljanja – to ste vi. Ne volite da se brinete oko sitnica, i nikada nećete učiniti više nego što je potrebno, ako to neko ne zatraži od vas. Po prirodi ste lider i poput magneta privlačite isto takve jake ličnosti.
№ 4
Po prirodi ste lak čovek, optimista, za koga je život obojen jarkim bojama i koji ne primećuje nesavršenosti sveta. Brzo nalazite zajednički jezik s ljudima i ne volite previše da se trudite. Vaša radoznala priroda voli doživljaje i ne podnosi učmalost u četiri zida.