Brzo pogledajte sliku i recite, šta vidite? Verodostojnost testa dostiže i 99%.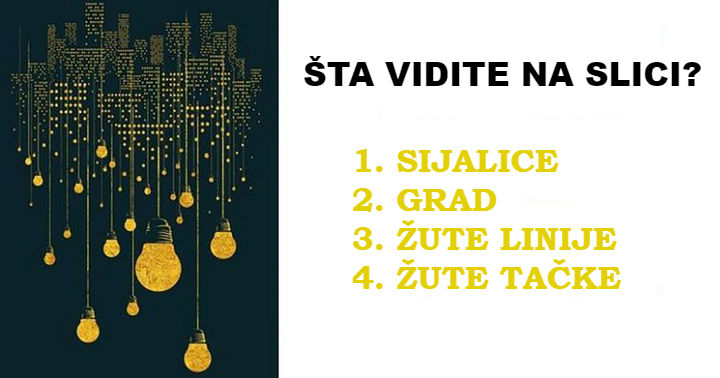 Ako ste videli sijalice
To je dobar znak, jer  izvor svetlosti je poput ozarenja. Vi ste srećan i ostvaren čovek. Svime ste zadovoljni, počevši od posla koji volite, pa sve do prijatnog porodičnog života. Čovek koji na slici vidi sijalice lako kontroliše svoje emocije, što mu pomaže da dostigne visoke ciljeve, kako u privatnom životu, tako i u karijeri.
Videli ste grad?
To govori da ste imali srećno detinjstvo i siguran roditeljski dom. Sećanje na taj period vam i danas greje dušu. Vi sve pažljivo i unapred planirate, često pravite paralele s već stečenim životnim iskustvom. Svoju budućnost gradite na osnovu prošlosti, i često vam upravo to vraćanje u prošlost ne dozvoljava da krenete napred.
Žute linije
Ako ste ovo videli, vi ste direktan čovek. Često ne možete da zadržite emocije, pa samim tim ni da prećutite. Tom svojom direktnošću vrlo lako možete da povredite bliske vama ljude, čak da toga niste ni svesni. Nikuda ne žurite i smatrate da imate neograničene zalihe vremena,- ipak, život može lako da vam izmakne groz prste.
Žute kružiće-tačke
Ovo govori da vi sve odlažete za sutra, čak iako to može ili treba da se uradi danas ili istog momenta. Imate mnogo toga nezavršenog i nedorečenog. Pokušajte da završite sve započeto i iskažete sve nedorečeno. Sve dok se u vama skuplja taj negativ, nećete moći da osetite unutrašnji mir i lično zadovoljstvo. Pokušajte da se što pre rešite navike da sve odlažete za sutra.