Izaberite jabuku koju biste pojeli i saznajte šta znači vaš izbor.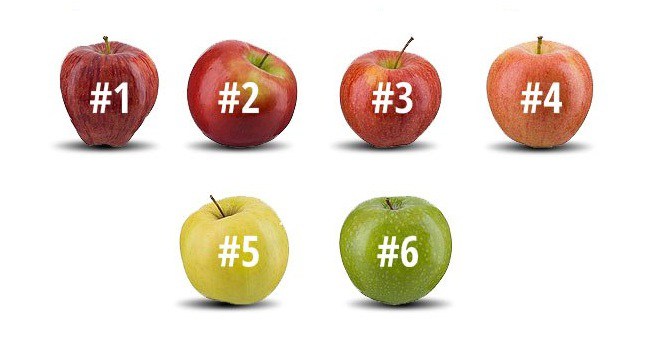 Jabuka br. 1
Vi ste otvoren i iskren čovek. Nikad ne pokušavate da sakrijete istinu, kakva god ona bila. Nemate skrivenih namera i zlih misli. Ne bojite se da ostanete svoji, ne stavljate maske, i možda baš u tome leži vaša  neverovatna sposobnost u preživljavanju uspona i padova. Za vas je sreća i zadovoljstvo u malim stvarima, ni o čemu previše ne brinete. Najveće zadovoljstvo će vam pružiti obična zrela jabuka koje ste upravo ubrali sa grane.
Jabuka br. 2
Imate živahan karakter, pun energije. Dosada je vaš smrtni neprijatelj, a samim tim i vaš život nije dosadan, pun je dešavanja i avantura. Tražiti ih – to je vaš moto. A, uostalom,svemoguće avanture vas same pronalaze. Sve što je originalno i puno utisaka, donosi vam radost života. Vaša jabuka je, svakako, u u glazuri posuta čokoladnim mrvicama!
Jabuka br. 3
Vi ste zanimljiva ličnost. Tako misli vaša okolina. Ali, samo vi mislite drugačije. Vama je svojstven optimizam, mašta i osećaj lepote. I to inspiriše ljude. Sve što se dešava u vašem životu, veoma je zanimljivo za ljude koji vas okružuju.
Vi ste ubedljivi, čak i ako ne pokušavate nikog ubeđivati u bila šta. Za vas je najslađe dobro parče domaće pite od jabuka, koja ostavlja sladak ukus u ustima.
Jabuka br. 4
Vaš adut  je – pouzdanost. Kao blindirani rols-rojs, kao stena, na koju se može osloniti. Posedujete retke kvalitete uravnoteženih misli, osećanja i postupaka. Uzdržani ste, ali to se, ponekad, graniči sa skromnošću. Više slušate, nego što govorite, i to vam apsolutno odgovara.
Toliko ste odani i pouzdani, da se sa vama, zaista, može i u vatru i u vodu. Vaša poslastica je čašica ukusnog jabukovog likera .
Jabuka br. 5
Radost! Kad vas ugledaju, nameće se baš ta reč. Živite život punim plućima, adrenalin vam nije potreban. Život je lep – i u tome je sav njegov šarm. Vi cenite svakodnevne ukuse, zvuke, mirise, lepote. Čak je za vas  i rutina divna i neobična. Vi je sami stvarate takvom.
Od trenutka buđenja živite svaki minut, sviđa vam se sjedinjavanje sa svetom oko vas. A najiskrenija sreća – je ona, u jednostavnim stvarima. Poput običnih jabuka, ubranih sa grane.
Jabuka br. 6
Vi ste duhoviti i pronicljivi. Imate brz um i momentalnu reakciju. Sve rešavate u pokretu. Čak, i ako niste previše društveni, po potrebi možete biti pričljivi i zabavni. Veoma ste inteligentni i duhoviti, što vas čini dušom društva.
Ne težite tome po sopstvenoj volji,  ali jednostavno, umete zabaviti ljude, ne više od toga. Koja je vaša slabost? U bokalu dobrog jabukovog vina uz kriške lepog sira.