Na Hemingvejevom grobu stoji natpis: Najviše je voleo jesen. To toplo žuto jesenje lišće koje plovi rekom na leđima pastrmki, ispod spokojnog plavog neba. Sada će i on zauvek biti deo svega toga.
Femina se priseća Tatinih mudrih citata – kako su zvali ne samo njegovi sinovi, već i zahvalni poštovaoci širom sveta.
1. Ne klonite duhom. Nikada se nemojte obeshrabriti. Tajna mog uspeha je da nikad ne gubim hrabrost. Nikada ne gubite hrabrost pred svetom.
2. Kad se otrezniš, uradi sve što si pijan obećao – to će te naučiti da držiš jezik za zubima.
3. Putujte samo s onima koje volite.
4. Ako u životu možeš da učinš makar i malu uslugu, nemoj se ustručavati.
5. Ne sudi o čoveku samo po njegovim prijateljima. Seti se da su Judini prijatelji bili besprekorni.
6. Gledaj slike otvorenog uma, čitaj knjige iskreno i živi pošteno.
7. Najbolji način da saznaš da li je neko vredan poverenja jeste da mu veruješ.
8. Kupujte ili odeću ili slike. Samo to. Niko osim veoma bogatih ljudi ne može da sebi priušti i jedno i drugo. Ne pridajte preteranu važnost odeći, a pre svega ne jurite modu. Kupujte trajne i udobne stvari i onda će vam ostati novca za slike.
9. Od svih životinja, samo čovek ume da se smeje, iako ima najmanje razloga za to.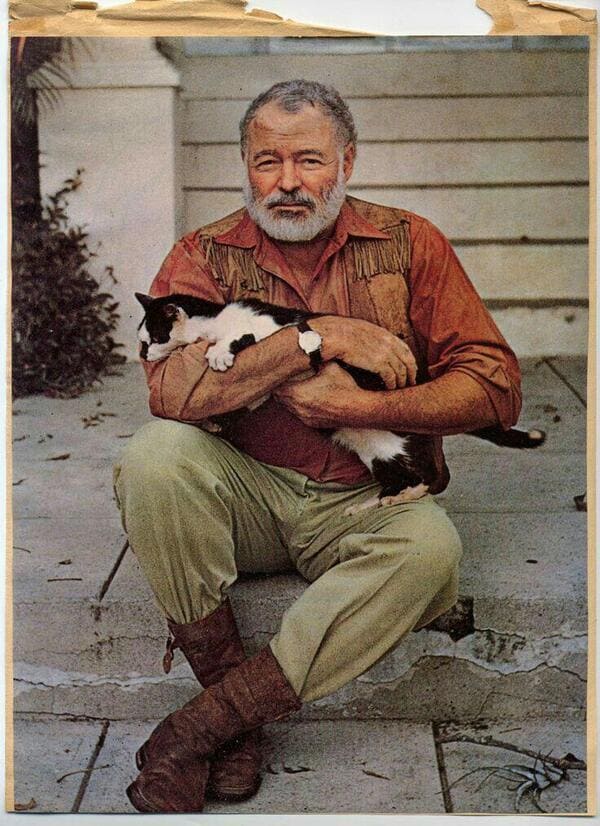 10. Mačke mogu bez napora da rade ono što je ljudima uskraćeno: da idu kroz život ne stvarajući buku.
11. Pametan čovek se ponekad napije, da bi se družio sa svojom glupošću.
12. Ako sebi dopustiš šalu, ljudi te ne shvataju ozbiljno. A ti isti ljudi ne shvataju da se mnogo toga bez šale uopšte ne može podneti.
13. Čovek nije stvoren za poraze. Čovek se može uništiti, ali se ne može poraziti.
14. Pametni ljudi su retko kad srećni.
15. Zaista hrabri ljudi nemaju potrebu da se bore u dvobojima, ali mnoge kukavice to stalno čine, da se uvere u sopstvenu hrabrost.
16. Čovek ne može sam… U svakom slučaju, čovek sam ne može baš ništa.
17. Najvažniji dar pisca je urođeni detektor za sranja. Svi dobri pisci ga imaju.
18. Sve dobre knjige su nalik jedna na drugu: istinitije su od života.
19. Šta je to što piscu smeta? Piće, žene, novac i ambicije. Kao i nedostatak alkohola, žena, novca i ambicija.
20. Ono što pisac želi da kaže, ne bi trebalo da govori, već da napiše.
21. Piši pijan, rediguj trezan.
22. Tamo gde se slomimo – postanemo jači.
23. Sreća je: dobro zdravlje i loše pamćenje.
24. Onaj ko se diči erudicijom ili znanjem, nema ni jedno ni drugo.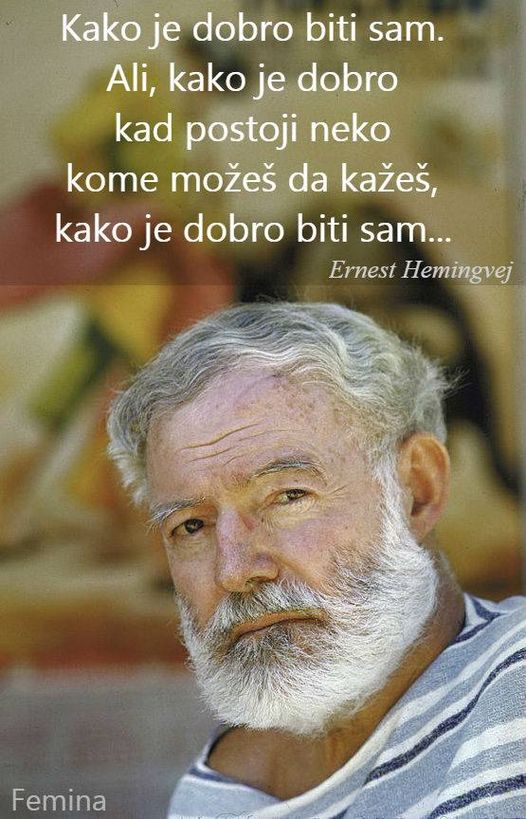 25. Bolje je nemati ideologiju, nego nemati posao.
26. Nije me briga kakav je svet. Sve što želim da znam je kako da u njemu živim. Možda ćeš, ako shvatiš kako da u njemu živiš, konačno razumeti i kakav je.
27. Ima i gorih stvari od rata. Mnogo su gori kukavičluk, izdaja i sebičnost.
28. U životu se nije tako teško smiriti kad nemaš šta da izgubiš.
29. Onaj koji pobeđuje u ratu nikada neće prestati da ratuje.
30. Na svetu ima mnogo žena s kojima možeš da spavaš, a tako malo onih s kojima možeš da razgovaraš.
31. Ne može biti ništa sramotno u onome što daje sreću i ponos.
32. Svet je dobro mesto za koje se vredi boriti i ja stvarno ne želim da ga napustim.
33. Postoje dve vrste ljudi: oni s kojima je lako, a takođe je lako bez njih, i oni s kojima je teško, ali se bez njih ne može.