Autor ovog testa je je izvesni britanski psiholog Pip Wilson. Test je bio predviđen za decu školskog uzrasta sa ciljom provere kako se snalaze u školi za prve 3 godine.Međutim, kasnije se ispostavilo da je on veoma relevantan i za odrasle. Test pomaže čoveku ojačati njegovo pravo i željeno emocionalno stanje, i čak, u izvesnoj meri, osnažiti svoj položaj u društvu.
Svaki od ovih čovečuljaka na drvetu ima različito raspoloženje, i oni zauzimaju različiti položaj.
Za početak, opredelite se koji od njih najviše liči na vas. Nakon toga, izaberite čovečuljka na koga biste želeli da ličite: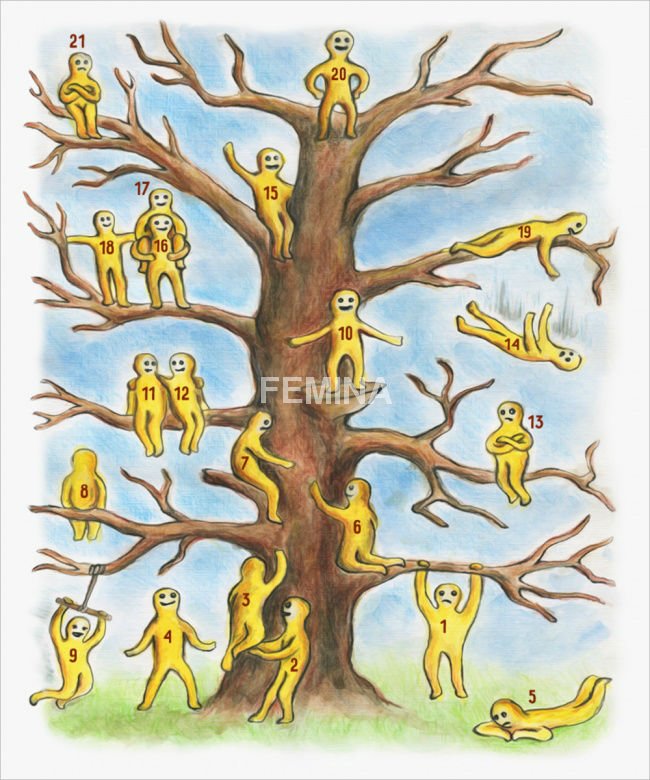 Objašnjenje rezultata testiranja:
Ako ste odabrali poziciju br. 1, 3, 6 ili 7, to vas karekteriše kao motivisanu osobu, koja se ne boji nikakve prepreke i barijere u životu.
Ako je vaš izbor pao na jedan od sledećih brojeva: 2, 11, 12, 18 ili 19, to znači da ste komunikativna osoba koja će uvek pružiti bilo kakvu podršku svojim prijateljima.
Izbor čovečuljka pod brojem 4, definiše vas kao osobu sa stabilnom životnom pozicijom, osobu koja želi da ostvari mnogobrojne uspehe bez prevazilaženja teškoća.
Broj 5 – večito ste umorni, slabi, imate nedovoljno životne snage.
Izbor je pao na čovečuljka broj 9 – vi ste vesela osoba, koja voli zabave.
Broj 13 ili 21 – vi ste zatvoreni, često ste izloženi unutrašnjim brigama i izbegavate česte komunikacije sa ljudima.
Broj 8 – volite da se povlačite u sebe, razmišaljate samo o sebi,i uranjate u sopstveni svet.
Ako ste odabrali brojeve 10 ili 15 – imate normalnu adaptaciju u životu, nalazite se u optimalnom stanju.
Broj 14 – padate u emotivnu propast, najverovatnije ste izloženi  unutrašnjoj krizi.
Poziciju broj 20 obično biraju ljudi sa visokim samopuzdanjem. Vi ste prirodni vođa, i želite da ljudi često slušaju samo vaše mišljenje.
Izbor je pao na čovečuljka broj 16? Osećate se umorni od neophodnosti podržavanja nekoga, ali je moguće da ste primetili- vas na ovoj slici broj 17 grli  – u ovom slučaju skloni ste proceniti sebe kao čoveka okruženim pažnjom.