Kaže se da smo u različitim periodima života skloni da biramo boje koje nam se u tim trenucima najviše sviđaju.
Za to postoji nekoliko razloga. Kao prvo – naša intuicija je veoma moćna stvar, i ponekad može ukazivati na činjenice koje nisu očigledne našem mozgu. Kao drugo, birajući boju, trudimo se nadoknaditi nedostatak određenih kvaliteta ili stanja.
Ovaj test je jednostavan i on će vam jasno dati do znanja kako se osećate u ovoj životnoj fazi i pomoći će da pronađete rešenje za prevazilaženje trenutnih poteškoća.
A sada, pogledajte sliku i izaberite sveću bez dužeg razmišljanja.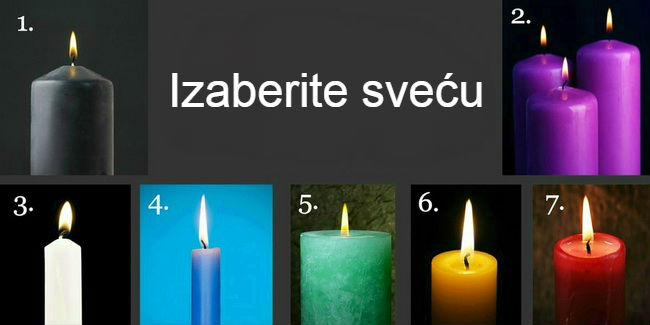 ⇓
1. Crna.
Mnogi ljudi veruju da je crna boja povezana sa nečim negativnim, ili nečim lošim. Ali, crne sveće nam često prizivaju snagu ljudi koji su napustili ovaj svet, ne negativnost ili loše strane. Zbog toga, njih često pale u teškim životnim periodima, sličnim ovom koji vi trenutno preživljavate.
2. Ljubičasta.
Ljubičasta boja pomaže podizanju nivoa energije i unutrašnjih vibracija. To je korisno znati ljudima, koji nisu sigurni u sebe, i osećaju se iscrpljenim. U svakom slučaju, ljubičasta sveća pomoći će vam da umanjite taj osećaj, i podići će samopoštovanje.
3. Bela.
Bela sveća je simbol čistote duše. Ona razbistrava misli i daje jasnu predstavu o životnim ciljevima. Ako ste izabrali baš nju, verovatno vam nedostaje jasnoće i putokaza. Belu sveću možete zapaliti kada ste zauzeti samoistraživanjem – to će ga učiniti transparentnijim i produktivnijim.
4. Plava.
Plava – boja koja simbolizuje naše fizičke potrebe. Ona povećava nivo pozitivnnih vibracija u prostoru, i pomaže harmonizaciji raspoloženja. Ako se osećate duhovno iscrpljenim, plave sveće će  pomoći stvaranju isceljujuće atmosfere.
5. Zelena.
U indijskoj medicini zelenoj boji odgovara srčana čakra. I baš ovoj boji treba pribeći ako se osećate odbačenim od sveta, prirode, i živite odvojeno od cele planete.
6. Žuta.
Žuta boja, po pravilu, povezuje se sa komunikacijskim veštinama, jasnoćom uma i mišlju. Najjači uticaj ova boja ima na moždani centar. Na nju treba gledati kada vam predstoji izučavanje nekog materijala, ili kada se bavite samoobrazovanjem.
7. Crvena
Sećate se lava iz "Čarobnjaka iz Oza", kojem je nedostajalo hrabrosti? Napitak, koji  mu je dao čarobnjak, bio je baš crvene boje. Pored negativnih konotacija (bes, opasnost, zlo) crvena boja može biti veoma pozitivna. Jer vatra može sve spaliti, a može i sama da sagori.
Izvor:  higherperspectives.com