Mnogima od nas reč dijeta zvuči kao kazna, koja nam ne dâ da uživamo u omiljenim poslasticama i da se hranimo korisnim namirnicama. Ali to uopšte nije tako.
Mišel Adams – Arent (Michelle Adams-Arent), konsultant u oblasti ishrane i sporta, kaže da dijeta ne predstavlja  toliko uzdržavanje od hrane, koliko njen pravi raspored u toku dana.
Femina otkriva "tajnu" ishrane koja će vam pomoći da se rešite suvišnih kilograma bez "duševne patnje" za ukusnim keksićima i tortama.
Koliko često treba jesti?
Svaka dijeta ima svoje prohteve: lišiti se pržene hrane, ne jesti slatko, hraniti se isključivo belančevinama ili potpuno preći na povrće. U većini slučajeva sve nam ovo škodi, ako ne u fizičkom, onda u psihičkom smislu. A zapravo, nije toliko važno koliko jedemo, već kada to činimo.
Naš organizam funkcioniše tako što usvaja određenu količinu hrane i energije na neko vreme. A sve što nismo potrošili (usvojili), polako se nagomilava "na kukovima".
Ali ako hranimo organizam porcijama koje može u potpunosti da usvoji, onda on neće imati šta da skladišti.Vi, u stvari, možete da jedete sve što poželite (naravno, u granicama normalnosti).
"Šest obroka dnevno je mnogo bolje za mršavljenje od standardnih tri, ma koliko to čudno zvučalo", – kaže Mišel.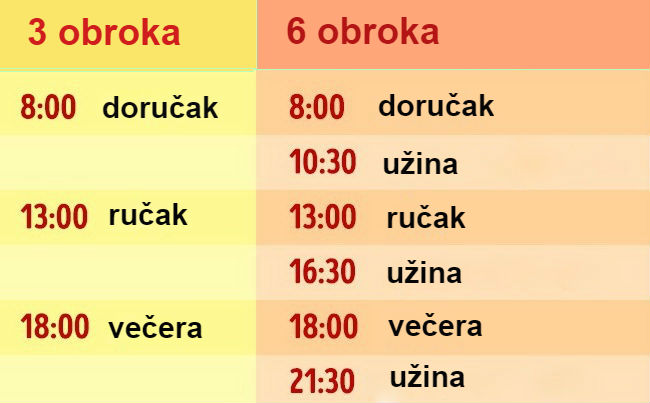 Vidite, kada na svakih nekoliko sati jedemo male porcije, mi od hrane dobijamo mnogo više korisnog i pritom gubimo suvišne kilograme.
Ali to ne znači da je kvalitet hrane manje važan; budete li jeli po šest hamburgera dnevno, zdraviji sigurno nećete biti. Ne treba zaboravljati da je potrebno jesti i zdravu hranu, kao što je voće i povrće.
Da biste saznali koliko je kalorija potrebno uneti u toku dana, treba da pomnožite svoju težinu sa 25 (ako ste žena), ili sa 28 (ako ste muškarac).
Nije potrebno napominjati da je to minimalna količina kalorija, u slučaju da ležimo na krevetu i ništa ne radimo.
"U principu, ničeg novog u ovome nema",- kaže Mišel. Većina ljudi jednostavno ne razume kako je moguće da izgledamo bolje, a da jedemo sve što poželimo.
Zato muče sebe "čudnim" dijetama ili se potpuno odriču hrane. Istina, ponekad ćete morati da se borite sa iskušenjem da ne pojedete suvišan kolač, ali gladni sigurno nećete biti.