Predlog, kao deo morfologije engleskog jezika, u engleskom igra značajnu ulogu, a ponekad čini zaista čudo.
Spojeni sa glagolima, predlozi kardinalno menjaju njihovo značenje, prethodeći imenicama menjaju padeže, premeštaju predmete u prostoru, određuju mesto i mnogo drugo. Vešta upotreba predloga je pravo iskustvo.
Zato smo na jednom mestu sakupili osnovne predloge engleskog jezika i pravila njihovog korišćenja.
Predlozi koji definišu mesto radnje, lokaciju: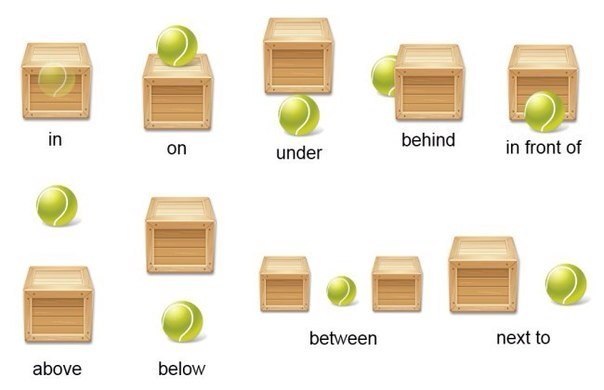 Predlozi u engleskoj rečenici ispred imenice ili zamenice, nikad ispred glagola.
The preposition usually comes before the noun or the pronoun. The preposition never comes before a verb.
Najčešći predlozi iz ove kategorije su:
in, at, on , koji se mogu koristiti i kod defenisanja vremena, o tome je bilo reči u gore pomenutom postu.
Ako je nešto u kutiji ili nekom drugom većem zatvorenom ili širokom prostoru onda koristimo in.
If something is contained inside a box or a wide flat area, we use 'in'

in a cup
in a bottle
in bed
in London
Ako je nešto u liniji ili horizontalnoj ili vertikalnoj površini, koristimo on. If something is on a line or a horizontal or vertical surface, we use 'on':
on my face
on the page
on a chair
on the river
Ako je nešto u nekoj tački dešavanja, recimo zgradi, svim vrstama građevinskih objekata (uglavnom) koristimo at.
If something is at a point, (it could be a building) we use at.
at the airport
at the table
at the cinema
at the bottom
at the top
at the table
at the door
A evo i spiska ostalih, češće upotrebljavanih predloga za mesto, sa najčešćim, dakle ne i jedinim značenjem:
by – kod
near – blizu
above – iznad
below – ispod
over – preko
under – ispod
up – gore
down – dole
around – oko, okolo
through – kroz
inside – unutar
outside (of)– izvan
between – između
beside – pored
beyond – izvan iznad
in front of – ispred
in back of – iza, pozadi
behind – iza
next to – pored
among – između, među (obično više njih)
along – duž
against – protiv
Primeri:
at
She is at school.
She is sitting at my table.
Let us meet at 5 p.m.!
in
He is in the study.
The book is in my table.
Summer begins in June.
It took place in 2002.
This article is written in English.
on
The book is on my table.
The picture is on the wall.
This is an article on history.
I was born on the 5th of November.
from
The train is coming from Moscow.
Take the pencil from the table.
I'll be busy from 10 a.m.
to
We came to Moscow.
They went to the theatre.
I'll be busy from 10 p.m. to 3 p.m.
Give this book to me.
since
I'll have a rest since July till August.
till
Till Friday I'll be very busy.
into
Put the book into the bag.
onto
Put the pen from the drawer onto the table.
before
The accident took place before our era.
after
I went there after the stopped.
about
Please, tell me about him.
Come about 2 p.m.
It was about noon, when she came home.
for
I have lived there for 2 years.
I went for a walk.
That is a present for you.
We left for St. Petersburg at 10 p.m.
during
I was in the countryside during my weekend.
of
All the students of this group passed the exams perfectly.
You must never think of him badly.
with
We write with pens.
He went to the station with her.
His face was pale with fear.
by
This poem was written by Pushkin.
He was standing by the window.
He had already come by 3 p.m.
between
The father divided the apples between his 2 sons.
among
The farther divided the apples among all his children.
except (for)
Everybody likes it except me.
besides
There were 5 boys in the room besides me.
over
A flight over the lake
Over the last five years 
below
Below zero
out
My crossbow is already out.
behind
The sun is behind a cloud.