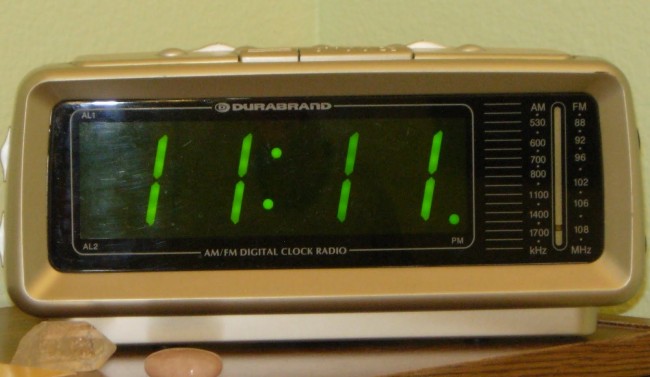 Sve je u ovom svetu uzajamno povezano, i numerologija – nauka o brojevima – zasnovana je na ovoj teoriji. Cifre poseduju određenu vibraciju koja utiče na vibraciju fizičkog sveta. Tako je tvrdio Pitagora, najmudriji  drevni  matematičar, i čovek zanimljive sudbine.
Ako ste primetili na satu, telefonu ili računaru magični broj 11:11, pravo je vreme da zamislite želju! U ovom trenutku, moć vaše namere- dobiti veliku sreću u ovom životu, poklapa se sa energijom brojeva.
Nekad su ljudi verovali ako su se pojavljivale četiri jedinice – anđeo doleće na ovo mesto.
11 – simbol duhovne čistote, prosvetljenja, čiste svesti.
11:11 – dvostruki broj sa veoma moćnim delovanjem. Ako ga često  primećujete, u vašem životu  nastaće red koji je ranije toliko nedostajao. Čisto, uredno, apsolutno idealno vreme za pravljenje  novih planova.
Kod mnogih se, kada vide ovaj broj na časovniku,  bude asocijacije na kod ili signal  probuđenja.
Takođe, ovaj broj može se razmatrati kao ključ za otvaranje podsvesti, našeg genetski kodiranog sećanja o tome da smo duše, koje ovde na Zemlji, imaju fizičko iskustvo, a ne fizička bića koja pribegavaju duhovnom iskustvu. Simbol 11:11 bio je ranije veoma davno kodiran u banku naše ćelijske memorije.
Ljudski DNK, naše genetsko sećanje, kodirano je da bi u određeno  vreme i na određenoj frekvenciji, pokrenuli delovanje mehanizma numeričkim kodovima.
Ako ste uvideli svoj numerički kod, znači da ste aktivirali nešto u svojim DNK kodovima, i sada će oni  nastaviti da se pojavljuju, dok ne dobijete poruku – "vreme je" da se krene dalje…
Anđeli i anđeoski brojevi
Značenje niza 11, 111, 1111
Ako često vidite niz brojeva 11, 111 ili 1111, za to postoji razlog. Najčešći način kako anđeli komuniciraju sa nama jeste kroz univerzalni jezik brojeva i muzike. Kada vidite ovaj ili neki drugi niz, možete pitati svoje anđele šta vam poručuju time i oni će nam u stanju naše smirenosti i poverenja, jasno dati do znanja koja ja poruka u osnovi.
Često se ipak dešava da, kada smo u stanju stresa ili u žurbi, ne registrujemo šta nam poručuju usled stanja unutrašnje buke. Anđeoski numerički nizovi stoga predstavljaju kodove komunikacije između vas i njih. Često pojavljivanje brojčanog niza 11, 111 ili 1111 ukazuje da prolazite kroz ciklus kada se vaše misli, ideje i želje manifestuju instant.
Vi pomislite na nešto i to se ostvari. Kada prolazite kroz ovaj ciklus, izuzetno je važno da budete pozitivni i usmereni na želje svog srca, kako se ne bi vaši strahovi manifestovali. Možete tada tražiti pomoć od anđela da vas vibraciono podignu na viši nivo, tako da se vaše misli usmere na najuzvišenije mogućnosti.
Ukratko, ovaj brojčani niz poručuje: "Neka vaše misli budu pozitivne, jer se one instant manifestuju u formu. Fokusirajte se na svoje želje umesto na strahove; dakle, na mogućnosti umesto na prepreke. "