Svoju ispovest o tome kako je pronašla fantastičnu metodu – zaspati brzo uvek i svuda, priča Alina Gonsales:
"Sve je počelo nedelju dana pre venčanja mog najboljeg druga. Tada su moj umor i nervoza dostigli kritičnu tačku. Nikako nisam mogla da zaspim. Sve zbog toga što sam morala da pripremim govor. Moja stidljivost i nervoza nisu mi davali da spavam.
Nakon tri dana nesanice i briga o predstojećem venčanju, zatražila sam savet od nevestine majke. Ona mi je predočila jednu metodu, koja je trebala da pomogne. Ja sam njoj poverovala, jer ta žena već dugo godina sprovodi seanse meditacije i poseduje licencu za obavljanje zdravstvene prakse. Šta da kažem, njen savet mi je zaista promenio zivot!
Ovu metodu najbolje je zapamtiti kao "4-7-8"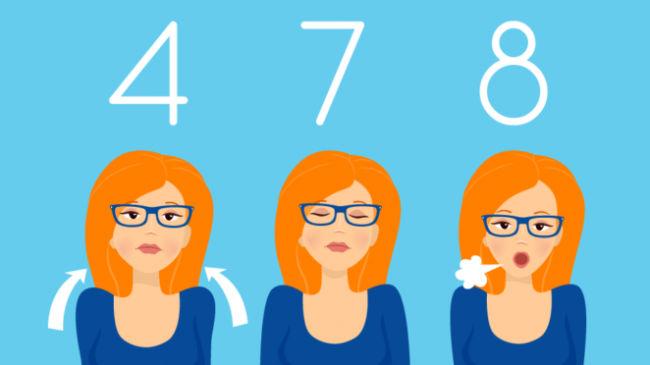 Ono što treba uraditi je sledeće:
Smestite se u ležeći položaj, tako da vam bude udobno i toplo.
1.  Zatvorite oči i duboko udahnite vazduh kroz nos. Udisaj punim plućima treba da traje pune 4 sekunde.
2.  Nakon toga zadržite vazduh, odnosno dah u plućima, punih 7 sekundi.
3.  Nakon toga počnite lagano da ispuštate vazduh iz pluća kroz usta u trajanju punih 8 sekundi.
4.  Zatim ponovite celu proceduru 4-7-8.
Dok ovo radite možete brojati sekunde u sebi i u tome trajanju pratiti postupke disanja.
Tako je sve  jednostavno. Ova disajna vežba usporava naš srčani ritam, i smiruje. Pri tome, sve se to dešava veoma brzo – samo nekoliko ponavljanja. Iako izgleda kao besmislica, to zaista deluje.
Kako deluje:
Nisam mogla da dočekam da isprobam ovu «šalu» u praksi. Na moje potpuno iznenađenje, probudila sam se sledećeg jutra, čak ne shvativši da nisam izbrojala onih 8 sekundi na izdisaju već posle drugog ponavljanja!
Evo, šta sam saznala o ovome efektu:
Kada osećate stres, zabrinutost ili anksioznost, količina adrenalina u krvi raste, a disanje postaje plitko i ubrzano. Metoda, o kojoj mi je ispričala ova žena, deluje kao sedativ. Zadržavanje daha sa posebno sporim izdahom neminovno usporava srčani ritam. To je fiziologija.
Takođe, ova metoda smiruje vaš um. Samo zato, što morate stalno brojati u sebi, i biti skoncentrisan na disanje. U tom trenutku vi to ne shvatate, ali vaš nervni sistem polako će se smirivati, a osećaj zabrinutosti nestajati. To će vam reći bilo koji neurolog. Kao rezultat, vaše celo telo se opušta. Po brzini i snazi efekta, ova metoda slična je anesteziji.
Izučavanjem ove tehnike bavio se doktor medicinskih nauka sa Harvarda, Endru Vejl. On je utvrdio da metoda "4-7-8" već nekoliko vekova poznata indijskim jogama. Oni su je koristili prilikom meditiranja, za postizanje potpune relaksacije. Dakle, možemo zaključiti da je potpuno bezopasna.
Ako se probudite usred noći, ili dugo razmišljate pred spavanje, ili ste nervozni pred predstojeći događaj i ne možete da zaspite, koristite metodu "4-7-8". Biće vam od velike koristi.
Doktor Vejl preporučuje da metodu primenjujete u početku svakog dana dva puta čime ćete je usavršiti i uvek moći primeniti kada vam je potrebno.
Pokušajte i podelite sa nama rezultate.
Čitajte još: Kako zaspati za dva minuta: metoda koja deluje