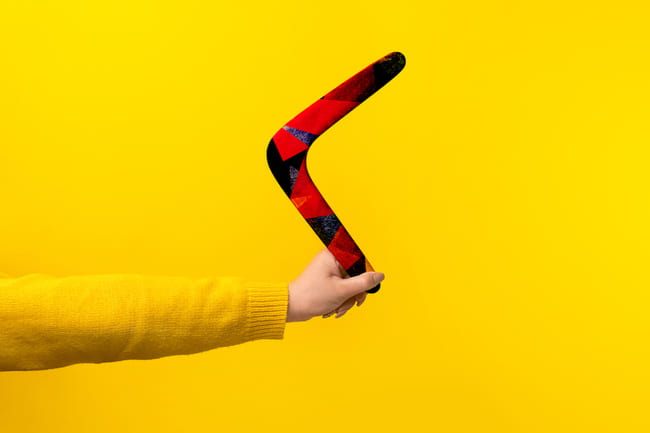 Zakon bumeranga je jedan od glavnih zakona u našem životu. O njemu se ne raspravlja. On ne uključuje izmene i dopune. Suština je jednostavna: sve što pošaljete u svemir vraća se vama. Ako nesebično činite dobra dela, ceka vas uspeh i prosperitet. Inače, nemojte se iznenaditi ako naiđete na ravnodušnost, agresiju, zavist.
Odnosno, Zakon bumeranga, koji je poznat i kao zakon uzroka i posledica, izražava ideju da se ono što dajemo ili radimo na kraju vraća nama sa sličnom energijom i intenzitetom. Ovaj koncept ima duboko korene u različitim kulturama i filozofijama širom sveta.
Evo pet ključnih pravila koja objašnjavaju kako funkcioniše ovaj zakon:
Ključno pravilo recipročnosti: Osnovna ideja zakona bumeranga je da ono što šaljemo, to ćemo i primiti. Ako širimo pozitivnu energiju, ljubaznost i pomoć prema drugima, to će se na kraju vratiti nama u vidu iste pozitivne energije i podrške. Slično tome, negativna energija i štetni postupci će se takođe vratiti nama kao negativne posledice.
Vreme odloženog dejstva: Efekti zakona bumeranga ne moraju se nužno dogoditi odmah. Ponekad će se posledice naših dela manifestovati tek nakon određenog vremenskog perioda. To znači da, iako možda nećemo odmah primetiti reakciju, to ne znači da se neće dogoditi u budućnosti.
Energetska ravnoteža: Zakon bumeranga naglašava potrebu za energetskom ravnotežom. Ono što ulažemo u svet oko nas, bilo pozitivno ili negativno, stvara odjek koji se vremenom vraća. Ako smo pažljivi i svesni svojih postupaka, možemo održavati harmoničan ciklus davanja i primanja.
Kvalitet intentionarnosti: Važno je razmotriti motivaciju iza naših postupaka. Ako činimo dobra dela i pomažemo drugima samo zato što očekujemo nešto zauzvrat, to može narušiti principe zakona bumeranga. Pravi efekat ovog zakona ostvaruje se kada činimo dobra dela iz iskrenog saosećanja i želje za unapređenjem okruženja.
Kruženje energije: Zakon bumeranga takođe podstiče ideju da energija cirkuliše. Kada širimo pozitivnost, ohrabrenje i ljubaznost, stvaramo lanac koji može inspirisati druge da čine isto. Na taj način, pozitivna energija se širi i pojačava se, stvarajući bolji svet za sve.
U suštini, zakon bumeranga nas podseća da smo odgovorni za svoje postupke i energiju koju unosimo u svet.
Ako pomažete ljudima, činite dobra dela, tada će vam se sve ovo vratiti. Ako nekoga vređate, omalovažavate i činite loša dela, onda očekujte da će vam takvi "udarci" vratiti. Možda će proći dan, dva, godina, nekoliko godina, ali apsolutno sve će se vratiti vama.
Dakle, ako želite da postignete više dobrih stvari u životu, bacite što više dobrih bumeranga. Dobar ili loš bumerang se možda neće vratiti iz mesta gde ste ih poslali, ali će se svakako vratiti.
Pametni ljudi se ne svete, već puste karmu da odradi svoje