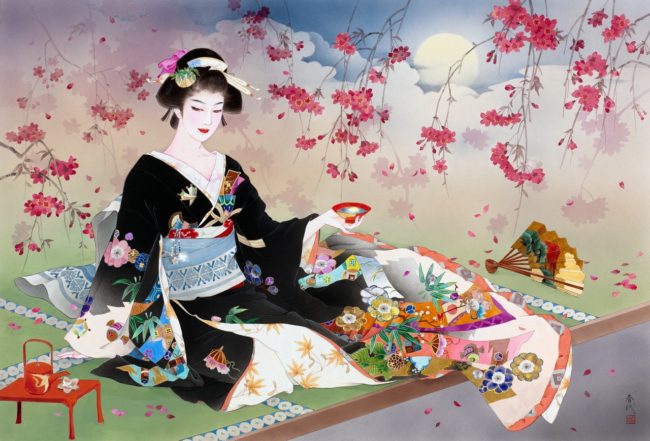 Jednog dana u malom japanskom gradu umirala je žena. U nekom trenutku je osetila da njena duša napušta telo, ustaje i pojavljuje se pred duhovima svojih predaka.
Gromki glas ju je upitao: – Ko si ti?
-,,Ja sam gradonačelnikova žena", odgovorila je.
– Ne pitam ko je tvoj muž. Reci mi ko si ti?
– Majka sam četvoro dece. Ja sam školski učitelj.
– Jesam li pitao koliko dece imaš ili gde radiš?
I tako je trajalo sve dok ona nije rekla:
– Ja sam ta koja se budi svakog  dana  da bih pomagala porodici I da bih učila decu u školi.
Posle toga se vratila u svoje telo i bolest se povukla… Pronašla je svoj ikigai.
Japanski koncept "ikigai" prilično je teško nedvosmisleno prevesti na drugi jezik, ali otprilike, može se definisati  kao "ono što životu daje smisao, … ono što nas tera da se svakog jutra budimo sa radošću". Drugim rečima, ikigai je orijentalno elegantna i kompaktna definicija vašeg glavnog interesovanja, ili stvari koja donosi radost vašem životu…
Ova japanska filozofija podrazumeva da treba da uživate u tome što ste zauzeti baveći se svojom svrhom i tako ćete imati dug i srećan život. I, uzgred, ovo nije samo neka filozofija po kojoj Japanci žive.
Kako onda pronaći Ikigai?
Pa, biće potrebno vreme. Kao I  dobar, iskren razgovor sa samim sobom. Svakako, pomoći će vam da sebi postavite pitanja poput onih ,šta je vaša strast, u čemu ste dobri, šta je svetu potrebno od vas?
Neki ljudi pronalaze svoj Ikigai u poslu, neki u hobijima, a neki u vezama sa drugim ljudima.
Ikigai se nalazi u centru četiri stvari:
-stvari koje volite – vaša strast
-stvari koje su svetu potrebne – vaša misija
-stvari u kojima ste dobri – vaš poziv
-stvari za koje možete biti plaćeni – vaša profesija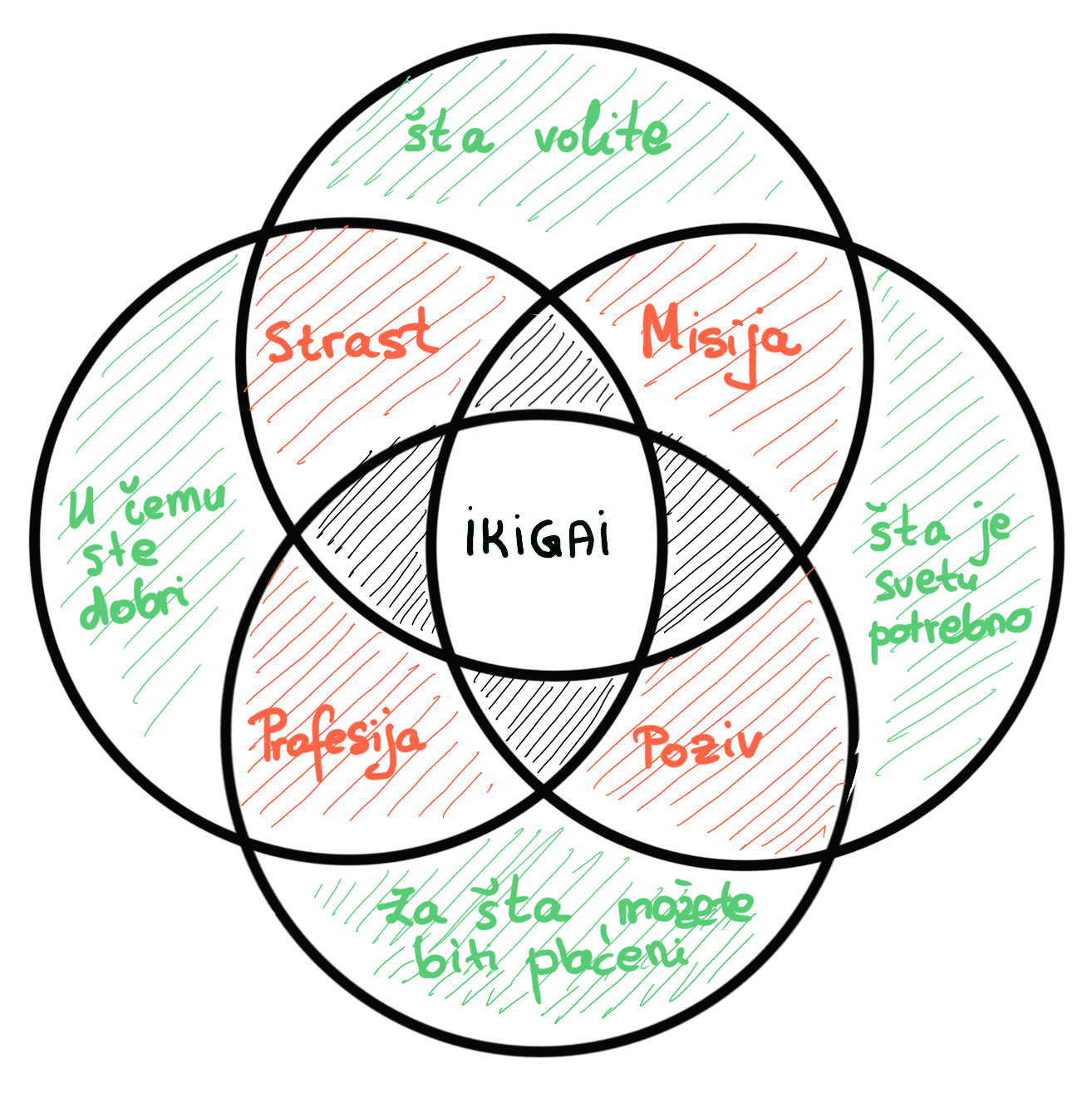 Bitno ga je otkriti i prepoznati jer ukoliko se ne stvori sinergija između navedene četiri stvari, nikad nećemo osetiti potpuno zadovoljstvo.
Na primer, ako radite nešto što volite, u čemu ste dobri i što je svetu potrebno, a za to ne možete biti plaćeni, osećaćete oduševljenje i ispunjenost, ali nećete biti bogati u materijalnom smislu.
S druge strane, ako radite nešto u čemu ste dobri, za što ste plaćeni i to svetu treba, živećete udobno, ali ćete imati osećaj praznine jer ne radite nešto što volite.
Svako od nas fokusiran je na nešto drugo, jedni na materijalna dobra i zaradu, drugi na pomoć svetu, ali ono što je svima zajedničko je cilj – vođenje smislenog i ispunjenog života.
Deset jednostavnih pravila kako pronaći svoju unutrašnju strast – Ikigai:
Ostanite aktivni i nemojte dopustiti da se umorite
Ostavite užurban način života i prilagodite se sporijem životnom ritmu
Jedite samo do trenutka kada ste 80% siti
Okružite se dobrim prijateljima
Ostanite u formi svakodnevno, kroz lagano vežbanje
Smešite se osobama oko sebe i cenite ih
Povežite se s prirodom
Budite zahvalni na svemu što vam ulepšava dan i zbog čega se osećate živima
Živite u trenutku
Pratite svoj Ikigai