Lekari tvrde da upravo položaj u kome spavamo, može postati uzrok naših zdravstvenih problema. Ali da bismo bili zdravi, ne moramo potpuno da se odreknemo navika, već je dovoljno da samo nešto korigujemo.
Femina je prikupila savete stručnjaka o tome kako spavati u omiljenom položaju i pritom ostati zdrav.
Ako spavate na boku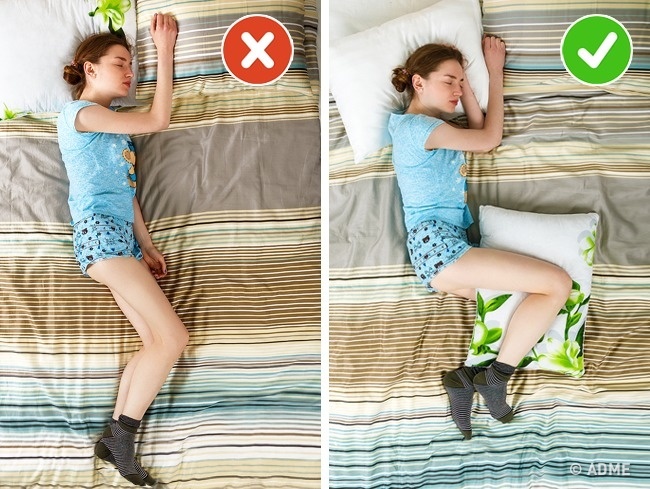 Naučnici su objasnili  da cerebrospinalna tečnost bolje eliminiše toksine iz mozga ako spavamo na boku. Ovo smanjuje glavobolje i mogućnost pojave Alchajmerove i Parkinsonove bolesti. Takođe, spavanje na levoj strani pomaže da se oslobodimo gorušice, ali zato vrši pritisak na jetru.
♦ Kod problema sa varenjem lekari preporučuju da se spava na levoj strani. To pomaže da se popravi cirkulacija i da se rastereti želudac i digestivni trakt.
♦ Kako bi vam leđa ostala u pravilnom položaju dok spavate na boku, stavite između nogu mali tvrdi jastuk. Ovo, takođe, smanjuje i pritisak na zglobove. A ispod glave stavite veliki, mekani jastuk.
♦ Kod visokog krvnog pritiska i problema s cirkulacijom savet je da se spava na desnoj strani. Ovaj položaj smanjuje pritisak na srce.
Spavanje na leđima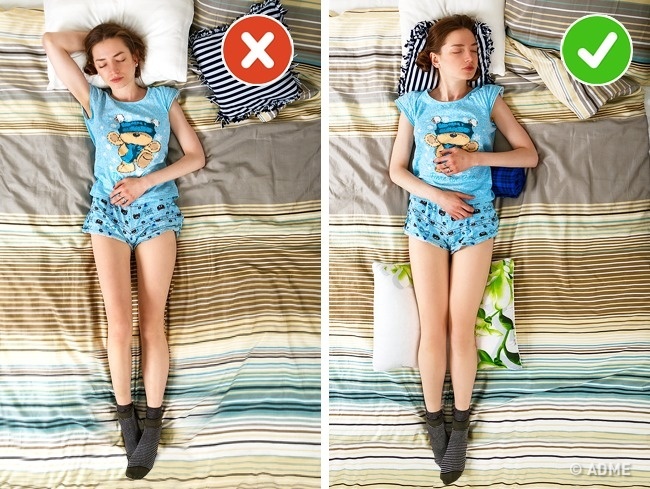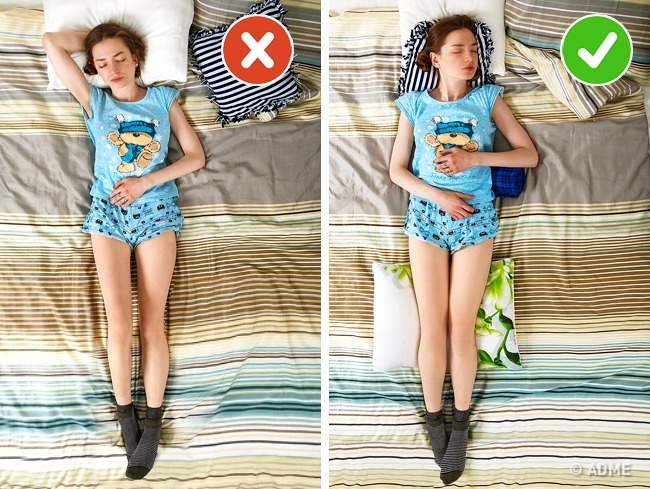 Ovaj položaj je jedan od najboljih u slučaju da imate problema s kičmom ili zglobovima. Ovako sprečavate pojavu gorušice i bora. Ipak, ovo je jedan od najgorih položaja ukoliko imate problema s nosom, povišenim krvnim pritiskom ili hrkanjem.
♦ Kako biste se rešili hrkanja, spavajte na velikom i mekanom jastuku (ili stavite mali ispod vrata), kako bi gornji disajni putevi bili u pravilnom položaju.
♦ U slučaju kijavice, kada vam noću curi iz nosa, koristite nekoliko jastuka kako biste glavu podigli nešto više, i tako stvorili blagi naklon (ali ne prevelik jastuk, da ne biste naškodili vratu).
♦ Kod bolova u leđima i zglobovima, stavite mali jastuk ispod vrata, veliki, ali pljosnat ispod kolena i savijeni peškir ispod pojasa. Ovo će držati kičmu u pravilnom položaju, a takođe će održati i normalnu cirkulaciju.
Spavanje na stomaku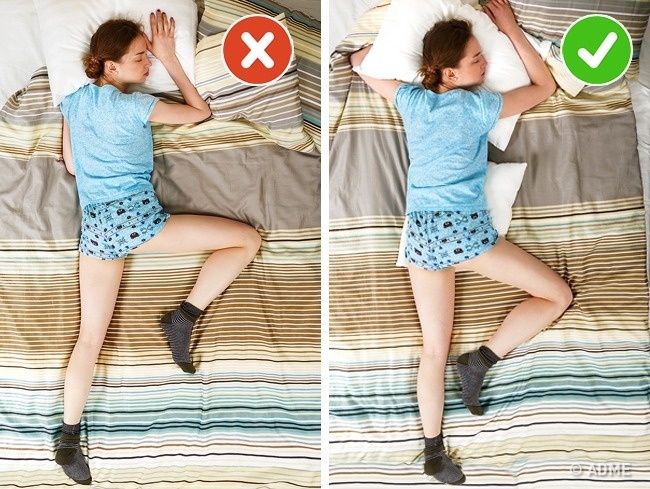 Japanski naučnici su došli do zaključka da spavanje na stomaku pomaže da se smanji krvni pritisak, da se uspostavi normalan rad sistema za varenje, da se rešite hrkanja i gorušice. Ipak, ovaj položaj nije dobar za leđa, jer se kičma tako nalazi u nepravilnom položaju.
♦ Kako biste izbegli neprirodno savijanje kičme i smanjili pritisak na lumbalni deo, stavite mali jastuk ispod stomaka. U ovom slučaju jastuk ispod glave mora da bude tanak (oko 3 cm), ili najbolje da ga uopše ne koristite, kako ne biste naškodili vratu).
Poza embriona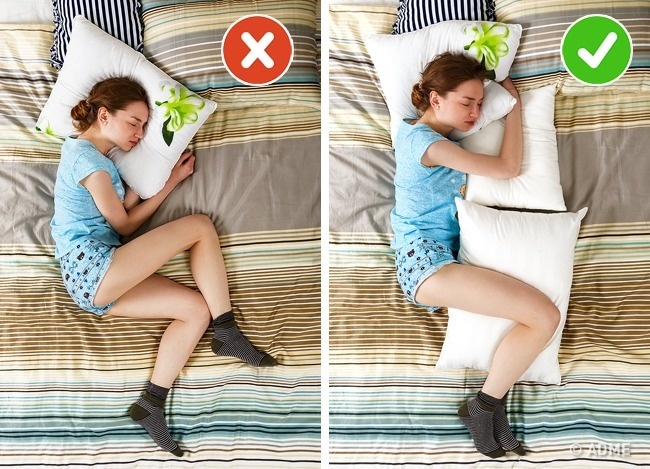 Položaj, gde su kolena podignuta visoko prema bradi, može biti udoban, ali zato loše utiče na zdravlje leđa.
Ovako savijeno telo ograničava dijafragmatično disanje, i to će vas spasiti hrkanja, ali će vam dodatno pojačati probleme, ukoliko nije sve u redu s disanjem (recimo kod astme).
♦ Da bi ste ispravili leđa, obezbedili pravilan položaj ekstremiteta i oslobodili grudni koš, stavite jedan mekani jastuk između nogu, a drugi između laktova. Po mišljenju lekara, u ovom položaju pod glavu treba staviti mali mekani jastuk.