Svaka devojka i žena želi da izgleda atraktivno i moderno, ali nažalost, ne uzimaju svi modni trendovi specifičnosti i fizionomiju figure.
Ako u jednom slučaju moderne  stvari izgledaju odlično, može se desiti da u drugom, one bukvalno "skraćuju" i dodaju nepoželjni obim onome koji ih nosi.
Pokazaćemo vam kako da izbegnete ovakve probleme. Evo pet jednostavnih načina za vizuelno postizanje visine i vitkosti:
Budite pažljivi sa prugastim printom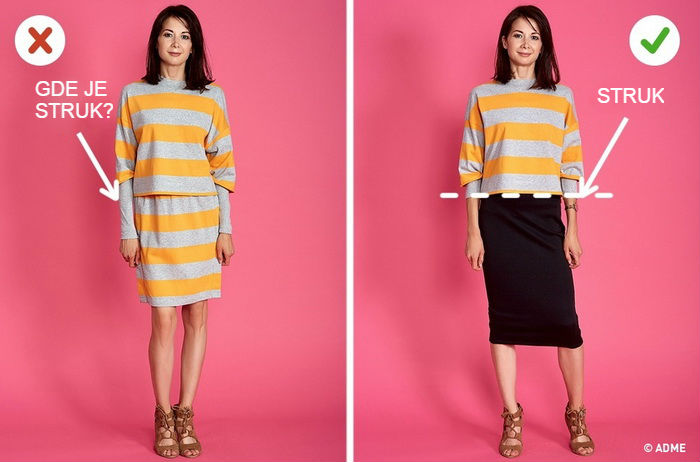 Iz ovog primera se vidi da trenutno moderan prugasti print ne treba koristiti nesmotreno. Horizontalni print dodaje u obimu, a neuspešna kombinacija printa i dužine suknje iznad kolena učiniće vas vizuelno nižom za par cantimetara.
Ali, kombinacija prugastog gornjeg dela sa jednobojnom midi suknjom, naprotiv, izdužuje figuru.
Birajte farmerke i tašne prilagođene vašoj visini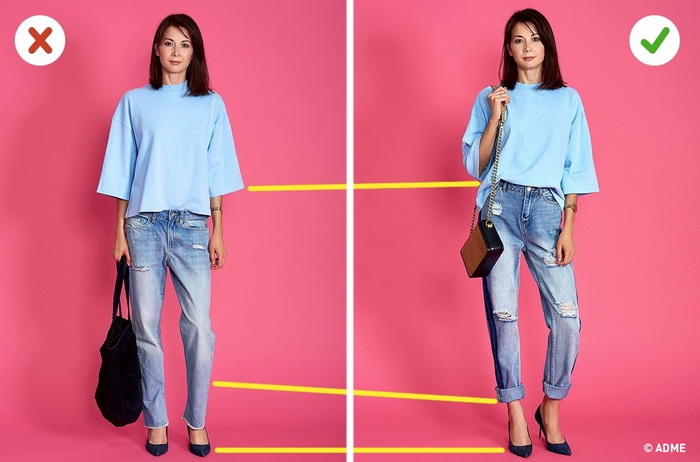 Malo skraćene farmerke kod manje visine mogu je dodatno smanjiti. Kombinujte ovakve farmerke sa cipelama na štiklu i kratkim topom. Farmerice sa visokim strukom pomoći će iskorigovati visinu (izdužiti figuru) i daće viši izgled.
Obratite pažnju na veličinu tašne. Najbolji izbor za minijaturne žene je mala tašna, ne šira od 25 cm. Sada moderna torba-shopper učiniće vaš izgled glomaznijim.
 Probajte Palazzo pantalone
Palazzo pantalone su odličan način sakriti visoke štikle ili platforme, učinivši noge dužim, a rast – višim. Birajte smirene jednobojne modele. Kombinacija, koja ne izlazi iz mode već nekoliko sezona je – kratki top i pantalone sa visokim strukom.
Ova kombinacija odlično čuva proporcije gornjih i donjih delova tela, i vizuelno izdužuje noge. Ako ste kao gornji deo izabrali džemper ili bluzu, fiksirajte ga uskim pojasem na struku kao u ovom primeru, upašite u pantalone.


Ne ignorišite "olovka" suknje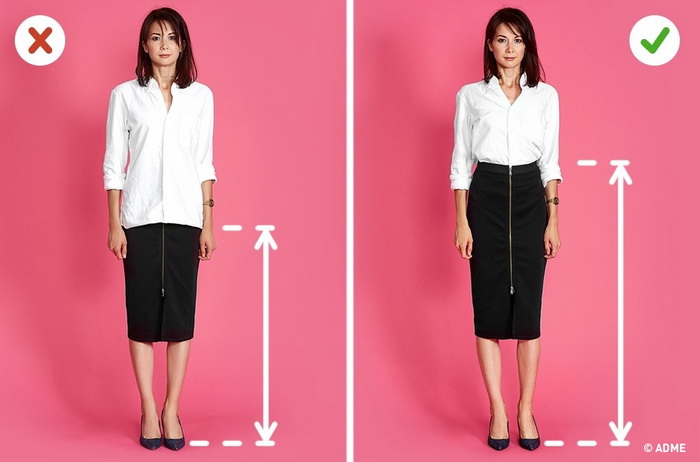 Posebnu pažnju zaslužuje elegantna "olovka" suknja. Ona odlično izdužuje, a takođe, doprinosi višem izgledu.
Ako nemate kratki top, spasiće vas bela košulja – to je "must have" za sva vremena. U našem slučaju morate je obavezno upasati: tako ćete izgledati dosta vitkije.
 Nosite košulju-haljinu pravilno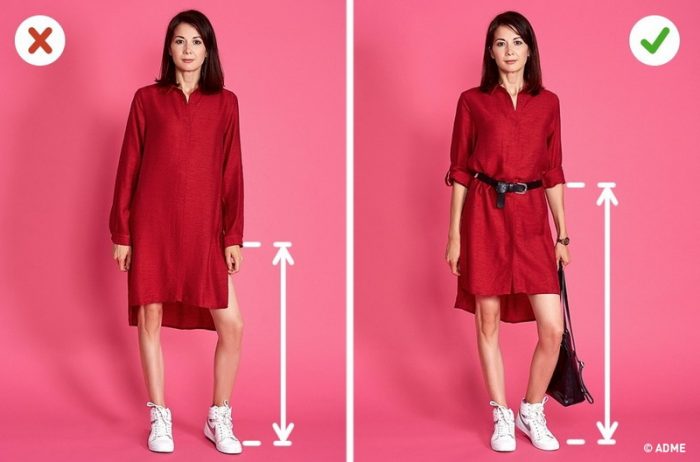 Košulja-haljina ima prilično zanimljiv kroj i odgovara praktično svakoj figuri.. Ali, na ženama nižeg rasta može delovati nesrazmerno, kao da je sašivena za višu osobu, uz to, takva haljina može dodati obim u oblasti struka.
Mada, i to je lako popraviti – treba samo staviti kajiš i zavrnuti rukave. Idealna dužina rukava za niske žene je – 3/4. Osim toga, najbolje je izabrati jednobojni model.
Još: 10 kombinacija u belom za sve prilike