Dešava se da ništa ne želite i ništa vam ne pričinjava radost. Probudili ste se ujutru i ništa vam se ne radi? Ili pokušavate da radite, a samo što ne zaspite? Priznaćete da su takve situacije dosta česte. Morate u sebi pronaći snagu i uključiti se u životne tokove. Jedna zlatna vežba pomoći će vam u tome.
U klasičnoj jogi i u drugim praksama postoje vežbe usmerene na mobilizaciju unutrašnjih rezervi energije i okrepljivanje u raznim situacijama.
Jedna od tih vežbi je Držanje meseca, koja potiče iz zanimljive drevne orijentalne čigong veštine.
Ovu zlatnu vežbu je najbolje raditi na svežem vazduhu. Obavezno obucite nešto što ne sputava pokrete.
Vežba se izvodi ovako: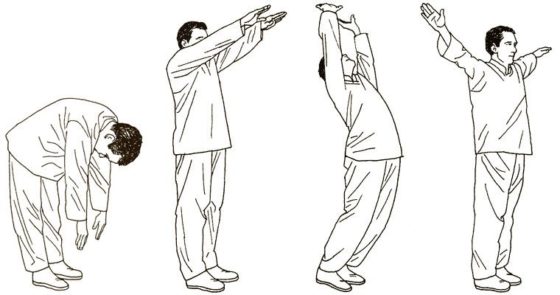 Stanite pravo i ispravite leđa. Zatim se polako nagnite napred, opuštajući leđne mišiće. Takođe opustite ruke i spustite ih tako da vam prsti budu nešto ispod kolena.
Ruke i noge treba da budu prave. Pokušajte da dodirnete bradu grudima, kako biste zaokružili leđa. Zadržite dah. Sve to radite mirno i glatko.
Zatim se polako uspravite, držeći ruke ispružene pred sobom. Ne prekidajte pokret, sve dok vam ruke ne budu iznad glave. Pokret treba da prati neprekidan udah kroz nos.
Zamislite da u rukama držite veliku loptu. A onda se malo istegnite leđima napred. Ostanite u tom položaju i zadržite dah.
Ispravite se i spustite ruke sa strane, izdišući na usta. Prijatan, drhtav osećaj prostrujiće vam kroz telo. Zamislite da protok unutrašnje energije odnosi sve suvišno iz vašeg organizma: negativne emocije, bolesti, toksine i ostalo. Sva nečistoća vas napušta i odlazi u zemlju kroz stopala.
Istovremeno ispunjavate svaku ćeliju tela vitalnom energijom, postajete zdravi i mladi.
Ne pomerajte se par sekundi, da biste uživali u prijatnom osećaju ispunjavanja energijom.
To je cela vežba. Ponovite je 10 do 20 puta.