Sećate se kako su vas u detinjstvu nervirali komentari po pitanju ispravnog držanja tela? Bez obzira, koliko su zahtevi vaših roditelja bili dosadni, oni su bili potpuno u pravu.
Iskrivljena kičma – nije lepa, to razume svako. Spuštena ramena, savijena leđa, nikoga ne krase. Ali, zašto smo tako lenji da držimo uvek leđa ispravno?
To je zato što je prednji deo ljudskog tela više razvijen nego leđni. Leđne mišiće treba neprekidno ojačavati, jer će se tako teret na kičmu smanjiti i uvek ćete hodati uspravno.

Da biste odlično ojačali leđne mišiće pomoći će ova jednostavna vežba:
Lezite na stomak, licem na dole. Polako podignite gornji deo tela toliko visoko, koliko možete. Ruke možete fiksirati na kukovima. Zadržite se u ovom položaju, koji aktivira najveći broj mišića, osetite napetost. Uradite 10 ponavljanja.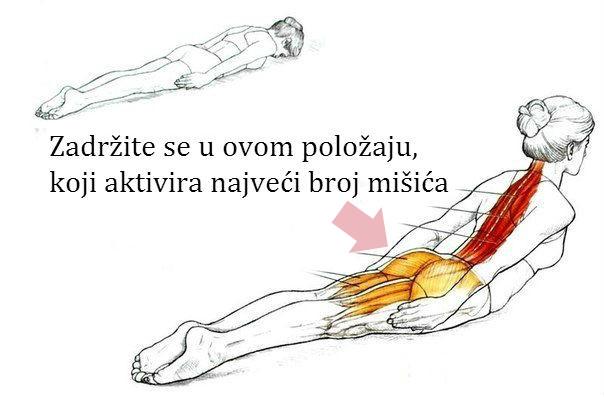 Ovo će biti dovoljno za prvi put. Ako ovu vežbu budete radili svakodnevno, konstantno povećavajući broj ponavljanja, vaša leđa će se ispraviti veoma brzo.
Brzo ćete zaboraviti na bol u leđima i vratu. Dobićete ispravno držanje tela i osećaćete se mnogo lepše i zdravije.
Kriva i povijena kičma utiče na rad svih unutrašnjih organa. Neispravno držanje leđa pritiska grudni koš, trpe pluća, jetra, srce. Kada leđa držite ispravno, bićete zdraviji, lepši i samopouzdaniji.
Dodatna motivacija za žene: kada su vam ravna leđa i uspravna ramena, grudi izgledaju veće.
Još: 7 jednostavnih vežbi koje će vam vratiti ponosno držanje za samo 10 minuta na dan