Najpoznatija statička vežba za mišiće, plank, ne dopada se svima. Srećom, postoje i druge vežbe koje ne zahtevaju kretanje, a takođe sjajno angažuju mišiće.
Femina je otkrila da naizgled jednostavna čigong vežba značajno doprinosti sticanju energije, ispravlja kičmu, zateže telo i jača mišiće. Takođe poboljšava rad unutrašnjih organa, respiratornog sistema i koordinaciju pokreta. Praktičari ovo nazivaju stojećim pozicijama ili vertikalnom meditacijom i tvrde da olakšava mnoge hronične bolesti.
Postiže se i efekat mršavljenja, poboljšanjem ukupnog tonusa tela, a u kombinaciji s pravilnom ishranom, rezultat se postiže znatno brže.
Za ovu vežbu vam nisu potrebni ni posebna prostorija ni oprema. Možete je raditi bilo kad i bilo gde.
Optimalno vreme izvođenja je 10-15 minuta, po pet u svakoj poziciji. Vreme vežbanja treba postepeno produžavati, uzimajući u obzir zdravstveno stanje i fizičku formu.
Kod osoba koji nisu navikle na napore, u početku može da izazove prolazne bolove u mišićima i zglobovima, ali ništa zato. To su samo male nelagodnosti u poređenju sa koristima koje ova vežba donosi.
Pogodna je za starije osobe i one koji mnogo sede, ali i za sve ostale jer se bez imalo znoja i muke značajno poboljšava fizička kondicija.
Vežba ima tri pozicije:
ruke pored tela
ruke ispred stomaka
ruke u visini grudi
Tehnika izvođenja vežbe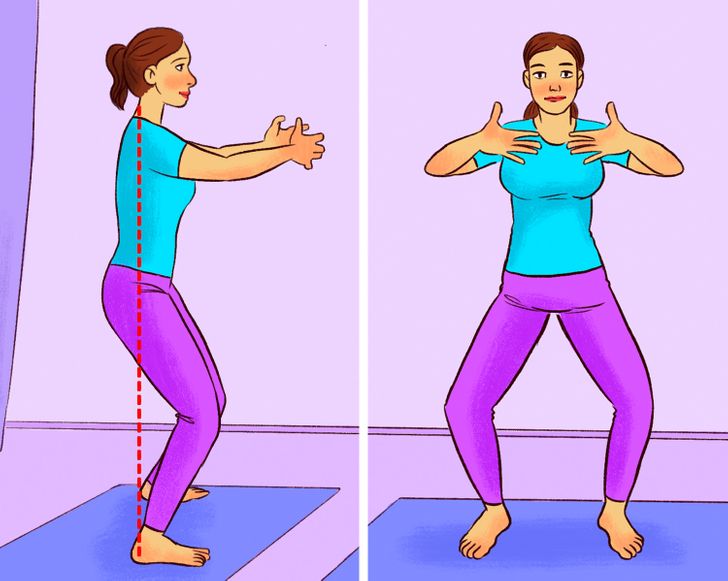 1.Stanite uspravno. Stopala postavite paralelno, u širini ramena. Glavu držite pravo, ramena i grudni koš opustite.
2.Kolena su blago savijena, odnosno "otključana". Ne treba da osećate napor, samo se opustite. Gledajte pred sebe, nikako dole.
3.U prvoj poziciji, ruke su spuštene, malo odvojene od tela, a dlanovi paralelni sa zemljom. Srednji prst obe ruke usmerite malo ka zemlji. Mirujte.
4.U srednjem stavu, ruke su pomerene napred i zaobljene, kao da ispred stomaka držite veliku loptu. Ostanite u tom položaju 5 minuta.
5.Zatim podignite ruke u visinu grudi. Napravite rukama polukrug, kao da grlite drvo. Šake su razmaknute ispred grudi, za širinu dve šake. Pogled pred sebe, nikad dole.
Disanje treba da bude glatko i prirodno, ramena opuštena.
Važno je usredsrediti se na držanje tela – pazite da ne povijate, naginjete i da držite glavu uspravno.
Obratite pažnju i na unutrašnje stanje – razmišljajte o nečem prijatnom ili se trudite da se oslobodite misli.
Na kraju vežbe polako ispravite noge, dok udišući podižete ruke dlanovima naviše. Kada šake podignete u vidinu vrata, okrenite ih dlanovima nadole i izdišući spustite (kao da pritiskate dlanovima) do nivoa stomaka. Izvedite ove pokrete triput zaredom.


Osećaj tokom vežbanja i kontraindikacije
Ako želite da radite ovu vežbu, a imate neurološke probleme, bolesti zglobova, probleme s koordinacijom ili rak, treba da se posavetujete s lekarom.
Tokom vežbe, neugodnost se najčešće oseća u donjem delu tela i rukama – podrhtavanje, blaga utrnulost udova, bolovi u mišićima, lagana vrtoglavica. To su prirodni procesi, koji će vremenom oslabiti i nestati. Potrebno je da postepeno povećavate vreme provedeno u svakoj pozi.
Vežbu treba prekinut samo, ako osetite jak bol ili veliku nelagodnost.
Svi koji su se oprobali u čigong stajanju shvatili su koliko je ta vežba korisna. Jasno su osetili gde ih koči i zateže u telu, ali posle nekog vremena i kako sve čudesno dolazi na svoje mesto, a energija i kondicija kao da rastu same od sebe.
Jeste li već isprobali ovu vežbu? Probajte, uverićete se.