Mnogi se odluče za treninge u fitnes klubu, a pritom zaboravljaju potrebu za istezanjem. Zaista šteta, jer istezanje ne samo da telo čini gipkim, već poboljšava i emocionalno stanje, a smanjuje i bol.
Ovaj kompleks vežbi posebno će koristiti onima koji provode duge časove u kancelariji, ispred računara. Preporučljivo je da istezanje radite svakodnevno, a za to uopšte ne morate odlaziti u sportsku salu.
Femina je pripremila kompleks od 9 vežbi koje će vas osloboditi napetosti u vratu, ramenima i leđima. Sve što vam je potrebno je 10 minuta slobodnog vremena i gimnastička prostirka.
Istezanje vrata
Vežba "Sova" isteže mišić zvani bočni pregibač vrata.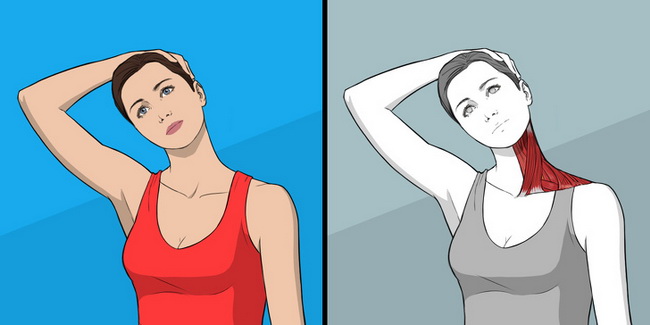 ♦  Ispravite leđa, opustite gornji deo tela. Polako povlačite glavu udesno, tako da brada dođe u ravan ramena i bude paralelna s podom.
♦ U tom položaju, nagnite glavu na desno rame i ostanite tako 30 sekundi.
♦ Ponovite vežbu, naginjući glavu ulevo. Da biste postigli bolji efekat, držite potiljak onom rukom na koju naginjete glavu.
Istezanje zadnjeg dela vrata i gornjeg dela leđa za trapezaste mišiće i vrat.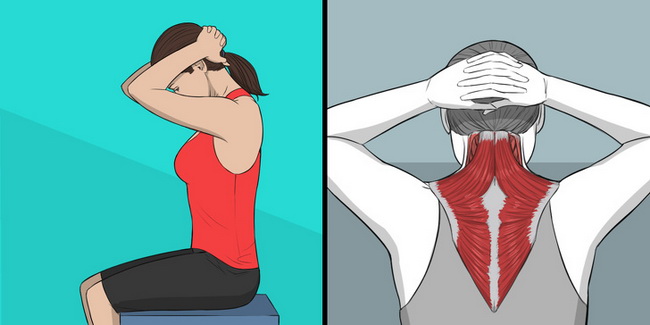 ♦ Izvodi se sedeći na podu ili na stolici, sa butinama čvrsto pritisnutim na površinu i pravim leđima.
♦ Savijte laktove, a dlanove stavite na potiljak. U tom položaju, povucite bradu do grudi, a ruke ka bedrima.
♦ Ostanite u tom položaju najmanje 30 sekundi, a zatim polako podignite glavu i opustite ruke. Da biste povećali intenzitet istezanja, glavu blago pritiskajte dlanovima.
Istezanje ramenog pojasa
Položaj orla isteže deltoidne i trapezaste mišiće.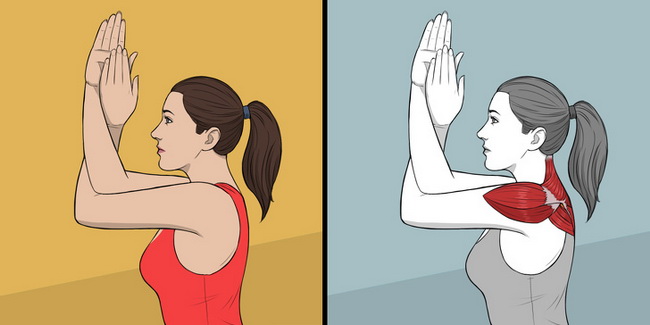 ♦ Prvo raširite ruke u stranu, a zatim ih ukrstite ispred sebe, tako da vam dlanovi budu okrenuti nagore, a levi lakat bude iznad desnog.
♦ Ako ne možete da spojite dlanove, stavite desnu ruku na levo rame, a levu na desno. Laktovi treba da budu paralelni s podom, a bradu privucite što bliže grudima.
♦  Ostanite u tom položaju 30 sekundi. Onda zamenite rukama mesto i ponovite vežbu.
Rastezanje "90 na 90" poboljšava rad deltoidnih i velikih grudnih mišića.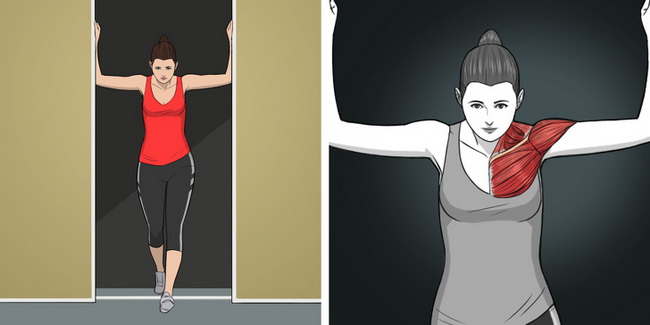 ♦ Vežba se izvodi u dovratku. Stavite ruke na okvir vrata, tako da ugao laktova bude 90°. Između ramena i tela takođe treba da bude prav ugao.
♦ Ispravite leđa i iskoračite jednom nogom. Nagnite se napred, sa zaključanim rukama i nogama.
♦ Zadržite ovaj položaj 20-30 sekundi. Uradite 2-3 serije.
Istezanje gornjeg dela leđa
Istezanje najšireg leđnog mišića takođe deluje i na trapezasti mišić.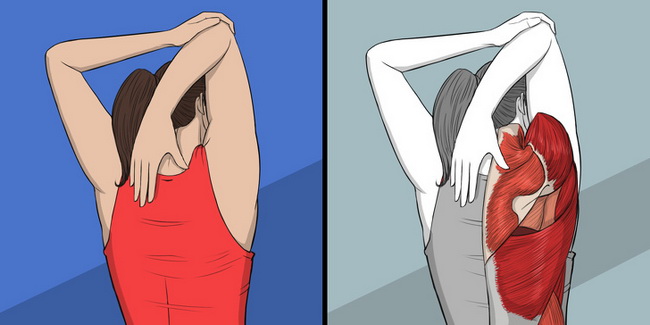 ♦ Podignite i ispravite desnu ruku iznad glave. Savijte lakat tako da se desna ruka spusti na gornji deo leđa.
♦ Položite levu ruku na desni lakat i lagano povucite desnu ruku ulevo. Zatim nagnite telo u pravoj liniji ulevo (bez naginjanja napred ili nazad).
♦  Ostanite u tom položaju 20-30 sekundi, a zatim uradite isto istezanje za levu stranu leđa.
Istezanje "Leptirova krila" deluje na najšire leđne mišiće i na velike grudne mišiće.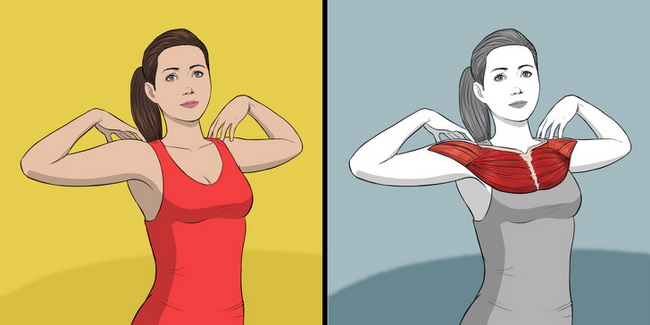 ♦ Stavite dlanove na ramena (levi na levo rame, desni na desno). Polako povlačite laktove unazad, kao da želite da ih sastavite, sve dok ne osetite da vam se gornji deo leđa zateže.
♦ Ostanite u tom položaju 5 do 10 sekundi.
♦ Sada povuci laktove napred, da se dodirnu. Zadržite se tako još 5 do 10 sekundi.
Istezanje za donji deo leđa
Istezanje u sedećem položaju deluje na najšire leđne mišiće, trbušnjake i mišiće nogu.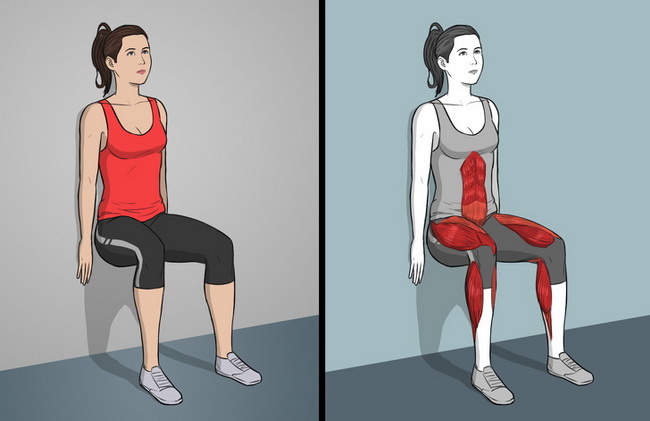 ♦ Vežba se radi uza zid. Naslonite se leđima na zid i polako klizite nadole, sve dok vam kolena ne zauzmu ugao od 90 stepeni ili približan.
♦  Zadržite se u sedećem položaju 10 sekundi, a zatim se vratite u početni pozložaj. Ponovite 8–12 puta.
Istezanje sa okretom deluje na najšire leđne mišiće i na mišiće grudnog koša.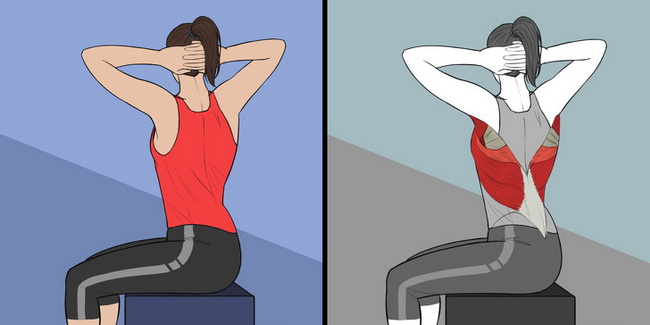 ♦ Sedite na stolicu ili tabure i čvrsto pritisnite stopala na pod. Okrenite gornji deo tela udesno, ne pomerajući kukove i pazeći da vam kičma ostane uspravna. Stavite ruke na potiljak.
♦  Levu ruku možete staviti na desno koleno (ili obrnuto). Zadržite telo u tom položaju 10 sekundi, a zatim ponovite vežbu na levu stranu (odnosno u suprotnu stranu od prethodne). Napravite 3-5 serija.
Istezanje "Supermen" za najšire leđne mišiće.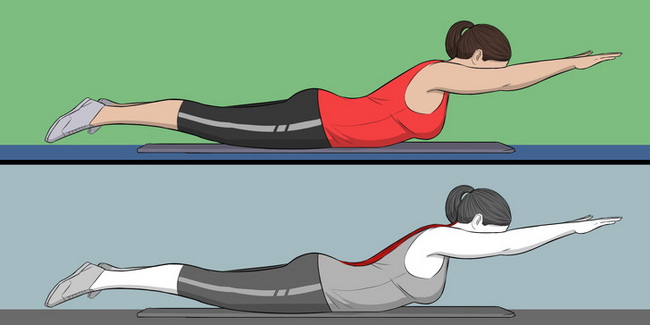 ♦ Lezite na prostirku licem nadole i ispružite ruke ispred sebe. Istovremeno podignite ruke i noge, na oko 15 cm od poda.
♦ Pokušajte da u tom trenutku zategnete i uvučete stomak jer to pomaže da se aktiviraju još neke grupe mišića.
♦ Držite glavu i udove pravo. Ostanite u tom položaju 2 sekunde, pa se vratite u početni položaj. Ponovite 10 puta.
Čitajte još: 11 vežbi za ublažavanje napetosti u vratu i ramenima