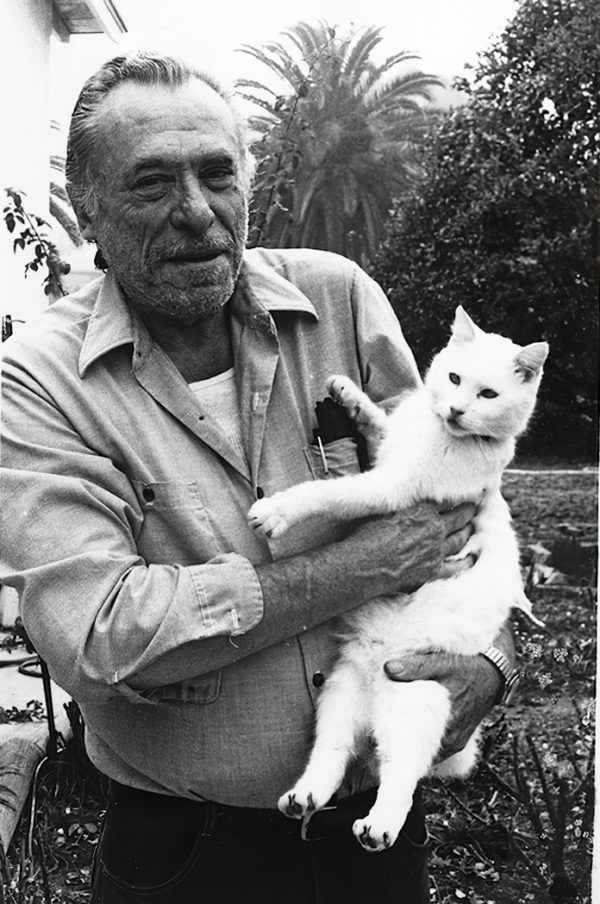 Došao je pred vrata jedne noći mokar mršav izubijan i isprepadan beli zrikavi kusi mačak, pustio sam ga unutra i nahranio i ostao je. Stekao poverenje u mene dok jedan prijatelj nije naišao kolima i pregazio ga.
Odneo sam ono što je ostalo kod veterinara koji je rekao: "male su šanse… dajte mu ove tablete… kičma mu je slomljena, ali i ranije je lomljena pa je srasla, ako preživi nikad neće hodati, gledajte ovaj snimak – pucano je u njega, gledajte, sačma je još tu… nekad je imao i rep, neko mu ga odrezao… "
Vratio sam mačka kući, bilo je vruće leto, jedno od najtoplijih u stoleću, stavio sam ga na pod u kupatilu, davao mu vodu i tablete, nije hteo da jede, nije hteo da pije, umakao sam prst u vodu i kvasio mu njušku i pričao mu, nikud nisam išao, odvojio sam dosta vremena za kupatilo i pričao mu i pažljivo ga dodirivao a on gledao u mene tim bledoplavim zrikavim očima.
I kako su dani prolazili načinio je prvi pokret dovukavši se prednjim nogama
(stražnje nisu radile) do kutije za nuždu – bilo je to kao truba moguće pobede iz tog kupatila ka čitavom gradu, baš sam se vezao za tog mačka…
Jednog jutra se digao, stao na sve četiri, zatim pao i samo me gledao. "Možeš ti to", rekao sam mu.
Idalje je pokušavao, dizao se i padao, na kraju hodao dva-tri koraka, kao pijan, stražnje noge nisu ga slušale i ponovo je pao, odmarao, zatim se digao.
Ostalo znate: sad je bolje nego ikad, zrikav, gotovo bezub, ali gipkost se vratila, i taj izraz u očima nikad ga nije napustio…
Sad me ponekad intervjuišu, žele da čuju nešto o životu i literaturi, a ja se napijem i dižem mog zrikavog, upucanog, pregaženog bezrepog mačka i govorim: "gledajte, gledajte ovo!" Ali oni ne shvataju, govore nešto kao: "Vi kažete da je Selin uticao na vas?"
"Ne", držim mačka u vazduhu, "već ono što se dešava, stvari kao što je ovo, ovo, ovo!"
Tresem mačka, dižem ga uvis u zadimljenom i pijanom svetlu, on je opušten, on zna…
Tada je intervjuima kraj, mada sam ponekad ponosan kada docnije vidim slike i eto mene i eto mačora i uslikani smo zajedno. I on zna da je to ništa ali da sve to ipak pomaže.
@ Čarls Bukovski "Povest jedne žilave mrcine"
30 čuvenih ciničnih citata Čarlsa Bukovskog