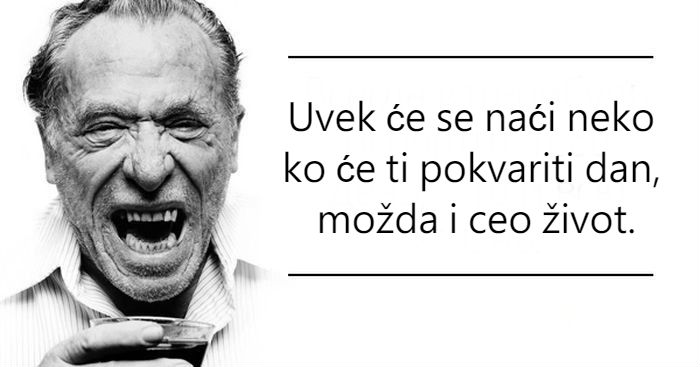 Kultni američki pisac nemačkog porekla Čarls Bukovski jedan je od najznačajnijih predstavnika tzv. "prljavog realizma", u kome se ličnosti, stvari i događaji ne samo da ne ulepšavaju, nego se prikazuju sa okrutnom i skoro agresivnom iskrenošću. Ovaj pravac nastao je u znak protesta na sladunjavu beletristiku, iz želje da se izrazi  puna istina o svetu – pravom, istinskom svetu, onakvom kakav on zaista jeste.
Nemoguće je preneti svu dubinu njegovih zapažanja o životu, bez još jedne komponente – istančane emotivne duše, koja duboko oseća i saoseća sa čitavim ljudskim rodom. Upravo se takva duša skriva pod maskom cinizma velikog pisca i pesnika – književnika Čarlsa Bukovskog.
Femina je  odabrala 30 citata Čarlsa Bukovskog o životu, ljubavi i samoći:
1. Dobro je imati kuda da odete kad vam je loše.
2. Kad uzmem u obzir moje poglede na život, treba da izbegavam kontakt s ljudima. Što ih je manje, to se bolje osećam.
3. Usamljenost me jača, bez nje sam kao bez vode i hrane. Dani bez nje me čine slabim. Ne ponosim se svojom usamljenošću, ali zavisim od nje.
4. Obično sam loš, a kad sam dobar, đavolski sam dobar.
5. Preživeti dok ne umreš – težak je posao.
6. Beda i neznanje rađaju sopstvenu istinu.
7. Kad si pijan, svet je i dalje tu negde, ali te ne steže za gušu.
8. Spasavajmo jednog po jednog čoveka, da bismo spasli svet. Samo romantizam i politika pokušavaju da spasu sve odjednom.
9. Toliko često vidimo sranje na ekranu, da ljudi više ne shvataju da je to sranje.
10. Depresija i samoubistvo su često posledica pogrešne dijete.
11. Pisci su očajnici. Kada dobiju nadu – prestanu da budu pisci.
12. Sa dvadeset pet, svako može da bude genije. U pedesetoj, ipak moraš nešto da postigneš.
13. Ambicija retko pomaže talentu. Sreća je nešto drugo, ali uvek je prati talenat.
14. Stvari dobro idu, ali neznano kuda.
15. Možete voleti čoveka, ali samo dok ga dobro ne upoznate.
16. Problem ovog sveta je u tome što su pristojni ljudi puni sumnje, a idioti samouverenosti.
17. Ako uspete da nekog obmanete, to ne znači da je on budala, već samo da vam je verovao više nego što zaslužujete.
18. Lepota je ništavna. Nisi ni svestan koliko si srećan što si ružan, jer ako te i takvog vole, znači da je to zbog nečeg drugog.
19. Ako u vama skoro da nije ostalo duše, a toga ste svesni, znači da još uvek imate dušu.
20. Ima dana kad je najbolje da ne ustajete iz kreveta i da se pokrijete preko glave.
21. Ako si skot, onda to i reci, inače će reći neko drugi. Kada to kažeš prvi, razoružaćeš ih.
22. Prvo što mi se kod tebe dopalo – reče Lidije – jeste to što nemaš televizor.
23. Suviše dobro znam svoje mane, da bih tražio da mi uzvrate ljubav.
24. Teoretski, ne moraš da biraš između dobra i zla, ali u životu ipak moraš da izabereš.
25. Neki ljudi ne mogu da polude. Mora da im je život strašno dosadan.
26. Ako ne možete da budete džentlmen, nemojte biti ni svinja.
27. Nađi ono što voliš i dopusti mu da te ubije.
28. Ne verujem da se svet može poboljšati. Verujem da se možemo potruditi da ga ne učinimo gorim.
29.  Mislim da mi je potrebno piće. Potrebno je skoro svima, samo što to ne znaju.