Mnogo je recepata za štrudlu s makom, ali ovaj se izdvaja svojim raskošnim izgledom, zbog čega će vaša cvetna štrudla ponosno stajati i pored svake torte.
Sastojci za testo:
500 g brašna
2-3 jajeta + 1 za premazivanje
2 kašike šećera
1 kašika suvog ili kockica svežeg kvasca
70 g butera ili margarina
kora i sok limuna
250 ml mleka
malo soli
Sastojci za fil:
200 g mlevenog maka
100 g šećera
1 vanilin šećer
malo vrućeg mleka
Priprema:
U mlakom mleku razmutite kvasac i šećer, pa ostavite na toplom da "proradi". Zatim sve sastojke dodajte u prosejano brašno i umesite glatko testo. Pokrijte čistom krpom i ostavite na toplom, da naraste. Kad testo primetno nadođe, premesite i ostavite da opet naraste.
Da bi fil od maka bio nežan i ukusan, važno ga je pravilno pripremiti. Mleveni mak pomešati sa šećerom i popariti vrelim mlekom. Mleko sipajte postepeno i mešajte, pazeći da se masa mnogo ne razredi.
Obilno i ravnomerno rasporedite fil po tanko razvijenom testu.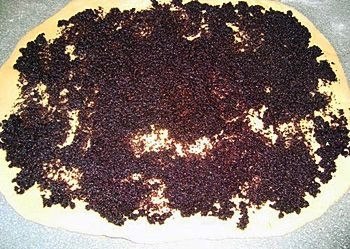 Filovano testo uvijte u rolat i sastavite krajeve, tako da dobijete kolut. Najbolje da to odmah radite na papiru za pečenje. Ostavite štrudlu pola sata da se "odmori".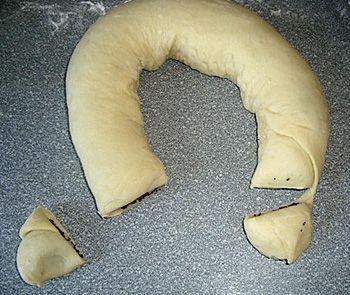 Uzmite kuhinjske makaze ili vrlo oštar nož i zasecajte ukrug spoljnu stranu rolata.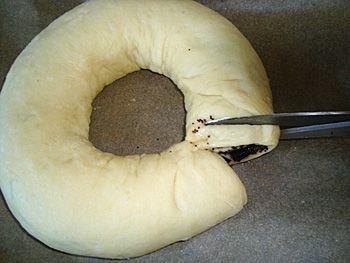 Zatim svaki 2-3 šnit okrenite na unutra, kao na slici. Umutite jaje i dobro premažite celu gornju površinu testa.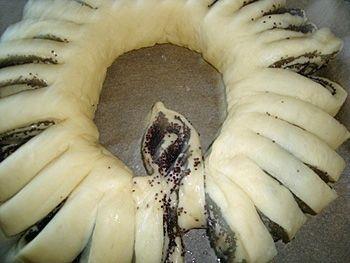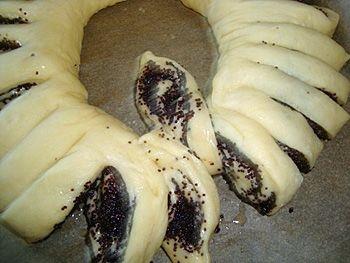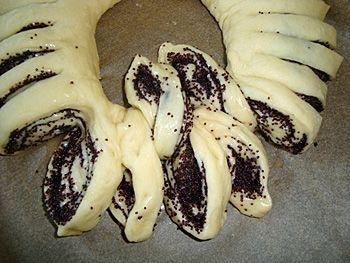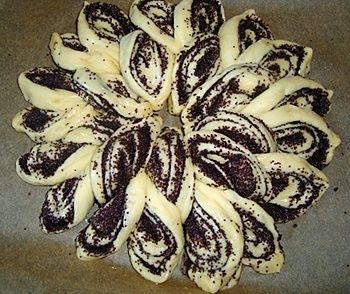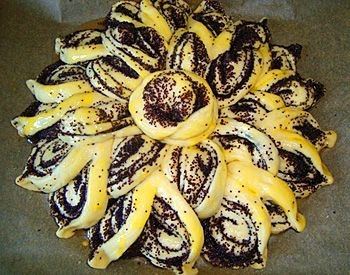 Uključite rernu na 180 stepeni i nakon 15-20 minuta stavite štrudlu da se peče. Za to vreme je već trebalo da naraste i latice dobiju željeni oblik.
Peče se oko pola sata, da lepo porumeni. Ako je potrebno, pred kraj je prekrijte aluminijumskom folijom da cvetna štrudla odozgo ne izgori.
Proverite čačkalicom ili tankim nožem da li je unutra dobro pečena – ništa ne bi smelo da se zalepi. Štrudla je gotova kada su latice dobro pečene, a unutrašnji slojevi vazdušasti.
Prijatno!