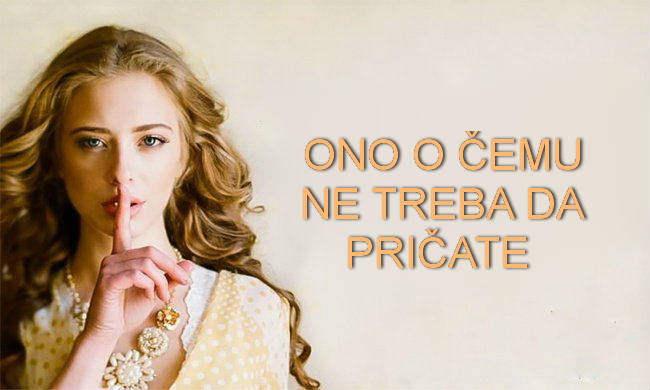 Ovaj svet, mada zasnovan na istini, ipak zahteva ravnotežu, i zato nas mudri ljudi upozoravaju na to da postoje neke stvari koji je, ipak, najbolje zadržati za sebe.
Prvo, što treba da sačuvate kao tajnu, kažu mudraci, jesu vaši dalekosežni planovi.
Pokušajte da ćutite do trenutka dok se vaš plan ne ostvari. Sve naši ideje nisu samo nesavršene, već imaju dosta slabih mesta po kojima je lako naneti udarac, i razrušiti ih.
Drugo, ne pričajte o svom dobročiniteljstvu – retkost je u ovome svetu, i zato ga treba čuvati kao zenicu svog oka.
Ne hvalite sebe zbog dobrih dela. Ponos će odmah to prepoznati i oduzeće svu blagost koja je data u dobrotvorne svrhe.
Treće, o čemu ne treba pričati, a po preporuci  mudraca, jeste o svom asketizmu.
Ne trubite unaokolo o svojim  ograničenjama u ishrani, u seksualnim odnosima itd. Fizički asketizam donosi korist samo ako je u kombinaciji sa emocionalnom komponentom.
Četvrto, o čemu bi trebalo da prećutite – o svojoj hrabrosti i junaštvu.
U životu neko dobija spoljne, a neko unutrašnje izazove. Spoljni su vidljivi, zato ljudi za njih dobijaju nagrade, ali prevazilaženje unutrašnjih izazova niko ne primećuje, samim tim i nagrade se ne dodeljuju.
Peto, o čemu  nije baš potrebno razglabati pred drugima – jeste pričati o svojim porodičnim problemima.
I uopšte o svom privatnom životu. Zapamtite, što manje govorite o problemima u svojoj porodici, time će ona biti jača i stabilnija. Svađa  je oslobađanje od negativne energije, koja se nakupila u procesu komunikacije.
I šesto, ono što nije vredno pomena, to su ružne reči i tračevi koje čujete u toku dana.
Možete isprljati cipele na uluci, a možete i isprljati i svoju svest. I čovek, koji se vraća kući, i prepričava sve gluposti koje je čuo tokom dana, ničim se ne razlikuje od čoveka koji je ušao u kuću i nije skinuo cipele.