Pred vama je zanimljiv, i vrlo jednostavan test ličnosti, čiji će vas rezultati iznenaditi. Sve što je potrebno jeste da izaberete ključ, a odabrani ključ će opisati vašu ličnost.
Iako ovaj test nije zasnovan na naučnim osnovama, on radi po principu podsvesti.
Pogledajte ključeve ispod, i izaberite samo jedan. Kojim ključem biste vi otvorili ovaj kovčeg?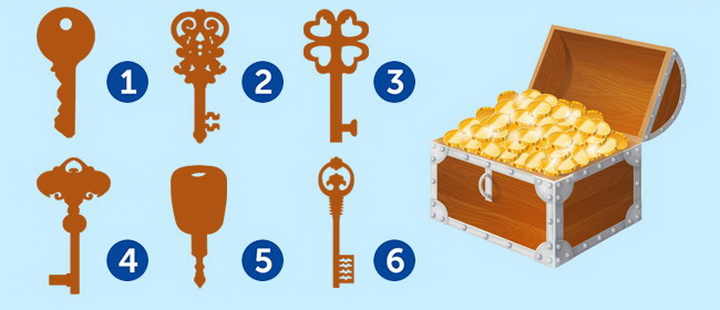 Ključ br.1
Izabrali ste najjednostavniji i uobičajeni ključ. To vas karakteriše kao racionalnu i stabilnu osobu. Ne trošite se na sitnice. Dovoljno ste jasni i direktni. U životu se rukovodite umom, a ne osećanjima. Bližnji  vas mogu karakterisati kao zatvorenu osobu. To je delimično istina, ali vi ste svesno odabrali takvu taktiku ponašanja. Moguće je, da je neka situacija iz prošlosti, formirala ovakav vaš karakter.
Ključ br.2
Ovaj malo komplikovaniji ključ govori o tome da sa vama nije uvek lako. Verovatno se suviše strogo odnosite prema okolini. Iz ovog razloga, neki ljudi pokušavaju da vas izbegnu. Najverovatnije imate rukovodeću funkciju i podređeni vas poštuju, ali pomalo se i plaše. Pri tome, isto tako strogo odnosite se i prema sebi. Opustite se. Svi smo ljudi, a ne roboti.
Ključ br.3
Odabrali ste ključ koji podseća na list deteline. To znači da ste optimista koji živi po principu: "Sve što se radi  – radi se za moje dobro". U većini slučajeva ova deviza vam je, više puta, bili od koristi. Ali, pripazite se, jer ponekad preterani optimizam može zanemariti surovu šalu i nećete, na vreme, primetiti ozbiljnu opasnost koja vam se približava.
Ključ br.4
Vi ste snažna i autentična ličnost. O ovome svedoči ključ neuobičajenog oblika. Puni ste inspiracija i ideja. Najverovatnije je, vaša delatnost, povezana sa kreativnošću. U vama postoji  veliki potencijal, koji možete uvek realizovati, dovoljna je samo želja. Mane su što možete biti pomalo lenji i vetropirasti. Pokušajte da se ne trošite na sitnice, i onda će sve biti u redu.
Ključ br.5
Odabrali ste pouzdan ključ, koji će otvoriti bilo koja vrata. To znači da uvek ostvarujete sve zamišljeno. U postizanju cilja, prevazilazite sve prepreke. Vi ste jaka, harizmatična ličnost koja generiše ideje u trenu. Ne zavisite od mišljenja okoline, verni ste sebi i svojim principima, čak i ako grešite. Zato, ponekad nije loše umeti priznati svoje greške.
Ključ br.6
Odabrali ste klasičan ključ. Poprilično ste konzervativna ličnost, pridržavate se utvrđenog reda, i teško podnosite promene. Najmanje skretanje sa kursa za vas je uvek stresno. Pokušajte da se promenite. Čeka vas dosta novina, a stres  nikom nije bio od koristi. Izađite iz ljušture, imajte vere…