Majstor fenomenalnih aforizama i genijalnih paradoksa, Oskar Vajld, jedan je od najviše citiranih svetskih klasika.
Iz njegovih dela su izvučeni aforizmi širom sveta još davno, a njegova sposobnost da sakrije neverovatno dubok smisao u dozi humora oduševljava ne samo jedno pokolenje.
Sakupili smo za vas 35 fenomenalnih, zabavnih i dubokoumnih aforizama Oskara Vajlda:
1. Ostaćete nesrećni dokle god verujete u to da vam sreću donose drugi ljudi.
2. Čovek je najmanje svoj kada govori o sebi. Dajte mu masku i reći će vam istinu.
3. Po spoljašnjem izgledu ne sude samo najnepronicljiviji
4. Znanje je pogibija. Nas očaravaju samo sumnje. Magla čini stvari čudesnijima.
5. Starci svemu veruju, ljudi u zrelom dobu u sve sumnjaju, mladi sve znaju.
6. Ne podnosimo ljude koji imaju iste nedostatke kao i mi.
7. Neugledne žene su uvek ljubomorne na svoje muževe, lepima nije do toga, one su ljubomorne na tuđe.
8. Nikada ne treba verovati ženi koja otvoreno govori o svojim godinama. Žena koja to kaže, spremna je da kaže sve.
9. Muškarac može da bude srećan sa bilo kojom ženom, pod uslovom da je ne voli.
10. Kada sam bio mlad mislio sam da je novac sve. Sada sam star i siguran sam da je tako.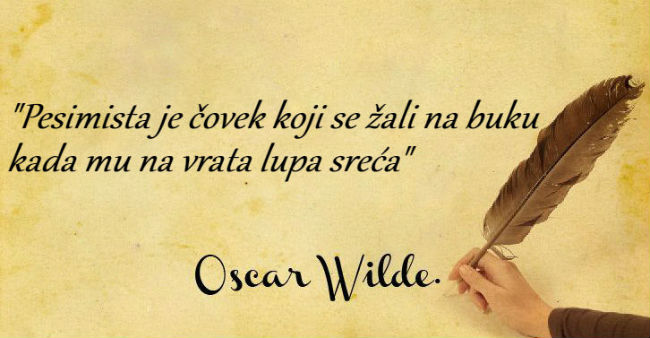 11. Budi ono što jesi. Ostale uloge su već zauzete.
12. Živeti onako kako volite nije egoizam. Egoizam je kada su drugi prinuđeni da razmišljaju i žive kako vi želite.
13. Javno mnjenje trijumfuje tamo gde misao drema.
14. Svi smo mi u blatu, ali neki od nas gledaju ka zvezdama.
15. Muškarci uvek žele da budu prva ljubav ženama, a žene maštaju da budu poslednja ljubav muškarcu.
16. Pesimista je čovek koji se žali na buku kada mu na vrata lupa sreća.
17. Ljudi se većinom zanimaju za sve na svetu, osim za ono što bi stvarno trebalo da znaju.
18. U religiozne dogme ljudi ne veruju, ne zato što su razumni, nego zato što ih često ponavljaju.
19. Londonske magle nisu postojale dok ih umetnost nije otkrila.
20. Hrist nije umro da bi spasio ljude, nego da bi ih naučio da spašavaju jedan drugog.
21. Svi učestvuju u nesreći svojih prijatelja, samo se retki raduju njihovim uspesima.
22. Kada bogovi žele da nas kazne – usliše naše molitve.
23. Onome što bi stvarno trebalo znati nas niko neće naučiti.
24. Duša se rađa starom i postaje sve mlađa. To je komedija života. Telo se rađa mladim i stari. I u tome je sva tragedija.
25. Pesnik sve može da podnese osim štamparske greške.
26. Svaki svetac ima prošlost, a svaki grešnik budućnost.
27. Glavna šteta braka je to što izvlači egoizam iz čoveka. A ljudi koji nisu egoisti su bezbojni, gube svoju individualnost.
28. Jedini način da se oslobodite iskušenja je da mu se predate.
29. Između želje i ljubavi je razlika u tome što želja traje malo duže.
30. Besmisleno je deliti ljude na dobre i loše. Ljudi su ili očaravajući, ili glupi.
31. Ja sam jedini čovek na svetu koga bih želeo bolje da upoznam.
32. Najlošije stvari čovek čini iz najbolje namere.
33. Ništa ne ometa ljubav toliko kao humor kod žene i nedostatak istog kod muškarca.
34. Žene imaju neverovatnu osobinu da otkriju baš sve, osim očiglednog.
35. Trebalo bi znati tu veliku životnu tajnu: lečiti dušu osećanjima i osećanja dušom.