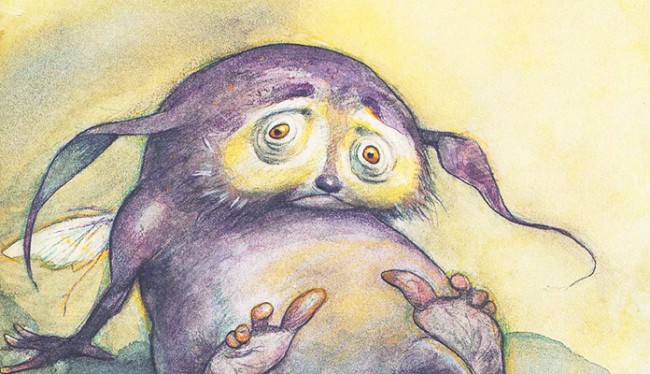 Ljutnja, malo stvorenje, naizgled bezopasno. Kod pravilnog korišćenja, ne nanosi nikakvu štetu. Ako se ne pokuša odomaćiti, ljutnja savršeno živi na slobodi, i nikog ne dira.
Ali, svi pokušaji započeti njome, završavaju se plačem… To stvorenje je malo i okretno, može slučajno dospeti u telo bilo kog čoveka. Čovek to odmah oseća. On postaje ljut.
Stvorenje počinje da viče čoveku: "Slučajno sam se uhvatilo! Pusti me! Meni je ovde mračno i strašno! Pusti!" Ali ljudi su prestali da razumeju njihov jezik. Neki odmah puštaju ljutnju, dok je ona još mala – to je odličan način da se oprostite od nje.
Ali, postoji i takvi koji nikako ne žele da je otpuste. Oni je nazivaju svojom, nose je kao najdražu torbu. Stalno razmišljaju i  brinu o njoj… Ali njoj se, svejedno, ne sviđa da živi u čoveku.
Ona se migolji, traži izlaz, ali pošto ima slabi vid, sama ne može da ga pronađe. Eto, takvo je to nesrećno stvorenje. A i čovek isto…Sav se  stisnuo, ali nikako ne ispušta ljutnju.
A to stvorenje je jadno – gladno, hoće da jede – tako i počinje polako da jede ono što pronađe. I sam čovek to oseti. Nešto ga zaboli, pa drugo zaboli… Ali ne pušta čovek ljutnju iz sebe. Zato što je navikao na nju. A ona jede i raste… Pronalazi nešto ukusno u čoveku, pripija se, i glođe. Tako i kažu: "Ljutnja razjeda".
I na kraju krajeva, srasta sa nečim u telu čoveka i protiv njegove volje, postaje njegov deo. Čovek počinje da slabi, boluje, a unutrašnja  ljutnja nastavlja da raste… Čoveku nije jasno da samo treba uzeti i otpustiti ljutnju! I njoj je bez čoveka dobro, i čovek bez nje lakše živi…
Naravoučenije:
Ljutnja je – stanje duše. U suštini, mi sami donosimo odluku da li ćemo biti ljuti. I kad, sledeći put rešite da se naljutite, razmislite: da li je to zaista tako lepo sebe sažaljevati? Predator uvek oseća slabijeg, i napada baš njega. Ne kaže se džaba u narodu: "Pusti je kraju"! Pustite ljutnju, nek ide svojim putem!