Naša podsvest zna o nama mnogo više nego svest, to je činjenica.
Bacite pogled na ove simpatične sove, i izaberite onu koja vam se najviše sviđa. Šta označava vaš izbor, pročitajte ispod.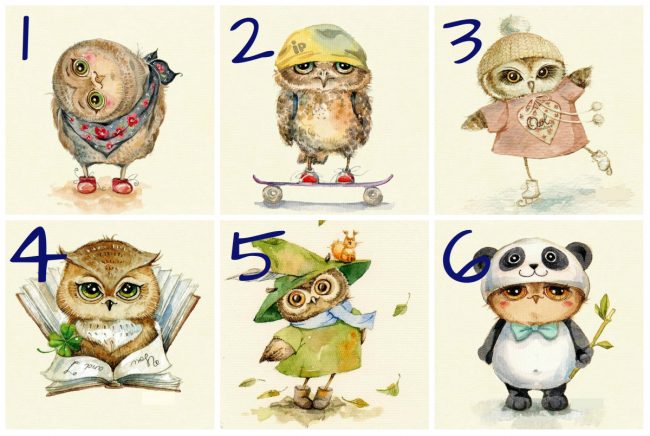 1. Veoma ste radoznala osoba. Kod vas je veoma razvijena potreba za nepekidnim saznavanjem, novog i zanimljivog. Vi ste prilično otvorena ličnost. Ali vas osnovni minus – to je ono što gurate nos u tuđe poslove, iako mislite da to radite iz najbolje namere. Bilo bi dobro da ovu karakternu osobinu iskorenite.
2. Umereno ste radoznali i veoma naivni. Unutar vas još živi dete. Interesantan vam svet oko vas, ali u isto vreme, teško je vam usred zla i neprijatelja. Nije vam lako da se izborite za sebe. Ne brinite, uskoro će se sve promeniti nabolje.
3. Stalno se smrzavate. Vama može biti hladno čak i na 30 stepeni. Bojite se svega. Ne vredi to raditi. Savladajte svoje strahove i pokušajte raditi šašave stvari.
4. Sigurni ste u sebe i nastojite da osvajate nove horizonte. Ali, postoji nešto što vas ometa u tome. Reč je o dečjoj naivnosti. Odrastite, i u svemu ćete uspeti.
5. Vi ste – pesimista. Jednostavno, pesimista po prirodi. Teško vas je promeniti, i sa vama imati dobar odnos. Menjajte se, i ljudi će se drugačije odnositi prema vama.
6. Ponosna ste i narcisiodna osoba. Gledate na sve sa visine, i iz ptičje perspektive. Ne može se tako živeti, sa vama se dobri ljudi neće družiti.