15. juna 2020. preminuo je Bob – mačak koji je postao poznat širom sveta zahvaljujući knjigama o njemu.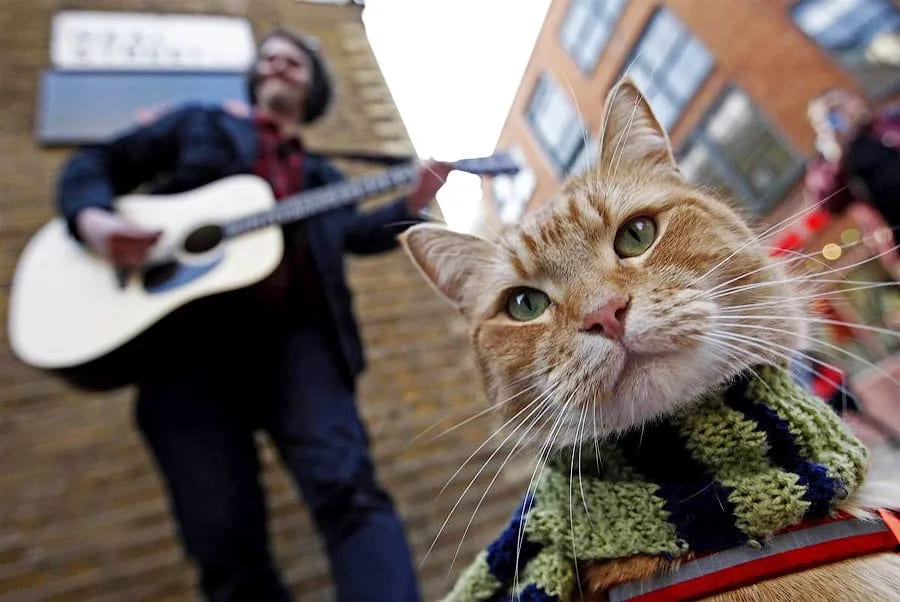 Ne, Bob nije činio herojska dela i nije bio naveden u Ginisovoj knjizi rekorda kao najdeblji ili najmekši. Samo je jednu osobu spasio od usamljenosti i smrti, a njihova priča je inspirisala ostale i pokazala da je svet ljubazniji nego što se čini, samo ga treba pravilno gledati. Mi sami stvaramo dobro i činimo čuda.
Setimo se priče o Bobu i njegovom čoveku.
15. juna 2020. poznati ulični mačak po imenu Bob umro je od starosti u Velikoj Britaniji. Imao je 14 godina. Knjige i film o riđem mačku postali su bestseleri i ne gube tlo pod nogama već nekoliko godina
Mačak je sada poznat širom sveta zahvaljujući njegovom vlasniku i prijatelju Džejmsu Bovenu, koji je spasio Boba.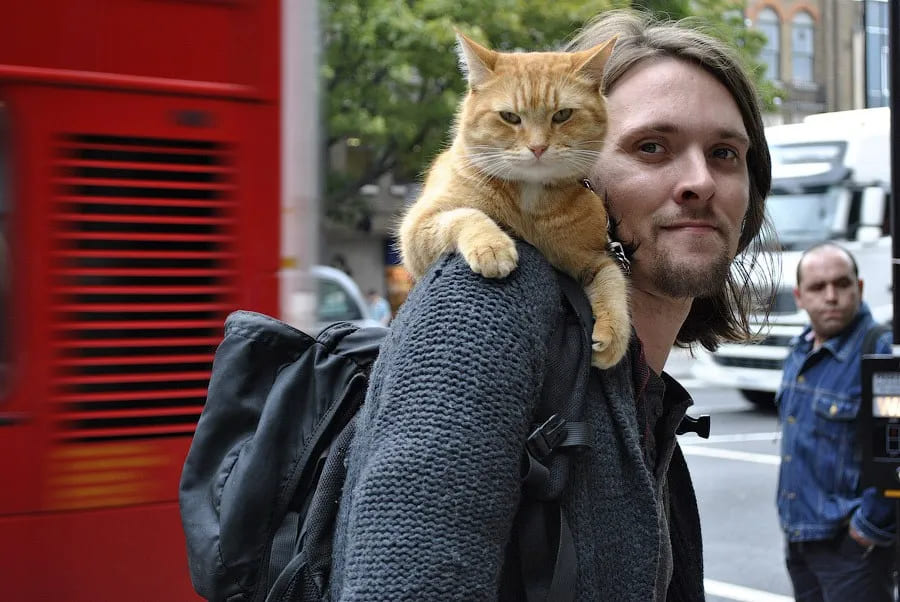 U mladosti, Džejms je postao beskućnik. Očajni čovek je tražio utehu u drogama, srozavajući se sve niže i niže. Ipak mu je trebalo nešto da jede, a Džejms nije mogao da dobije stalan posao.
Tako je uzeo gitaru i otišao da svira na ulicama Londona. Međutim, to nije donelo opipljiv prihod. Muzičar se osećao kao izopštenik. Bukvalno je umirao na ulici, sve dok 2007. nije sreo riđeg mačka lutalicu sa povređenom šapom.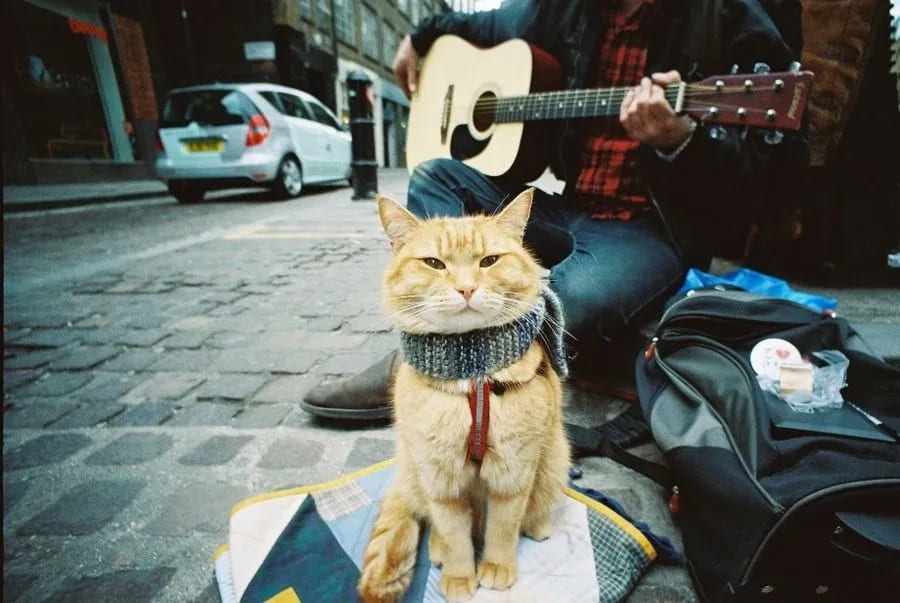 Nesrećni ulični svirač odlučio je da usvoji mačka, nazvavši ga Bob. A sav zarađeni novac iskoristio je za lečenje svog novog četvoronožnog prijatelja. Mačak nije ostaviljao vlasnika ni na trenutak, pa su Džejms i Bob počeli zajedno da nastupaju na ulici.
Gomile ljudi su dolazile da vide ovaj zanimljiv tandem. Predstave su prijateljima donele prvo domaću, a potom i svetsku slavu. Džejms je uspeo da zaradi novac i počeo je da iznajmljuje stan. Ali glavno je to što se odrekao droge i konačno osetio, da je nekome na ovom svetu zaista potreban.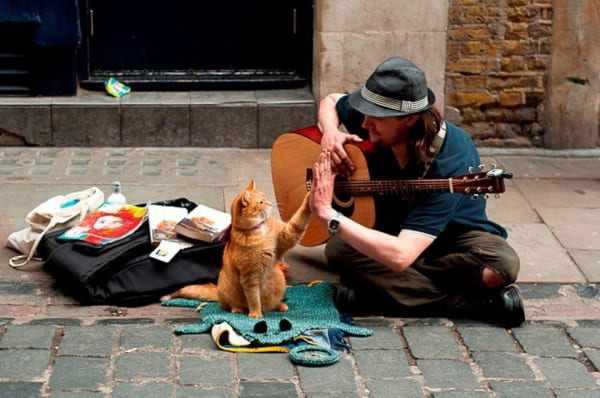 Kasnije, na osnovu ove divne priče, muzičar je napisao knjigu "Ulični mačak Bob". Priču o tome kako su čovek i mačka pronašli nadu na ulicama Londona. Po knjizi je kasnije snimljen istoimeni film.
A onda je Džejms Boven počeo da priča priče o svojoj mački i objavio još dva dela: "Svet očima mačke Boba", "Nove avanture čoveka i njegovog prijatelja" i "Poklon mačke Boba", o tome kako je ulična mačka pomogla čoveku da se zaljubi u Božić.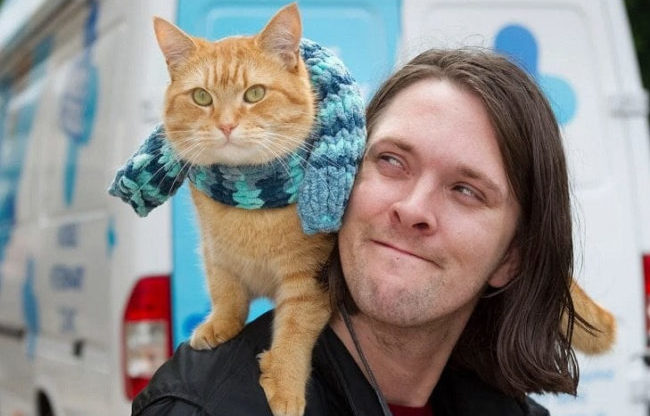 "Bob mi je spasao život. To je tako jednostavno", kaže Džejms Boven.
"Dao mi je mnogo više od samog druženja. Sa njim sam pronašao smisao i svrhu  života koja mi je nedostajala. Uspeh koji smo postigli sa našom knjigom i filmom je bio parvo čudo. Dirnuo je emotivno milione života. Nikad nije postojo mačak kao on. I nikada više neće biti. Osećam se kao da se svetlo ugasilo u mom životu. Nikada ga neću zaboraviti".
Nežna i topla, ova istinita priča o divnom prijateljstvu između mačka i čoveka, navodi nas da se zapitamo da li su ljudi ti koji svojom ljubavlju i brigom spasavaju lutalice, ili je možda obratno.