Poznata ruska glumica Faina Ranevskaja je bila kraljica sarkazma i majstorica sporednih uloga.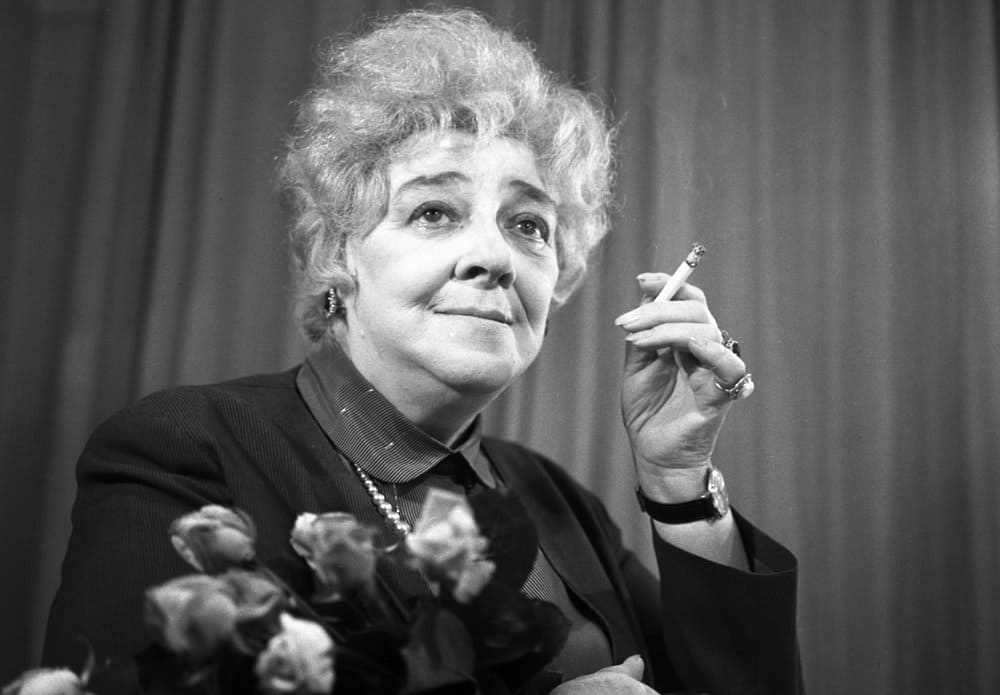 Iako nikada nije odigrala ni jednu veliku ulogu, svrstana je među najistaknutije glumice 20. veka. Kada je rekla svom ocu da želi postati glumica, on joj je rekao da zbog svog izgleda nikada neće uspeti u tome. Nakon toga je napustila svoj dom u 18. godini i nikada više nije videla svog oca.
Svojevremeno je za svog oca rekla da je bio siromašni naftaš. Iako su mnogi smatrali da ima loš karakter on je to negirala i govorila da ona samo ima karakter. Za 60 godina svoje karijere odigrala je na desetine uloga u pozorištu i glumila u više od 20 filmova.
Nikada se nije udavala a njen verni životni pratilac je bio njen pas Boj. Ona je verovala da psi imaju više saosećanja i plemenitosti nego neki ljudi. Kako je često bila bolesna često je provodila vreme u bolnicama, a na pitanje da li je bolesna ona bi odgovorila "Ne, samo tako izgledam".
U nastavku pročitajte neke od njenih mnogobrojnih duhovitih izjava:
"Optimizam je nedostatak informacija."
"Žene su, naravno, pametnije. Da li ste nekada čuli za ženu koja je izgubila glavu samo zato što muškarac ima lepe noge? "
"Život je prekratak da bismo ga trošili na dijete, pohlepne muškarce i loše raspoloženje."
"Postoje ljudi kojima samo želite da priđete i upitate: Da li je teško živeti bez mozga?."
"Zdravlje je kada te svaki dan boli na drugom mestu"
"Pustite idiote i klovnove iz svog života. Cirkus mora da ide na turneju."
"Čak i ispod najpretencioznijeg paunovog repa uvek se nalazi obična kokošja guza"
"Nema punijih žena. Postoji samo tesna odeća"
"Sažaljenje se daje besplatno, ali zavist se mora zaslužiti."
"Sve ono što nam prija  na ovom svetu je ili štetno, ili nemoralno, ili vodi do gojaznosti."
"Ako žena hoda pognute glave, ona ima ljubavnika! Ako žena hoda uzdignute glave, ona ima ljubavnika! Ako žena drži glavu uspravno, ona ima ljubavnika! I uopšteno ako žena ima glavu, onda ima ljubavnika!"
"Odavno mi nisu rekli da sam kurva. Gubim popularnost."
"Ako pacijent zaista želi da živi, ​​doktori su nemoćni!"
"Uvek mi je bilo neshvatljivo: ljudi se stide siromaštva, a ne stide se bogatstva."
"Porodica zamenjuje sve. Stoga, pre nego što odlučite, razmislite šta vam je važnije: sve ili porodica."
"Noću boli sve, a najviše – savest"
"Ako odjednom postanete loši za nekoga, to znači da je za tu osobu učinjeno mnogo dobrog"
"Ako ti je neko učinio zlo, daj mu bombonu. On je tebi – zlo, ti njemu – bombonu. I tako svaki put, sve dok to đubre ne dobije dijabetes".
"Ljudi sami sebi prave probleme – niko ih ne tera da biraju dosadna zanimanja, udaju I žene se za pogrešne ljude ili kupuju neudobne cipele".
"Postoje ljudi u kojima živi Bog. Postoje ljudi u kojima đavo živi. A postoje ljudi u kojima žive samo gliste".
"Život-to je kratka šetnja pre večnog sna".
Još: 25 fraza majstora sarkazma. Za ljubitelje oštrijeg humora